Campaign Confidential
Can Francisco Moya play catch-up in the speaker race?
The Queens lawmaker hopes his experience in government, relationship with Eric Adams and ties to labor will pay off in the hotly contested race for City Council speaker.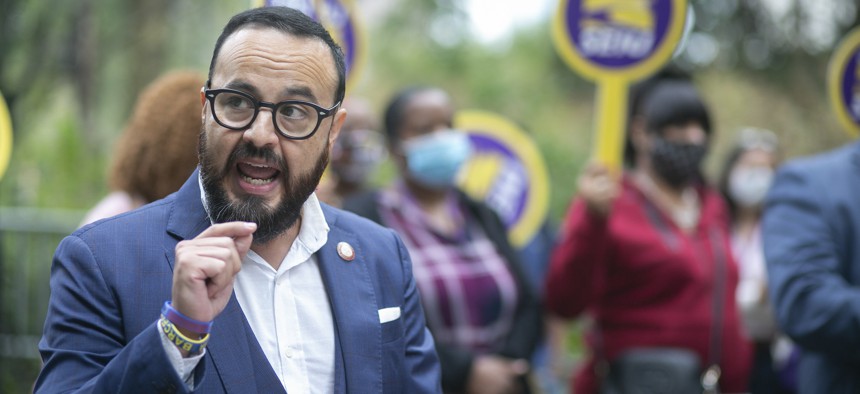 When City Council Member Francisco Moya logs on to virtual hearings, press conferences and interviews, the set dressing in his Queens home includes a poster with the words, in big block letters, "In our house we are all equal." It's the slogan of the British house music label Defected – Moya moonlights as a DJ – but it's not a bad motto for someone making the case for why they should lead the next City Council either. 
Moya, a former Assembly member who now represents Queens neighborhoods including East Elmhurst and Corona in the City Council, is running to be the next council speaker. Despite being an elected official longer than his opponents, Moya faces the difficult task of catching up to members who have been running for this particular seat longer than he has. Those candidates include Justin Brannan, Keith Powers and Carlina Rivera, who have each clocked precious time on the campaign trail with likely incoming members whose votes they'll soon need to be elected speaker. Moya is doing some campaigning with candidates ahead of the general election now and is reaching out directly to the class of likely new members, making his pitch and offering guidance in getting acquainted with the council. 
The pitch is straightforward. An incoming City Council class with a sizable number of Latino members needs a Latino speaker – especially in a city where the 29% of the population that identifies as Hispanic or Latino isn't seeing many Latinos in seats of political power. And Moya – an early endorser of Democratic mayoral nominee Eric Adams, friend of organized labor and a lawmaker with experience in both the state and city – may be just the person for the job. "We have a city that's in crisis, right? We need experienced leadership, we need someone that has a good working relationship and a longstanding working relationship with the new incoming administration," Moya told City & State. "I'm the only candidate that has the relationships with both the city and the state as we go to prioritize our budget needs in Albany."
But much of that pitch relies on still unknown outcomes. It's still unclear who, if anyone, Adams will throw his weight behind. And while some observers anticipate that heavy hitting labor unions will coalesce around a single candidate this year – rather than breaking up as they have in the past – it's not yet clear who that candidate is.
Still, Moya's pitch is coming across to at least a couple of new members as refreshing. Incoming members shouldn't vote for him because he helped them out the most in their primary races, he's arguing, but because he's the best candidate to lead the council at a particularly challenging time for the city. Julie Won, a Democratic candidate for City Council in Queens who is likely to beat her Republican opponent, said that Moya's pitch was unique in focusing on his ability to usher the city through a recovery. Plus, he was straightforward about the support he's amassed so far. "He didn't lie to me and say he's got ten votes," Won told City & State. "He says he's got two votes."
Others are unimpressed with Moya's case for speaker. "He said that he's a Latino and he's close to Eric Adams. You know what, that's not enough to be a compelling pitch," said one likely incoming council member who asked not to be named in order to speak openly. "I don't think he has relationships with any of the incoming members, of which there are many of us," that person added. "I think he has a very hard path." That incoming member said that they have not landed on a single candidate to support, and haven't been impressed with many of the candidates for speaker.
Moya says that he can work with members across the political spectrum, but it remains to be seen whether that's an argument that a group of further left incoming members will buy. A moderate Democrat, Moya recently signed onto an open letter calling for the state's bail reforms to be amended to allow judges to more easily remand people arrested for gun offenses.
Moya declined to say how many votes he's counting on so far, or whether he can count on the support of influential county leaders to direct their members' votes to him. But whether it's one, two or more, he – and really all the candidates – have a lot of work to do to amass the majority of the 51 votes they'll need to be elected speaker. In addition to the others noted above, Council Members Diana Ayala, who represents Manhattan and the Bronx, and Adrienne Adams of Queens have also announced runs for speaker. Adams is considered more likely to get support from Rep. Greg Meeks, who leads the Queens County Democratic Party, but Meeks isn't expected to have anywhere near the influence that his predecessor, former Rep. Joe Crowley, had in previous speaker races.
Other outside power players also haven't started whipping up votes yet. Eric Adams isn't putting his thumb on the scale so far, labor unions have not yet landed on a single candidate and potential alliances between county leaders have yet to solidify, so much of the incoming council class is still unsure about making their personal preferences publicly known.Some of those decisions are expected to be firmed up at next week's SOMOS conference in Puerto Rico. But for now, there's not much incentive for incoming members to publicly endorse a dud candidate. 
Over his decade in elected office, Moya touts his legislative work for immigrants – including sponsoring the DREAM Act before he left the Assembly, which extends access to state scholarships and aid for higher education to undocumented immigrants. Championing protections for construction workers has been another theme for Moya; he introduced Carlos' Law, which would create higher fines for companies that endanger workers. 
It's in part through that work that Moya has forged close relationships with labor unions. Unions that are a part of Labor Strong, a coalition that endorsed widely in the City Council primaries, have not pushed any one candidate for speaker yet. But Moya is nonetheless a contender for the support of some of those heavy hitters, including 32BJ SEIU, the building service workers union. Earlier this month, the council passed a bill from Moya that mandates severance pay for unemployed hotel workers – a policy aimed at incentivizing pandemic-shuttered hotels to reopen. A press conference at City Hall with Mayor Bill de Blasio, Moya and the Hotel Trades Council offered Moya a photo op with the potentially influential union. 
In addition to making a play for labor's support, another avenue in which Moya can make a case is as one of three Latino candidates for speaker. Moya, Diana Ayala and Carlina Rivera are keeping the attention of some incoming members who are particularly interested in electing a Latino to the post given the dearth of Latino leadership in the city. There is also, however, pressure to elect a woman speaker, given the fact that the body will be majority female for the first time. Few disagree that these are important goals, but white men have prevailed amid similar attempts to elevate women and people of color in the past.
Asked about a rumor that the three Latino candidates have committed to supporting each other in the race, Moya declined to say whether there was an official pact between him, Ayala and Rivera to support each other. "I'm not going to disclose what we talked about in that dinner," he said, referencing an apparent meeting between the three candidates. "I think the three Latinos that are in this have a common goal, which is that we need to have representation that reflects New York City, (and) is prioritizing as well the issues of the Latino community." Rivera declined to comment on whether such a pact existed, and Ayala did not immediately respond to a request for comment.
But the speaker race has aspects of a popularity contest, and that's where Moya's biggest problem could lie. While the majority of the new council will consist of new members, over a dozen current members are likely to return. Several people who City & State spoke to, including current council members, likely incoming members and political observers, said that Moya has a reputation for not being widely liked among the current council. Asked about his reputation for having sharp elbows, Moya said: "I'm not afraid to be honest about my positions and be straightforward with colleagues. I keep my word, no matter what the political fallout is."
With reporting by Jeff Coltin.