Politics
The rise of Latinos in the New York City Council
New members bring the council more in line with the city's population.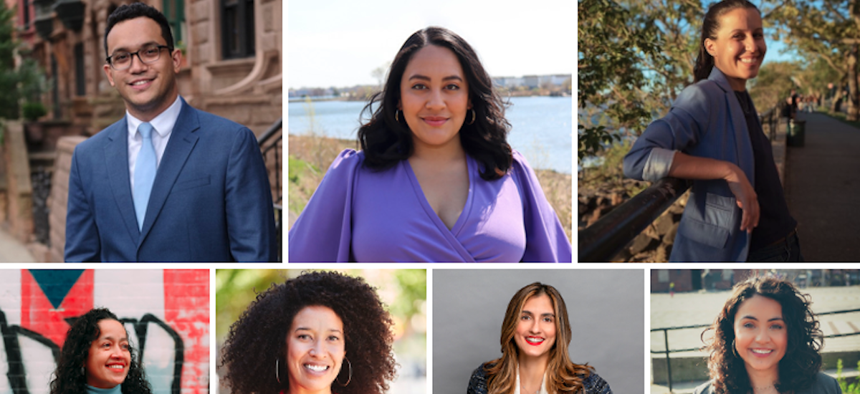 The New York City Council, which currently has 11 members who are Latino, could see that number rise to 15 at the start of next year. That would mean an increase from slightly more than a fifth of the seats that Latinos now hold in the 51-member body to well over a quarter – while also matching the 29% share of the New York City population that identifies as Hispanic or Latino. 
Of the 11 Latinos serving in the City Council, six are on their way out, while five – Carlina Rivera, Diana Ayala, Oswald Feliz, Rafael Salamanca Jr. and Francisco Moya – are on track for reelection after winning their primaries in June. Their ranks will be bolstered by most if not all of a contingent of 10 Latino candidates who won their primaries for the first time this summer, assuming they avoid any unexpected upsets in the November general election. 
Perhaps the most prominent among these newcomers is Tiffany Cabán, who first made a name for herself by nearly defeating the establishment-backed Melinda Katz in the Queens district attorney race in 2019. She's a member of the LGBTQ community, and the former public defender ran on a platform of radical criminal justice reform, describing herself as a "police abolitionist" and staunchly supporting the defund the police movement. After a stint working for the Working Families Party, she handily won the Democratic primary for Queens District 22, where she and other leftist members of the City Council stand to be a major foil to Brooklyn Borough President Eric Adams, who won the pivotal Democratic mayoral primary by distinguishing himself as a law-and-order candidate. 
Assembly Member Carmen De La Rosa, who won the Democratic primary for the Northern Manhattan seat being vacated by the term-limited City Council Member Ydanis Rodriguez, will enter the council with significant legislative experience and something akin to seniority among the incoming members, having spent nearly five years in the state Legislature. De La Rosa, a Dominican immigrant, was also the lead sponsor of the 2019 state DREAM Act. The legislation made young undocumented immigrants eligible for financial aid to attend college in New York, as well as this year's $2.1 billion Excluded Workers Fund, which extends unemployment benefits to undocumented New Yorkers. 
Several of this year's primary winners ran for the City Council previously but fell short. Two of them – Bronxites Marjorie Velázquez and Amanda Farías – faced an easier path once their chief rivals opted not to seek reelection. Velázquez, a community board member with a background in corporate finance and accounting, came a few percentage points short of beating New York City Council Member Mark Gjonaj in 2017, which appears to have factored into the incumbent's decision not to run again this year. Farías, an Afro-Latina who worked in the City Council for nearly five years, lost her bid against the party-backed Rubén Díaz Sr. four years ago, but just like Gjonaj, the embattled Díaz opted to stay on the sidelines in 2021. With significant support from elected officials and unions, both candidates broke through.
Christopher Marte, a community activist, fared better this year as well without having to try to topple an incumbent. In 2017, Marte mounted an unsuccessful challenge against New York City Council Member Margaret Chin in lower Manhattan. Term limits kept Chin off the ballot this cycle, and Marte notched an impressive primary win against rival Jenny Low, who had garnered major support from a long list of elected officials and unions. 
Sandy Nurse is also seeking a council seat for a second time, although this year is the first time she actually made it onto the ballot. Last year, Nurse was stymied by the cancellation of a special election for former City Council Member Rafael Espinal Jr.'s old Brooklyn seat in Bushwick due to COVID-19 and a failure to qualify for the primary thanks to shifting petition requirements. This year, she got a chance to run against last year's winner, Darma Diaz, and won. 
The other four Latinos who won their primaries were first-time candidates who overcame crowded fields for seats that opened up due to term limits. Shaun Abreu, a tenant attorney with the New York Legal Assistance Group, won the primary in New York City Council Member Mark Levine's Northern Manhattan district. Alexa Avilés, a community organizer and program director for the Scherman Foundation, came out ahead this summer and will succeed New York City Council Member Carlos Menchaca in Sunset Park, Brooklyn. Jennifer Gutiérrez served as chief of staff to Council Member Antonio Reynoso and easily won the race to replace her boss – who's moving up to be the next Brooklyn borough president – in a district spanning portions of Bushwick, Ridgewood and Williamsburg. Pierina Sanchez, who has held positions at City Hall, the Regional Plan Association and the Pratt Institute, will succeed New York City Council Member Fernando Cabrera in a Bronx district that includes parts of Morris Heights, University Heights, Fordham and Kingsbridge. 
For all the gains, however, the sheer numbers may not end up being the full story in reflecting the rise of Latino power in the New York City Council. With two Black men and a white man set to hold the three citywide offices filled by voters starting next year, a Latina may end up serving as the next council speaker. Carlina Rivera and Diana Ayala – but not Tiffany Cabán, despite early speculation – are in the running for the key leadership post, and one of them could be well positioned to secure enough votes from colleagues old and new by the end of the year.  
– with reporting by Gabriel Arana 
Correction: An earlier version of this post said that Tiffany Cabán might be running for council speaker. She's said she's not seeking the leadership post and is now rumored to be aiming to chair the Public Safety Committee.