Campaign Confidential
Justin Brannan is running for speaker, did you hear?
The son of Bay Ridge has laid the foundation for a competitive campaign for City Council speaker.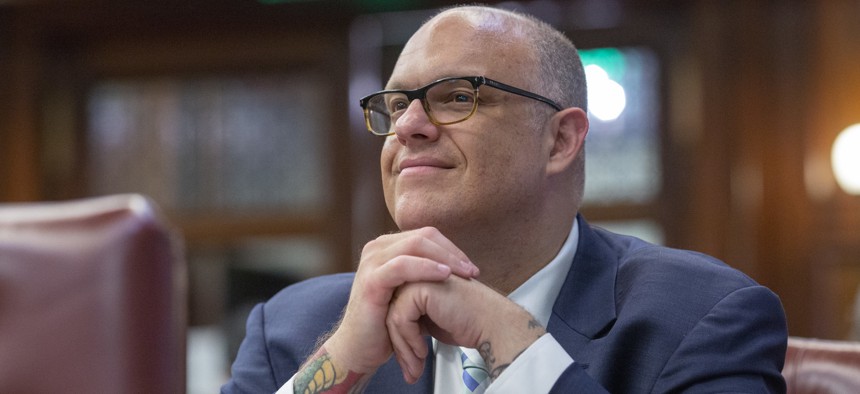 There's a lot we already know about the next New York City Council when it convenes in January. It will likely have women as a majority, more Latino members than ever and a new progressive wing that will include some of the furthest left members the city has seen yet.
But one unknown about the 2022 council – in addition to a handful of somewhat competitive general elections next month – is who will lead this history-making body. While the City Council speaker is technically elected by the council's 51 members, the race has traditionally been one in which county party leaders, members of Congress and labor unions flex the political muscles they've spent all campaign season exercising.
Those power brokers, the incoming mayor – and yes, the actual council members – are the ones wannabe speakers have to win over in the coming months. Half a dozen members are either publicly running for the position or are reported to be considering it, including Manhattan's Carlina Rivera, Keith Powers and Gale Brewer, Queens' Francisco Moya and Adrienne Adams, and Diana Ayala, whose district includes parts of Manhattan and the Bronx.
And then there's Justin Brannan, the Eric Adams-supporting, Bernie Sanders-endorsing, metal music-loving vegetarian from Bay Ridge, Brooklyn, who has been not so inconspicuously gunning for speaker for years. While most observers say it's still too early to name a front-runner in the speaker race, some said Brannan is as well positioned as one can be for a contest in which political winds could change swiftly. "I would rather be Justin than any of the other candidates right now," said one Democratic strategist, who asked not to be named in order to speak openly.
Brannan's strengths going into the race are clear. His ties to Eric Adams, the Democratic nominee for mayor, makes him a contender for the likely mayor's all-important support. He's seen as pro-labor by the unions that are likely to push for their favorite candidate. Some political observers even say Brannan shouldn't be counted out for the possible support of voting blocs that emerge in Queens and the Bronx, should county leaders rally behind a candidate like they did for Corey Johnson in 2017. And he's laid the groundwork with incoming council members by endorsing and campaigning widely across the five boroughs this year. It would hardly be a surprise to see momentum building behind Brannan, the candidate who is perhaps most vocally campaigning for speaker.
But in New York City politics, putting in the time and wanting it really badly doesn't always cut it. Sure, Brannan is one of a few candidates Adams may end up supporting. And even if Adams ends up pulling harder for a different candidate, or stays out of the race entirely, Brannan may still have a path to victory. "Justin is a formidable candidate," said a Democratic consultant who requested anonymity in order to speak freely about the candidates. "He has very good, strong relationships across the board. And it doesn't hurt that he and Eric have a good relationship." But some incoming members don't want an Adams-aligned speaker. While the council speaker has to work with the mayor, they're also expected to hold the mayor accountable – something progressive council members are eager to see under an Adams administration. And Brannan is not exactly the candidate of the left.
Right now that's Carlina Rivera, whose name has been floated by progressive Democrats. Rivera is being supported by Rep. Nydia Velázquez, who endorsed five progressive council candidates that all won their primaries. Reps. Adriano Espaillat and Hakeem Jeffries are also expected to have influence in the race but have yet to stake a position publicly.
Still, say that Brannan, while not a first choice, is deemed "palatable" to progressives – as some argue he will be – he still faces another hurdle. There's an undeniable interest in electing a woman and/or a Latino speaker to lead the diverse and majority-female council, especially because of the lack of leadership roles held by Latinos in the city. It's an imperative few Democrats disagree with, but it may not be a sticking point for all new members. "I think it just comes down to, do we support the person who has worked the hardest, or do we support the person just because they are Latino or they live in Manhattan or they live in Queens and they're a woman,"  likely incoming council member who asked for anonymity because they haven't made up their mind about who to support in the race. That candidate added that some people may be hesitant to state their support for Brannan given the pressure building to elect a woman and/or a Latino speaker. Notably, the council has never had a Black speaker.
Brannan, like fellow white male candidate Keith Powers, has to be prepared for this hurdle as the campaign for speaker continues. In a recent interview, Brannan vowed that as speaker he would be invested in elevating women of color to committee chairs and other leadership roles. "I think it would be all the more incumbent upon a straight white guy to empower women, especially women of color, in top leadership positions, and rightfully so," he said.
That incoming council member is supportive of Brannan, but hasn't ruled out supporting other candidates if push comes to shove. No new council member really wants to piss off the power brokers, after all. "I like Justin and support Justin, but am still waiting to see where the chips are falling," they said. "At the end of the day, I don't want to make a wrong political decision just for one person."
Powered By
NEXT STORY: Jay Jacobs backs Hochul after giving Cuomo a "heads-up"