New York City
CCRB recommends discipline for cops at Black Lives Matter protests
New York City's police watchdog has so far recommended disciplinary action for 65 officers accused of misconduct during last summer's protests.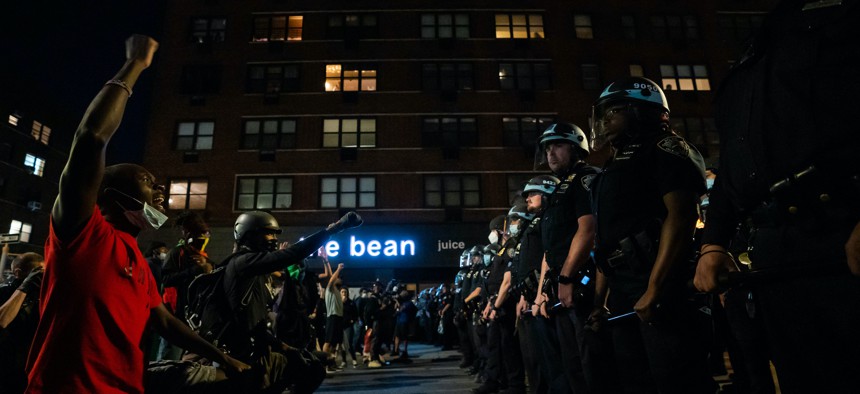 When Black Lives Matter protesters hit the streets in the summer of 2020, the response by New York City police officers was in many instances shocking. The use of tactics such as "kettling" demonstrators and deploying pepper spray was found to contribute to heightened tensions between police and protesters, according to a report last year by the city Department of Investigation. Now, New York City's police watchdog agency is recommending discipline for 65 officers over their actions in responding to those protests.
The New York City Civilian Complaint Review Board released new data on its investigations into 313 complaints of police misconduct during Black Lives Matter protests, stating that the agency has completed 127 investigations. Of those, they found 42 substantiated complaints of misconduct against 65 officers. For 37 officers, the CCRB has recommended the highest level of discipline, meaning those officers will face administrative trials that can result in discipline including suspension or termination, among other actions. "Thanks to the thorough work of our investigators, we will start to get accountability for the hundreds of New Yorkers who were mistreated last year," CCRB Chair Fred Davie said in a statement on Monday. "The other 28 officers must also face discipline including those who need to be retrained on proper ways to interact with members of the public." 
Substantiated complaints of misconduct included use of force, offensive language, abuse of authority and untruthful statements, among others. The CCRB's announcement on Monday is just the latest in a months-long process of investigating the hundreds of complaints against cops during the protests. The agency said, however, that it couldn't investigate more than a third of complaints because they were unable to identify officers – thanks in part to cops covering up their names and shields. 
Following the killing of George Floyd by Minneapolis police in May 2020 – and in response to many other police killings of Black people – millions of people across the country hit the streets to protest systemic racism and police brutality last year. In New York, the protests and simultaneous political organizing helped lead to changes in state and New York City laws, including repealing the controversial law shielding police disciplinary records. 
It was also through those protests and the police response to them that terms like "kettling" – when police surround protesters to keep them from escaping in order to make arrests – became common knowledge in New York City. Earlier this year, Attorney General Letitia James sued the New York City Police Department over its response to these and other protests. "There is no question that the NYPD engaged in a pattern of excessive, brutal, and unlawful force against peaceful protesters," James said in January.
The CCRB's release of new data on Monday doesn't close the book on its investigations into police misconduct during Black Lives Matter protests. Another 103 investigations are still pending.
Powered By
NEXT STORY: Tributes honor Colin Powell following retired general's death