News & Politics
Tributes honor Colin Powell following retired general's death
He was seen as an inspiration and "trailblazer" to many in New York's political world.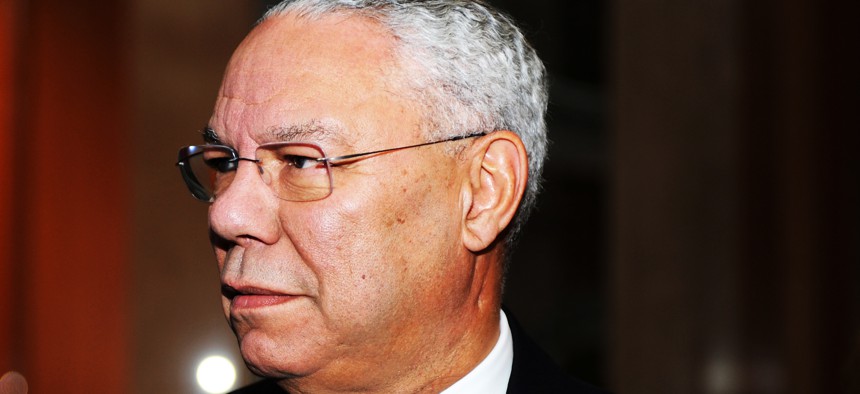 Tributes to Colin Powell began pouring in from New York state lawmakers and other politicians in response to the retired four-star general's death from COVID-19 complications on Monday.
Powell had been vaccinated and was treated at Walter Reed National Military Medical Center, where he died, his family said in a statement. He was 84.
Powell had served as the 65th U.S. Secretary of State under President George W. Bush. He also served under presidents Ronald Reagan, George Bush and Bill Clinton and was considered one of the highest-ranking African Americans in the history of the federal executive branch. 
He first served as deputy national security adviser and then as national security adviser. Powell was then appointed as chairman of the Joint Chiefs of Staff, the senior ranking member of the U.S. armed forces and top military adviser to the president. Powell was the first African American ever to hold that position and the first Black secretary of state. 
"As a Black man just trying to figure out the world, Colin Powell was an inspiration. He was from NYC, went to City College, and rose to the highest ranks of our nation. Sending love, strength and prayer to the family and friends of Secretary Powell. Rest in power sir," Rep. Jamaal Bowman tweeted, adding to several tributes made by New York's political community in response to Powell's loss. 
Bowman also joined Assembly Speaker Carl Heastie, state Senator Jamaal Bailey and New York City Council Member Kevin Riley in releasing a statement that called Powell a "great man and an extraordinary leader." 
"During his time in public service, he was a highly esteemed public servant and trusted advisor," the trio added. "We extend our deepest condolences to his family and friends during this difficult time. May he rest in peace."
"General Colin L. Powell was a trailblazer in the U.S. military establishment," said U.S. Rep. Yvette D. Clarke in another tribute released in a prepared statement. "He rose through the ranks to become a four-star General and the Joint Chief of Staff in the Bush Administration, and he would go on to be appointed the first Black U.S. Secretary of State. He was a hero to many."  
"Like me, he was born and raised in New York to Jamaican immigrant parents and was a proud Jamaican American. Though my tenure in Congress began after General Powell's retirement. I was honored to have been sent alongside him by President Obama to represent the United States to Jamaica for the celebration of their 50th Independence Anniversary," she added. 
New York City Department of Education Chancellor Meisha Porter tweeted a statement noting Powell's roots in New York City. 
Bronx Borough President Ruben Diaz Jr. also expressed condolences. 
During his daily briefing Monday, Mayor Bill de Blasio called Powell "a truly great New Yorker."
"He was an example of the greatness of New York City, an absolutely classic New York City story. Just an absolute great example of the good, the talent, the ability that comes out of the city, but he took it to the next level." 
De Blasio's likely successor, Democratic Mayoral Candidate Eric Adams tweeted, "My sincerest thoughts and prayers are with the family of Colin Powell, the first Black U.S. Secretary of State and a proud native Harlemite. May he rest in peace." 
And Gov. Kathy Hochul tweeted, "Deeply saddened by the passing of former Secretary of State Colin Powell. He was a trailblazer who embodied public service and was driven by honoring American values, not political party. Bill and I send our condolences to his family during this difficult time."
Born in Harlem and the son of Jamaican parents, Powell grew up in the South Bronx and graduated from City College of New York and later joined the Army through the Reserve Officer Training Corps program. 
During his military career, he completed two tours in Vietnam in which he received the Purple Heart and the Bronze Star, along with many more military decorations. He held top positions during historic events for the United States such as the fall of the Berlin Wall, the collapse of the Soviet Union, the 1989 invasion of Panama, the 1991 Gulf War and most notably the 9/11 attacks and U.S. invasion of Iraq and Afghanistan.
In 2003, Powell made his case for the war in Iraq at the United Nations, where he stated that Saddam Hussein had weapons of mass destruction and posed an imminent threat that was later proved false.
Although his speech persuaded many, once American troops invaded in March 2003, it became clear there were no weapons of mass destruction and proved intelligence reports were unsupported. 
Although Powell received criticism for it, he called it "painful" and something that will "always be part of his record," during an interview with ABC News' Barbara Walters. Some tributes to Powell Monday acknowledged his role in getting the war started. 
"While we both represent two different political parties and I've questioned his role with regard to the Iraq War, as also he ultimately did, he was a principled statesman who loved his country," said Clarke in her tribute statement. "We are all beneficiaries of his decades of service and his life and legacy are a testament to the greatness of this man."
Powell also founded America's Promise, a nonprofit organization dedicated to helping at-risk children. He later served as the chairman of the board of visitors of the School for Civic and Global Leadership, named for him at the City University of New York.  
While he was a Republican for the latter half of his life, Powell supported the candidacy of Democratic presidential candidates Lyndon B. Johnson, Barack Obama, Hillary Clinton and Joe Biden. During Obama's presidency, Powell served as the informal adviser to the president.