New York State
Gov. Kathy Hochul has issued her first vetoes
Nine bills targeting a recurring issue around local school funding have become targets of gubernatorial rejection.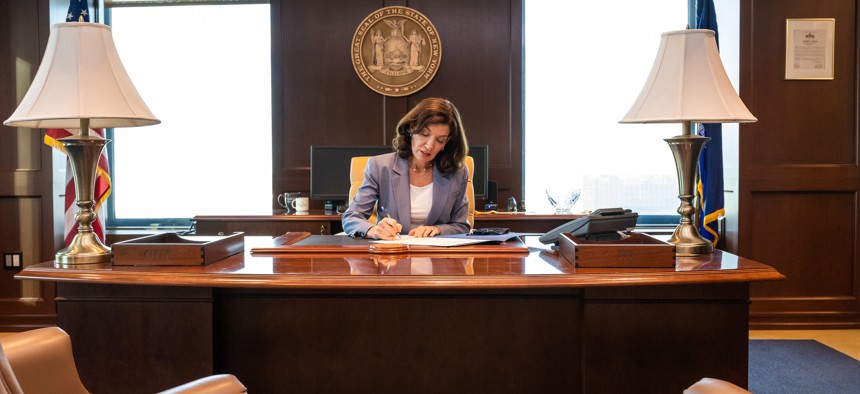 Gov. Kathy Hochul has won lots of praise in recent weeks for playing nicer with the state Legislature compared to former Gov. Andrew Cuomo. This includes working with state Senate Majority Leader Andrea Stewart-Cousins and Assembly Speaker Carl Heastie to extend an eviction moratorium and sharing the limelight at public events like the one she held in Manhattan last Thursday as she signed a legislative package aimed at battling the opioid epidemic. The following day, however, the new governor showed how she can still be like her predecessor at times. 
Her first vetoes as governor, issued last Friday, targeted nine bills passed by state lawmakers this year that aim to steer funding to local school districts despite paperwork errors or missed deadlines. This is a recurring bone of contention between the state Legislature and the Second Floor, and Hochul is handling it a lot like Cuomo, who would effectively argue that districts should bear the costs of bureaucratic mistakes. "It's quite disappointing," state Senate Education Committee Chair Shelley Mayer of Westchester County, a Democrat, said in an interview.  "I appreciate that the governor says she welcomes a conversation with the Legislature, as far as the next budget … But in the short term, these bills could have been signed and we still could have had a conversation." 
The vetoed bills include legislation that would reimburse the Baldwin Union Free School District in Nassau County for several school bus contracts despite a missed funding deadline. Schools in the Catskills village of Monticello are looking for the state to forgive a $1.9 million penalty for bad paperwork dating back nearly 20 years. "The former governor had a habit of vetoing bills like this," Democratic state Sen. Elijah Reichlin-Melnick of the Hudson Valley said of his own vetoed legislation that would have helped the Pearl River School District avoid about $650,000 in lost funding. "I was hoping the new governor might take a different look." 
Getting such bills vetoed is an experience shared by Democrats and Republicans alike no matter who is governor. Reichlin-Melnick and Republican state Sen. Phil Boyle of Long Island both said the Hochul administration reached out last week to inform them of the impending vetoes for the respective bills they sponsored. While the outreach was a little different compared to past instances when Cuomo vetoed similar bills sponsored by Boyle, the end result was still the same. "They would call – but not be as nice," Boyle said in an interview of staffers for the former governor. 
He and other sponsors of the nine bills will now seek funding for these districts in the upcoming state budget process, when those districts will have to compete with others across the state. "These bills were needed to resolve past clerical errors that made the districts ineligible for transportation aid even though the expense was allocated in that year's budget," Assembly Member Judy Griffin of Nassau County said in a statement of two bills she sponsored that Hochul vetoed. "I am confident that Governor Hochul will work with the legislature to resolve this issue equitably for these school districts in the 2022 State Budget."
A spokesperson for the governor noted how her veto messages left the door open to resolving such recurring issues with local school districts. "Governor Hochul welcomes a conversation with the Legislature as part of the upcoming state budget to address these aid withholdings once and for all, and to ensure the law fairly reflects consequences to school districts," the spokesperson said in a statement. Previous budget cycles have helped districts overcome withheld funding because of such bureaucratic delays, the spokesperson added.  
Lawmakers say that they remain optimistic about how they might work with Hochul on education funding. The upcoming budget process will be the first one in years in which legislators and a sitting governor will not be fighting over whether the state owes schools statewide billions of dollars because of a 2006 state court decision in the c ase of Campaign for Fiscal Equity v. State of New York. Yet, it remains to be seen whether the funding increases that ended that long-running political battle earlier this year will be continued indefinitely into the future. 
Hochul told lawmakers in her veto messages that she wants to avoid making exceptions to the rules when it comes to education funding, legislators are now eagerly awaiting what solutions she might offer next year to help school districts avoid big funding cuts because of bureaucratic mistakes. "Gov. Hochul's vetoes today may be an indicator that a culture of exceptions and workarounds regarding education funding in Albany is ending, but we'll have to wait and see whether systemic fixes to these ongoing problems materialize," Democratic state Sen. Robert Jackson, a co-plaintiff in the original Campaign for Fiscal Equity case said in a statement.