New York State
With Kamala Harris' visit, NY leaders hopeful for federal influx
Hochul: "Let's spend that money here."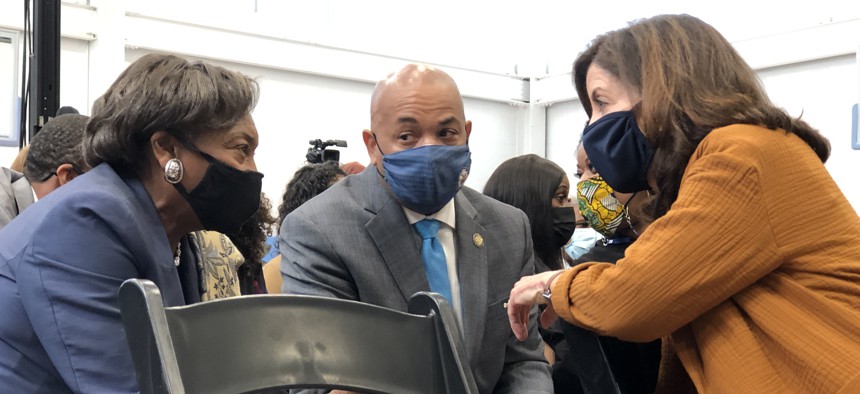 With Vice President Kamala Harris' visit to the Bronx on Friday afternoon, New York leaders were hopeful that the Democratic-held government in Washington would deliver an influx of federal funds ahead of next year to help pay for things like climate resiliency projects and job training programs. 
"There was no point before where I was mayor where I had hope that Washington would help us in a profound manner," New York City Mayor Bill de Blasio said. "This is the biggest we've seen in decades, and we've got to grab this moment. We can't let it slip away."
De Blasio, Gov. Kathy Hochul, Senate Majority Leader Andrea Stewart-Cousins, Assembly Speaker Carl Heastie and many other elected officials were on hand for Harris' speech at the Northeast Bronx YMCA. The vice president urged for the passage of the Biden Administration's nearly $2 trillion Build Back Better legislative package. Though Democrats control the White House and both sides of Congress, tense negotiations have stalled the bill. 
So in a heavily Democratic congressional district represented by progressive Rep. Jamaal Bowman, Harris made the case that congress has an opportunity to build upon the nearly $2 trillion coronavirus relief package known as the American Rescue Plan that was signed into law in March. "This right now is a moment that will not last. It is a particular moment of incredible opportunity and a moment to transform our nation," Harris said. "It's about being fair on climate. It's about better health. It's about better jobs. And it especially is about our families."
With a new governor in Hochul and a new mayor of New York City in, presumably, Eric Adams, there are many questions about what government spending will look like next year in New York – but one of the biggest questions is just how much federal funding will make up the city and state budgets. But in her remarks ahead of Harris, Hochul was eager to take what she could get. With an ongoing pandemic and economic crisis, "We need (help) once again. And they have the package to deliver for us," she said. "We want the money for infrastructure. And I am going to spend it. Let's spend that money here."
Where would that money go? Hochul emphasized what she called "human infrastructure." That's spending "to help people get child care. Help get more vaccinations. Help all the communities that are hurting," she said. "Let's get more job training as well, beaucase a lot of jobs just may not come back."
Before the vice president spoke, Heastie highlighted child care and mental health services as areas where he'd like to see federal support. He also highlighted the venue for the event, the gleaming Northeast Bronx YMCA, which had just opened last month. "Every community deserves something like this that we have," he said. "Things that can bring the community together from our seniors to our babies to everywhere in between. So the fact that Build Back Better is not just talking about infrastructure building, it's also talking about human infrastructure."
Stewart-Cousins told City & State that she too was looking for federal support for social infrastructure like child care, but also hard construction projects, like making Metro-North tracks more resilient to storms. Service was entirely out on the Hudson Line for a week in September following Post-Tropical Cyclone Ida. We've got to build up our infrastructure for these types of incidents all over our state so that we're not always caught in this kind of difficult situation where everybody is suffering," Stewart-Cousins said. "So the federal government sending this money, it'll allow for the kind of planning that needs to happen in our municipalities. Whether it's cleaning out rivers, or bolstering sewage systems. There are so many things that have to be done."
Asked for his priorities, de Blasio also looked to transportation and other physical infrastructure. "The subways need an immense amount of work. They're the heart of the city," he said. "Schools, we have a huge amount of school construction we would do if we had more resources. Roads? Look at the shape of our roads in the city. If we had more resources, we could do a lot more. And of course, climate. This is the biggest issue of our time. … We can do a lot, as a city, on climate resiliency, but we can't go anywhere near what we need to do. This package would allow us to take a huge step forward." De Blasio is term-limited out at the end of the year, but is thought to be considering a run for governor against Hochul. Asked if he was close to a decision on Friday, the mayor deflected. "This gubernatorial election is eight months away, the primary. So everything has to move fast in one way or another. That's all I'm going to say. I 'm not going to say specific dates or anything else."
Ahead of Harris' speech, Stewart-Cousins was also asked about an election, and she reiterated her support for India Walton's mayoral campaign in Buffalo. Although U.S. Sen. Majority Leader Chuck Schumer just endorsed her against the current mayor, Byron Brown, who is running a write-in campaign, other major Democrats have declined to support Walton. "I certainly support the candidate that is the Democratic nominee, and I believe all Democrats should support the Democratic-endorsed candidate," Stewart-Cousins said. "I already said that, and so what people do, they do. But certainly, we have candidates. They win. They should be supported."