Politics
Prominent New York Democrats who have not endorsed India Walton
The Democratic mayoral nominee in Buffalo is not getting support from powerbrokers in her own party.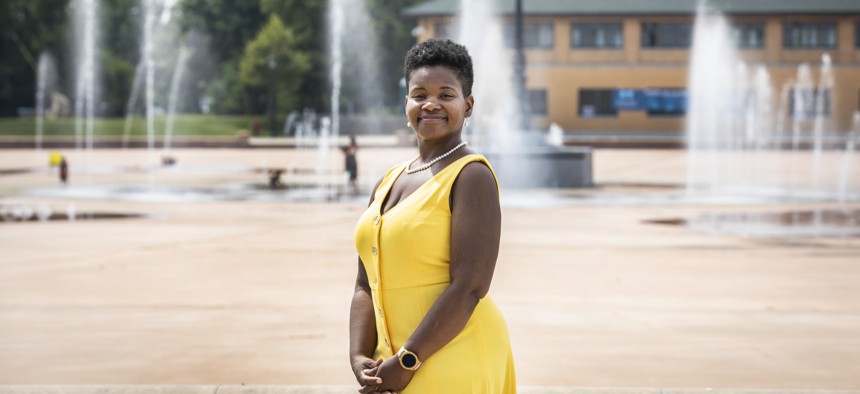 Political parties are premised on the idea that their members make common cause come election time. The Buffalo mayoral race, however, is testing whether some of the most powerful Democrats in the state feel obliged to back the candidate voters chose during the primary: socialist India Walton. 
Walton beat longtime Mayor Byron Brown in June, and Brown is now waging a write-in campaign to win the November election. While many Democrats have put aside their qualms over Walton's left-leaning ideology in recent months, some resistance remains within the party establishment. This includes local officials who have not always been so helpful to Walton as well as people of statewide importance who have avoided publicly endorsing their own party's nominee for mayor of the second largest city in the state. 
Statewide officials generally back their own party's nominees in the general election, whatever might happen in a party primary. "There's exceptions to every rule," one longtime Albany observer said Tuesday. "One of which is when it's a democratic socialist who's out of touch with the broader Democratic Party electorate." Progressives are complaining about the lack of establishment support for Walton, but other Democrats are evidently waiting to see whether Brown, a former state party chair, can somehow win reelection after running a "non-campaign for mayor" during the primary. (Republicans do not have a candidate on the ballot.) 
If Walton does become the first socialist mayor of a major U.S. city in decades (as appears likely given the historical record with write-in campaigns) she will have done it without the public support of many statewide officials, including the state party chair and other prominent Democrats. That is not typically the case for political candidates, who can usually assume that their own party will support them, but the following Democrats evidently have had their reasons to not endorse Walton this year.
Gov. Kathy Hochul
The Western New York native has offered a few reasons for not endorsing Walton. "I'm not making any local endorsements," she told reporters in August. "I'm not making endorsements at this time." She offered a different rationale Tuesday by suggesting that it would be too decisive to pick one Democrat over the other in the race though only one of them – Walton – is the party nominee. "Well we have two Democrats running," she said Tuesday when asked by City & State. "This process allows people to exercise different ways to be considered by voters in November."
Lt. Gov. Brian Benjamin
He has become a more prominent voice in New York politics since joining the ranks of statewide officials weeks ago, but Hochul's No. 2 seems to be staying quiet on the big race out west. A spokesperson did not respond to a request for comment by publication time.
Attorney General Letitia James
James has been getting noticed in Buffalo lately, but joining a picket line is different from officially backing an insurgent candidate for office. "At this point in time, I'm just focusing on the work of the office of the attorney general," she said weeks ago when asked whether she would back Walton. "I'm not making any endorsements at this time." A spokesperson for James did not respond to a request for comment by publication time about whether her thinking has changed since then. 
State Comptroller Thomas DiNapoli
The longest serving statewide official – who has endorsed Brown in the past – has said he will not be making any endorsements in the Buffalo mayoral race. A spokesperson for his campaign could not be reached for comment by publication time. 
U.S. Senate Majority Leader Chuck Schumer
The Brooklyn power broker became the first statewide official to endorse Walton on Oct. 21 after saying earlier in the week that he was too busy talking about politics to talk about politics. That could push other prominent Democrats off the fence in the remaining days of the campaign, especially considering the awfully nice thank you they might expect from Walton. "I am feeling the friendship this evening!" she tweeted after Schumer announced his endorsement. "Chuck, you're a real one."
U.S. Sen. Kirsten Gillibrand
New York's junior senator has likened her endorsement of Walton (which came the day after Schumer announced his endorsement) to other instances when she has supported women for elected office. At least one political observer, however, is wondering why she took so long to endorse Walton – especially considering her past support for ex-Gov. Andrew Cuomo and ex-Rep. Joe Crowley against female insurgents.
Democratic State Party Chair Jay Jacobs
You could say that the demonstrably worst-received reason for not endorsing the party nominee comes from the state chair. If David Duke (the former leader of the KKK who gained nearly 40% of the gubernatorial vote in Louisiana as a Republican candidate for governor in 1991) were hypothetically running for the Democratic nominee for Rochester mayor, Jacobs said Monday, he would not support him. Thus, winning a nomination means nothing when it comes to endorsements, he added. Jacobs is now facing calls for his resignation over invoking Duke while talking about a Black female candidate who has nothing to do with racial terrorism. 
Assembly Majority Leader Crystal Peoples-Stokes
The most powerful upstate legislator has appeared in public with Brown during the campaign and formally endorsed his write-in campaign with one week to go in the race. That makes her the latest Democratic leader to reject the idea that their own party's primary ought to decide who they support in November. 
With reporting by Gabriel Poblete.