Campaigns & Elections
Races to watch in New York's 2021 general election
These are the few competitive seats up for grabs.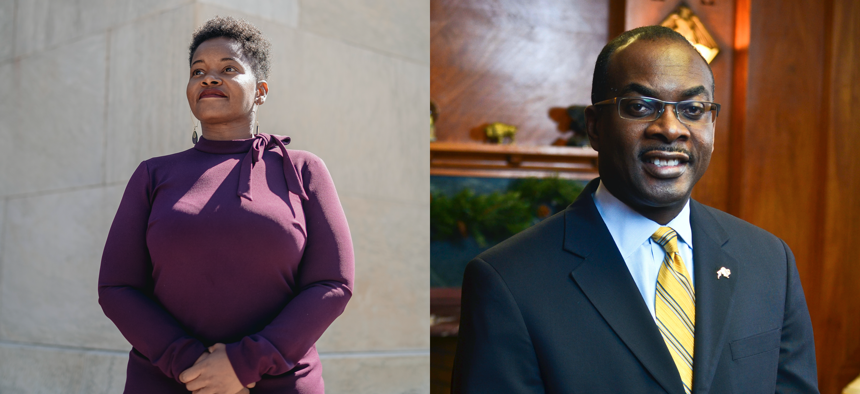 Updated Nov. 1
Tuesday is Election Day in New York, meaning the state is that much closer to deciding a number of high-profile toss-up races – and in certain parts of the state like New York City, many not so competitive races. 
New York City will vote in a host of citywide offices including for mayor, comptroller, and public advocate, along with borough presidencies and open district attorney seats. There's also a new City Council to elect, the majority of which will be new members. Many of those seats have been considered unofficially decided for months, thanks to the city's vast Democratic voter enrollment advantage.
But that doesn't mean there aren't any competitive elections to watch this year. Several City Council swing districts are up in the air, as is the borough president race on Staten Island. And some of the most competitive races are happening far outside the five boroughs, including the India Walton and Byron Brown rematch for Buffalo mayor. Plus, voters across the state will vote on five ballot proposals to amend the state constitution.
Polls close at 9 p.m. Tuesday, at which point preliminary results will begin to roll in. In some less competitive races winners will be declared fairly quickly. But in others, definitive results could take days. In the Buffalo mayoral race, for example, where Brown is running as a write-in candidate, write-in ballots won't be counted until after Nov. 15. 
Here are some of the most important races to watch as results start to pour in on Tuesday.
Buffalo mayor
India Walton (Democratic) vs. Byron Brown (write-in)
Can an incumbent mayor win a write-in campaign? That's the central question in Buffalo this year, after incumbent Mayor Byron Brown lost the Democratic primary in June to socialist India Walton. Brown, now running a formidable write-in campaign, is playing catch-up after taking the primary election for granted. Walton may have a natural ballot advantage in being the Democratic Party's official candidate, but some major state party leaders aren't exactly lining up to stump for her. Gov. Kathy Hochul won't endorse in the race, while state Democratic Party Chair Jay Jacobs made a mess in making a point not to endorse her. Others are stepping out for the Democratic nominee – Senate Majority Leader Chuck Schumer has endorsed Walton, as has Sen. Kirsten Gillibrand. As a write-in candidate, Brown maintains the backing of some Buffalo political and business leaders. Walton may be the only candidate listed on the ballot, but Byron still poses a serious threat.
New York City mayor
Eric Adams (Democratic) versus Curtis Sliwa (Republican, Independent)
New York City is electing its next mayor on Tuesday, and it's very, very likely to be Democratic Brooklyn Borough President Eric Adams popping the champagne on Tuesday night. With registered Democrats far outnumbering Republicans in New York City, Adams has been treated as the presumptive mayor-elect since beating out a crowded field in June's Democratic primary. Republican nominee Curtis Sliwa, whose claim to fame is founding the vigilante crime fighting group Guardian Angels, has always been a long shot. A Never Trumper, Sliwa's already slim chances were further reduced when it was Adams, a moderate Democrat, who triumphed over some more progressive Democrats in June. This race has been as good as decided for four months, but it's nonetheless been a lively campaign to watch.
New York City Council District 19
Tony Avella (Democratic) vs. Vickie Paladino (Republican, Independent) vs. John-Alexander Sakelos (Conservative, Save Our City)
With moderate Democrat Paul Vallone on his way out, District 19 in northeast Queens has a chance of flipping to the Republicans. It's one of a few districts that Republicans are hoping to claim from the Democrats this year, but GOP candidate Vickie Paladino goes into the race as an underdog. Former state Sen. Tony Avella carries not only name recognition but a history of winning elections in the area, including serving on the council from 2002 through 2009. Still, the Republican voting population can't be underestimated in this section of Queens, and Paladino maintains a fundraising edge. Conservative Party candidate John-Alexander Sakelos could end up pulling some of Paladino's votes, however, to the benefit of Avella.
New York City Council District 32
Felicia Singh (Democratic) vs. Joann Ariola (Republican/Save Our City, Conservative) vs. Kenichi Wilson (Community First)
One of Queens' only remaining Republican seats is up for grabs, and Felicia Singh, a teacher and progressive Democrat, is hoping to flip it. Southeast Queens' District 32 is currently represented by Republican Eric Ulrich, and flipping the district will be no easy feat. Singh faces opposition from Republican Joann Ariola, chair of the Queens Republican Party, and Kenichi Wilson, a Queens Community Board 9 member running on the Community First line. The race will be a test for Democrats on whether they can elect not just a member of their own party, but mobilize enough voters to elect a further left member in a swing district. "If Felicia Singh is able to win, it'll put to rest the claims that moderates won't vote for a progressive," said Evan Stavisky, partner at The Parkside Group, a political consulting firm. "If she's unsuccessful, it'll raise the question of could a different Democrat have been successful?"
New York City Council District 43
Justin Brannan (Democratic, Working Families) vs. Brian Fox (Republican, Conservative)
Democrat Justin Brannan is probably a safe bet, but he's not taking this race for granted, after winning by just 3% in the 2017 general election. The southern Brooklyn neighborhoods of Bay Ridge and Dyker Heights have seen seats flip blue, but Republicans maintain a strong foothold in the area by holding seats in the House and Assembly. Brian Fox, who founded a technology staffing firm and now spreads conspiracy theories on social media, is a first-time candidate and is running on hot-button issues claiming that Brannan "defunded the police" when he voted for the city budget last year that cut New York City Police Department funding by $1 billion. Brannan is one of the contenders to be the next speaker of the City Council, and a close contest that doesn't get called on election night could cut into the time he needs to be campaigning for that race.
New York City Council District 48
Steven Saperstein (Democratic) vs. Inna Vernikov (Republican, Conservative/Centrist)
There's a lot of party hopping going on in southern Brooklyn's District 48. Democratic candidate Steven Saperstein previously ran for office as a Republican, while Republican contender Inna Vernikov used to be a registered Democrat. It's not a surprise that Saperstein and Vernikov are aligned on some issues, as Saperstein himself has acknowledged. Vernikov, a lawyer, has organized her campaign around key issues like opposing vaccine mandates and opposing a state cap on charter schools. She is also running as an avowed Donald Trump supporter. Donald Trump Jr. recorded a robocall on behalf of Vernikov.  The district consists of neighborhoods that turned out for Trump in the 2016 and 2020 presidential elections, but it has consistently elected Democrats in local races, and Democrats still outnumber Republicans. (Conservative Democrat Chaim Deutsch vacated the seat after he pleaded guilty to tax fraud earlier this year.) Saperstein, a special education teacher, enters the race with a strong fundraising advantage and the backing of organizations like the New York City Police Benevolent Association – a benefit in districts like the 48th, where public safety is a prevalent issue.
New York City Council District 50
Sal Albanese (Democratic, Staten Island 1st) vs. David Carr (Republican) vs. George Wonica (Conservative)
When Republican John Fusco left this Mid-Island City Council seat in 1998, his former chief of staff, Jimmy Oddo, won the seat. When Oddo was term-limited out in 2013, his longtime chief of staff Steven Matteo won it. Eight years later, Matteo is term-limited, and his longtime chief of staff David Carr is hoping to keep it in the family. The district has traditionally voted Republican, but insiders say Sal Albanese has a real shot, thanks in part to union endorsements such as the New York City Police Benevolent Association, which is influential in the district. Albanese also has a relatively high profile for a council candidate, since he previously served in the council representing a Brooklyn district and has run for mayor three times – most recently falling to New York City Mayor Bill de Blasio in the 2017 primary. Carr has raised and spent the most in the race, but Conservative George Wonica's presence could siphon away some right-leaning voters, particularly after Carr's bruising Republican primary against Marko Kepi.
Staten Island borough president
Mark Murphy (Democratic, Staten Island 1st) vs. Vito Fossella (Republican) vs. Leticia Remauro (Conservative)
Staten Island hosts New York City's only really competitive borough president race this year, with former Republican Rep. Vito Fossella facing off against Democrat Mark Murphy, a real estate developer and former congressional candidate, and Conservative Party candidate Leticia Remauro, a former chair of the county Republican Committee. Murphy and Remauro are both spending heavily in the race, with Murphy doling out roughly $549,000 and Remauro spending roughly $695,000 since Oct. 22. Fossella, by comparison, has spent just roughly $109,000. It's an uphill battle for Murphy; the borough presidency hasn't been held by a Democrat since 1989. Still, Remauro's candidacy on the Conservative Party line could end up pulling votes from Fossella and give Murphy an opening.
Nassau County district attorney
Todd Kaminsky (Democratic) vs. Anne Donnelly (Republican, Conservative)
Democratic state Sen. Todd Kaminsky is running against Republican prosecutor Anne Donnelly for Nassau County district attorney. While Kaminsky enters the race as the more prominent politician, having a political record to attack isn't always a good thing. Donnelly has made bail reform a key issue in the suburban county, criticizing Kaminsky's vote for criminal justice reforms as part of the 2019 state budget. The race is thought to be very close – state Democratic Party Chair Jay Jacobs told City & State that Kaminsky was only slightly ahead in a recent internal poll. Kaminsky, a former federal prosecutor, still has a fundraising advantage. If attacking bail reform becomes a winning strategy for Donnelly's campaign, Republicans across the state are likely to deploy it in 2022.
Nassau County executive
Laura Curran (Democratic) v. Bruce Blakeman (Republican, Conservative)
In purple Nassau County, Democratic County Executive Laura Curran is attempting to hold on to her seat this year by appealing to swing voters while not alienating the Democratic base. It's a tough task, and one that Republican candidate and Hempstead Town Council Member Bruce Blakeman is hoping she'll fail to achieve. Still, Curran goes into the race with more money, more name recognition and, according to state Democratic Party Chair Jay Jacobs, an advantage in internal polls. 
Syracuse mayor
Ben Walsh (Independence) vs. Khalid Bey (Democratic) vs. Janet Burman (Republican, Conservative)
In a reliably blue city like Syracuse, one would think the Democratic candidate goes into an election with an obvious advantage. But in this year's mayoral race, Democratic Syracuse Common Councilor Khalid Bey is actually the insurgent hoping to take down incumbent Mayor Ben Walsh, who won as an independent in 2017 and is running on the Independence Party line this year. Walsh has a heavy advantage in fundraising over Bey and Republican candidate Janet Burman, and name recognition can always be counted on to serve an incumbent, even if he's a third-party candidate.
New York state ballot proposals
Proposal 1 – Redistricting 
This proposal would make several changes to the state's redistricting process, including freezing the number of state senators at 63, including undocumented immigrants in the population count that redistricting is based on and counting incarcerated New Yorkers at their last place of residence, rather than the place where they're detained. While the proposal is backed by some, including the chair of the Independent Redistricting Commission, it's facing some pushback in part because changes are being proposed in the middle of the current redistricting process.
Proposal 2 – Right to clean air, clean water
This measure would amend the state constitution to add that every person has a right to clean air, clean water and a healthful environment. It's a laudable goal endorsed by local environmental groups that few disagree with on its face, but opponents have raised concerns that the general language would lead to excessive litigation.
Proposal 3 – Same-day voter registration
Same-day voter registration is a goal good-government groups have long fought for, and this proposal would enable the state Legislature to pass a law allowing same-day registration.
Proposal 4 – No-excuse absentee voting
While the COVID-19 pandemic effectively made no-excuse absentee voting a temporary reality, an amendment to the state constitution is required for the state to allow it permanently.
Proposal 5 – New York City Civil Court
Voters have a chance to decide whether New York City Civil Court can hear claims for up to $50,000, an increase from the current limit of $25,000. The distinction may be in the weeds for some voters, but the idea is essentially to expand the Civil Court's jurisdiction and take some pressure off the state Supreme Court's caseload.