Campaigns & Elections
The Nassau County GOP bets on bail reform paranoia in a key race this November
A race for district attorney may serve as a preview of New York Republicans' 2022 chances statewide.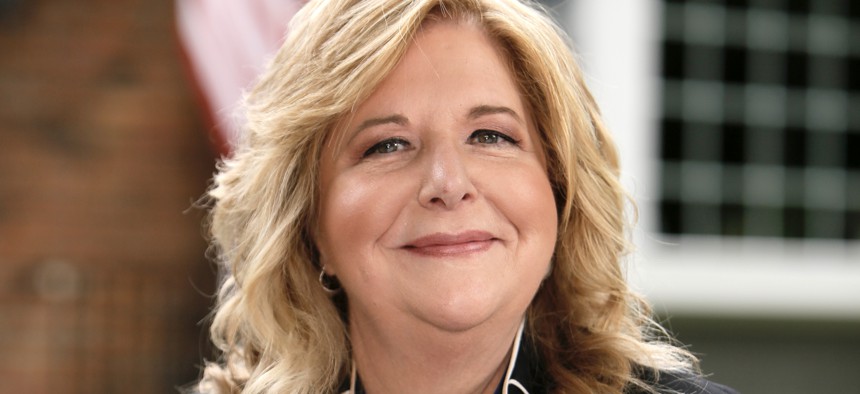 Republicans have not won a statewide race in nearly two decades. They now have less than a third of the seats in the state Senate and Assembly. Their chances of electing a governor next year appear far-fetched in a state where registered Democrats outnumber them by more than two to one. Yet, their chances may not seem so slim if the GOP somehow wins the November election for Nassau County district attorney.
Their candidate in the race – career prosecutor Anne Donnelly – is running a campaign almost entirely based on her opposition to new limits on cash bail. That is no accident considering how well "law and order" politics play in suburban swing areas like Nassau County, according to veteran political strategist Hank Sheinkopf. "Attacking bail reform is an attack on Albany, which is an attack on Democrats – which is an OK thing for high propensity voters in Nassau County," he said in an interview. Internal Democratic polling shows that the race against state Sen. Todd Kaminsky, who has helped craft criminal justice reforms in recent years, remains surprisingly close despite Kaminsky's fundraising edge reflected in the latest campaign finance filings. 
The GOP focus on bail reform has made the Nassau County district attorney race a bellwether this November. A victory for Donnelly would show how a key progressive reform can become a winning campaign issue for Republicans. That could make some Democrats think twice about how they might approach suburban voters in their own campaigns for statewide office next year. "It's really the only issue that they seem to be pounding away at," Larry Levy, executive dean of Hofstra University's National Center for Suburban Studies, said in an interview. "It seems to be having a measurable effect." 
Kaminsky is among the Democrats in the state Legislature who voted for a 2019 state budget that contained some historic criminal justice reforms. They included limiting the types of offenses for which a judge may require a criminal defendant to post bail to secure their release before they go to trial. Another reform requires prosecutors to reveal the evidence they have against people much more quickly. These changes led to double-digit reductions in jail populations across the state, including an 83.3% year-to-year reduction in the number of people incarcerated pretrial outside New York City for misdemeanors or nonviolent felonies, according to a report by the left-leaning think tank Vera Institute of Justice.
A big reason why Democrats made changes in 2020 that expanded the list of bail-eligible offenses was because of the incessant attacks by Republicans that began before the new laws even took effect. The coronavirus pandemic has also been blamed for spikes in violent crime, and it remains unclear just what role, if any, changes to bail have had on crime rates. Nassau County has been rated the safest county in the country for the past two years, but that does not mean Republicans there are letting up about how dangerous bail reform supposedly is to public safety. "It is never about reality with crime," said Sheinkopf, who has worked past campaigns for police unions on Long Island. "It is perception."
Donnelly makes her case against bail reform primarily by citing instances when "thugs" – as her campaign website puts it – have been released pretrial despite the charges against them or their previous convictions. "I had to stand in court and watch people that normally would have gotten bail walk out of the courtroom laughing at the police officers, laughing at the district attorney's office," she said in an interview. The 32-year veteran of the office cited the example of members of an alleged Chilean burglary group who were released pretrial last year. One campaign ad features a Syracuse woman whose daughter was killed by her boyfriend in April 2019. He could not afford bail at the time, but was released the following January under the reforms because he had a permit for his firearm and he was not accused of intentionally killing the woman. "Sen. Todd Kaminsky helped write the law that set my daughter's killer free," her mother says in the Donnelly ad. Campaign literature, Facebook feeds and primetime TV commercials are delivering that message to voters across the county.
Kaminsky has leaned on his six years as a federal prosecutor to argue that he is the candidate who would be tougher on "drug kingpins'' and "gang leaders" than Donnelly. "I won major cases against corrupt officials of both parties," he said in an interview, referring to the convictions of former officials including state Senate Majority Leader Pedro Espada, Jr. of the Bronx and Rep. Michael Grimm of Staten Island. There is not a specific page on Kaminsky's campaign website for a policy platform, but he does have some space to tout endorsements from groups like the New York State Troopers Police Benevolent Association though other police groups have backed his opponent. Kaminsky has also attacked Donnelly by claiming that she has mixed her official duties with politics, including the use of her office email to discuss electoral matters. His efforts to distance himself from bail reform – Kaminsky was among a central group of state senators who negotiated rollbacks to the 2019 reforms – are not winning him points with reformers. "I am not sure that he is the candidate that best meets the moment," Jovanni Ortiz, of the Nassau County Police Community Oversight Task Force, said in a June statement. But left-leaning voters have to either support Kaminsky or risk letting a Republican become district attorney. 
There has been no public polling of the race, but it appears to be close for a number of reasons. State Democratic Party Chair Jay Jacobs said in an interview that an internal poll in recent weeks, which he declined to release to City & State, shows Kaminsky "slightly ahead" while County Executive Laura Curran has a lead in her race for reelection of more than 10 points. "It's anybody's game," Jacobs said of the race for district attorney in an interview. "We have to take it seriously and we have to fight hard and raise a lot of money." Campaign finance disclosures filed over the weekend show Kaminsky, who has raised a significant amount of money from the real estate industry, with more than $1.4 million on hand compared to just over $40,000 for Donnelly, who is a first-time candidate. Campaign finance disclosures show the New York Republican State Committee gave her a total of $208,851.56 in late September. Just how much outside groups are spending on the race remains unclear. Republicans' chances in the race appear to come down to two key words. "The craziness of bail reform, it's right there. That's how she's gonna win," Nassau County Republican Party Chair Joseph Cairo said in an interview. 
The 2020 elections highlighted how Long Island has become one of the few remaining areas of the state where Republicans can still compete – former President Donald Trump lost the county by single digits last year. Republicans' outspoken support for police and opposition to reforming the criminal justice system helped them win competitive congressional races last year while defeating incumbent Democratic state Sen. Monica Martinez. Though Democrats still gained seats in the state Legislature and appeared primed to do so again next year, Republicans have only doubled down on their support for police. This includes using their majority in the Nassau County Legislature to pass a bill, later vetoed by Curran, that would have allowed police officers to sue protesters for supposed harassment. Donnelly is the latest in a long list of Republicans who have distorted the facts about bail reform to score political points against Democrats.
There are a few races this November that will test the current political zeitgeist before the 2022 elections when control of Congress and the state Legislature hang in the balance. The governor's race in Virginia is arguably a proxy war between President Joe Biden and his predecessor. New Jersey voters have to decide who they will support in a gubernatorial race where hot-button topics like vaccine mandates, taxes and abortion appear to have outsized importance. Whether Republicans or Democrats win these races could say a lot about which direction swing voters are leaning in places that have tended to elect more and more Democrats in recent years. A similar situation is playing out in the Nassau County district attorney race – with one key difference. The Republican candidate is heavily campaigning on a single issue. Voters will soon get to decide whether bail reform is as politically effective as Republicans hope and Democrats fear. "It will be an indication of whether (progressive) reforms have worked or are well liked by people," Sheinkopf said of the race. "Crime and disorder may be the issues that determine the outcomes of 2022 races throughout the country."