Interviews & Profiles
Laura Curran appeals to the center-right for reelection
If she loses, it might be because Democrats were apathetic to the Nassau County executive.
On a recent October evening, Nassau County Executive Laura Curran made her pitch before a room full of mostly white, older voters of the Plandome Heights Civic Association at a yacht club on Long Island Sound. "Good evening everyone. It's late and it's chilly, so I'm just going to get right into it," she said before launching into a 10-minute stump speech covering COVID-19, policing, taxes and the true bread and butter of any local politician – paving roads. Curran had her talking points down pat: Nassau County has the highest rate of vaccination in the state; the county has been rated the safest in the nation two years running by U.S. News and World Report; and she tackled the tricky business of reassessing home values to make property taxes more accurate. She seemed well received, with the occasional head nod or chuckle at a light quip.
The biggest reaction came early when she said point blank, and essentially unprompted: "We are not defunding the police in any way, let me make that crystal clear." The statement earned her rousing applause from the crowd – as did her mention of a completed campaign promise to a nearby police precinct.
Near the end of the program as Curran took questions from the audience, Plandome Heights Mayor Kenneth Riscica stood up not to pose a question but to simply thank the county executive for her choice of police commissioner, Republican Patrick Ryder, whom she selected at the start of her tenure. "I think your priority on law enforcement matches our priority," Riscica said. "We all watch TV. We don't like what we see, and I think Commissioner Ryder is just an excellent, excellent commissioner."
Although Nassau County has a Democratic voter enrollment advantage, the traditionally purple county is full of moderates and swing voters unafraid to split tickets or vote across party lines. As such, Curran has taken hard – and some may argue calculated – stances against downsizing police forces in the wake of the 2020 protests against police brutality and the 2019 bail reform law. The Plandome Heights event was evidence that her approach plays well to her center-right constituents.
But Curran's decisions to effectively write off members of her Democratic base and appeal to conservative voters by playing into their fears over crime and bail reform could undercut her support on the left. If she does end up losing the general election, experts who spoke to City & State believe it'll be because she alienated too many Democrats, particularly in communities of color, who didn't turn out to vote in her reelection bid against Republican Bruce Blakeman.
Curran, 53, was born in Canada and moved around a lot as a kid growing up. "My parents were both very young and very adventurous," she told City & State while sitting in a Port Washington hotel lobby after attending a small fundraiser for her campaign. She had been in eight different schools and three different countries by the time she entered ninth grade. Among the many places she spent her formative years was Belgium as a toddler, where she learned English and French, which now helps her communicate with her Haitian Creole constituents. "So it was tough as a child, but I think, in a way, it was a blessing because I feel that I could be dropped with any kind of person or any kind of group of people, and I would find a way to make a connection," Curran said of her transient childhood.
That experience helped her as a journalist, writing for the Daily News and the New York Post before moving to the Long Island hamlet of Baldwin in the '90s, where she still lives with her husband and three children.
For Curran, who went by her maiden name Williams then, making the jump from journalism to politics began in 2011 when she ran for the Baldwin Board of Education against an incumbent and won. In 2013, a seat opened up in the county Legislature, a rare opportunity that she seized. Then, in 2017, she won both the Democratic primary and general election to become Nassau's first female county executive, taking over for the disgraced Ed Mangano, who did not seek reelection due to a corruption scandal of which he was later found guilty. "She's running as a classic suburban moderate," said Lawrence Levy, executive dean of the National Center for Suburban Studies at Hofstra University. "And it's working with voters across the aisle because it's what she is – she is a citizen politician."
Even though Blakeman is a Hempstead Council member and seasoned Long Island politician, Democrats are feeling good about Curran's chances. "She's done a good job and most people see it," Nassau County Democratic Party Chair Jay Jacobs, who is also the state Democratic Party chair, told City & State in mid-October, mentioning internal polling that showed her well in the lead. "She's also very authentic," Jacobs added – a quality that others pointed out too. "People like her. They see her for what she is – even Republicans."
We are not defunding the police in any way, let me make that crystal clear.
– Nassau County Executive Laura Curran
One such Republican is Bob Goldrick, who attended the Port Washington fundraiser. He didn't support Curran in 2017 when she first ran against Republican Jack Martins, a former state senator. But the past four years have turned him into a supporter. "From the things I've seen, and what I've heard, she's done a terrific job," Goldrick said. He didn't offer specifics about what won him over, but said he'd seen her more and more on the news and found her to be "a terrific person to support," and a stronger candidate than Blakeman. Andrew Solano, a self-identified conservative who also attended the fundraiser, concurred: "I think she puts forward a great agenda and I look forward to seeing her hopefully successfully follow through and continue her tenure."
That agenda has included a countywide property tax reassessment. Curran's predecessor, Mangano, had frozen assessments in 2010, and they remained so until he left office. "The values were so wildly out of whack. They bore no resemblance to reality because they just hadn't been updated," Curran said, which is why she ran on a promise to finally do a reassessment. Assessments are a chronic issue in the county – grieving one's taxes is a common practice in Nassau – and as such became a politically touchy subject that officials were wary to tackle. Curran called it "a culture of avoidance" that she wanted to break. "The longer I let it sit, the worse it's going to get," she recalled telling an adviser who recommended she put it off.
The rollout, designed with a five-year phase-in beginning last year, had something of a rocky start. Many homeowners were shocked to find significant tax increases and a record number of people challenged their tax bills. Curran stands by her reassessment, pointing to school districts for the majority of tax hikes (something she has no control over) and citing independent evaluations that found her assessments were accurate. But nothing drives voters to the polls like their pocketbooks, and it's apparent Republicans are hoping that will be the case this year.
The reassessment rests at the heart of the Republicans' campaign against Curran. Blakeman, who didn't respond to multiple interview requests, often criticized the county executive over taxes during debates and town halls leading up to Nov. 2. "It was done in a shoddy manner. It was negligent," he said at a town hall last month of the reassessment process. "Taxes are really always the No. 1 issue," said Republican Assembly Member Ed Ra, who has held office since 2011. And the reassessment places a big target on Curran, with GOP officials sending out flyers during tax season attacking "assessor tax errors" to counter more positive flyers Curran's office sent out.
Long Island pollster and political strategist Mike Dawidziak said that while he expects something of a "red wave" this year both locally and nationally, he considered Curran a strong enough Democratic official that she would not get swept away. "She hasn't done anything for the voters to reject her after only one term," he said. "You would have possibly thought the reassessment would be that issue, but that doesn't seem to be showing up in the polls."
People like her. They see her for what she is – even Republicans.
– State Democratic Party Chair Jay Jacobs
There is another complicating factor for Curran, however, one that few would have been able to predict: an open race for county district attorney. The seat unexpectedly opened up when then-Gov. Andrew Cuomo nominated former District Attorney Madeline Singas to the state Court of Appeals. Now, Democratic state Sen. Todd Kaminsky and Republican prosecutor Anne Donnelly are facing off in a special election. At the heart of the campaign is bail reform, with Donnelly attacking Kaminsky for his role in the 2019 law that eliminated cash bail for misdemeanors and nonviolent felonies. Some political observers think the race will impact Curran, despite her efforts to oppose the bail law and support the Nassau police. "It might be a tough sell to fully separate yourself from that," Ra said.
But Curran came out against the 2019 bail reform law, agreeing with the goal of criminal justice reform but advocating for allowing judges to consider a defendant's dangerousness when setting bail. "As a Democrat, it was important to come out and say that publicly and strongly," Curran said.
Some Democrats agreed with Curran's position. "How could you not like what she says when she wants safety?" said Suffolk County resident Joe Willen, who supports Curran as a moderate Democrat despite not being a constituent. Other Democrats, however, were disappointed with how Curran responded to this and other issues, namely on police reform efforts that happened last year amid nationwide protests. When protesters cried out for reform, her response of denouncing the movement to defund the police and the specific slogan was met with disappointment from reform advocates. A picture posted by Jacobs, the county party chair, of him and Curran stirred controversy late last year. In a since-deleted tweet that featured him holding a toy fire truck and Curran holding a toy police car, Jacobs wrote: "'No defunding the police' at THIS toy drive!!!"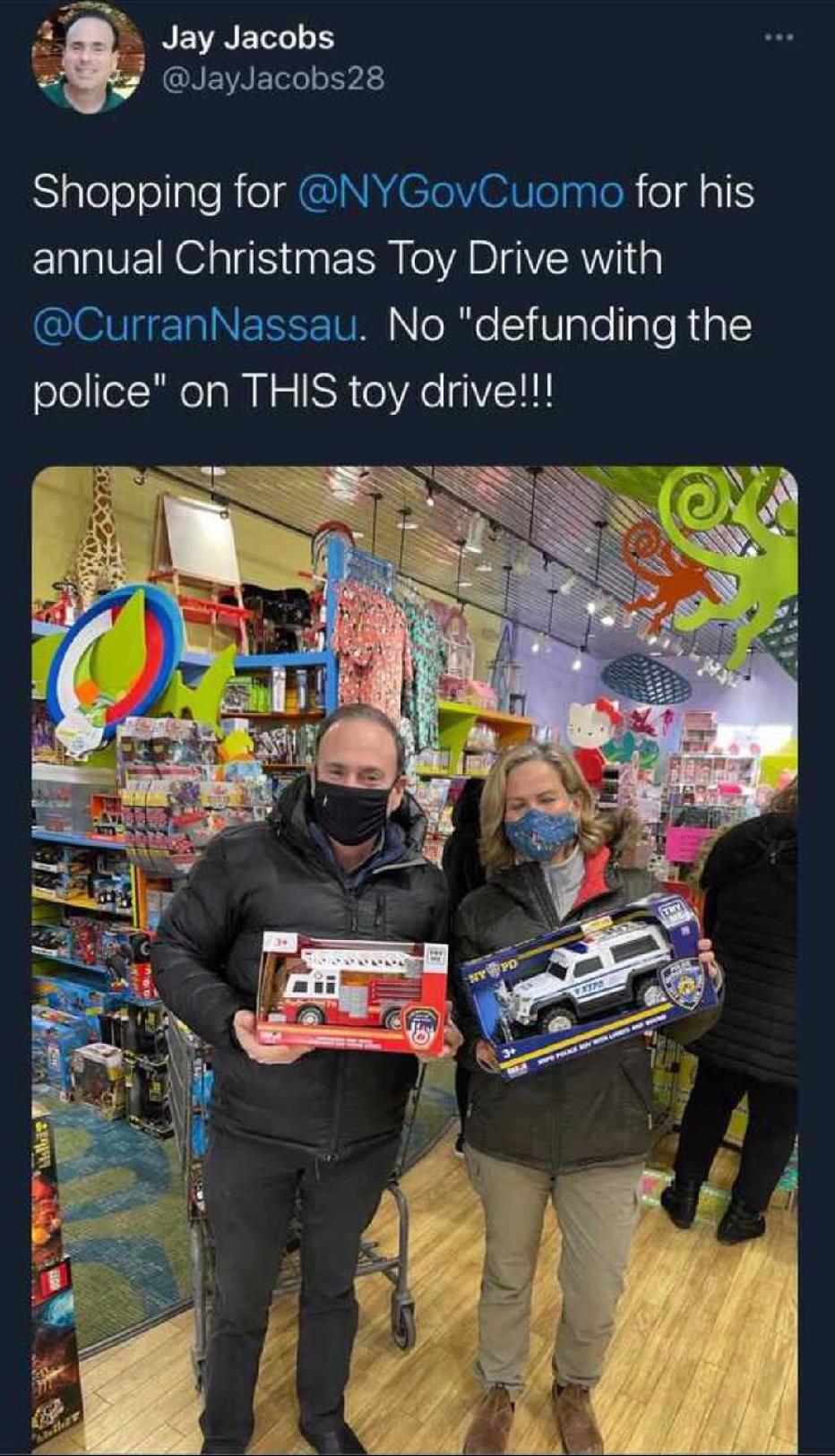 More left-leaning residents and advocates for communities of color may have started off hopeful when Curran was elected, but that didn't last. "That tweet with Jay Jacobs … I think was very telling of her position vis a vis the need for the police department (to be) held accountable and to have its footprint reduced," said Lucas Sanchez, Long Island director at New York Communities for Change. He said that her actions amounted to a dismissal of the protesters who were marching in the streets last summer after the murder of George Floyd and that her "lack of support for police reform" was one of a few positions she took that were "detrimental to people of color in Nassau."
Police reform advocates were also left underwhelmed and angry with how she handled the process to implement changes to the Nassau County Police Department. In January, over a dozen members of the community advisory panel for the reforms resigned after the Police Commissioner Patrick Ryder revealed a 310-page draft plan to the county Legislature. They said they had no hand in creating the plan, nor did they have an opportunity to review before it went public. "What they engaged in was the worst kind of betrayal," civil rights attorney and then-panel co-chair Frederick Brewington said at the time. "The county misled its citizen volunteers into believing that their voice would be heard and then they issued a report that was devoid of any part of the group's participation."
Later, the only three Black members of the county Legislature voted against adopting the plan, considering it insufficient. One of the biggest changes not included was the formation of a civil review board to act as a police watchdog. "I think they're just misinformed," Curran said of criticisms that she did not listen to community members and advocates when drafting the plan she later signed. "(We) put together a plan with all of this input as part of it that I felt best served the residents," she said.
In May, when Nassau County Police Commissioner Patrick Ryder said his department was struggling to diversify its ranks because potential applicants of color often came from "broken homes." Despite perpetuating a racist stereotype, Curran stood by her police commissioner. Many Black activists called on Ryder to resign, or for Curran to replace him. "Clearly, based on his statements, he is unfit to serve the rich diversity of Nassau County," NAACP Long Island Regional Director Tracey Edwards said at the time. "If County Executive Curran in any way defends his comments, she is unfit to serve as well." Curran's decision might've played well with the mayor of Plandome Heights, but it didn't with leaders in communities of color. And that may have a political impact on Curran's reelection chances.
Although swing votes are generally the key to winning elections in Nassau County, she risks losing dependable Democratic voters who feel that she has gone too far to the right and listened to them too little. "She had a great turnout, relatively speaking, four years ago in the Black community and the minority community," Levy said. "The question is how big of a turnout will there be this time? And if it falls off, that could be a problem."
Some left-wing and police reform advocates expect that some people will be so disappointed in Curran that they won't go vote. "I think that she hasn't done enough to really motivate Black and Latino (Democratic) voters to come out and support her in a real way," Sanchez said, adding that apathy by Democrats could lead to a Republican victory through abstention. He said in an ideal world where progressives had better infrastructure set up on the island, they would run a primary against Curran from the left.
While on the campaign trail, Curran expressed multiple times that she's not taking any votes for granted. "I know that every day I've got to earn your trust, and I've got to earn your support," she said as she wrapped up her speech to the Plandome Heights Civic Association. A strong finish is the key piece of advice that the last Democratic county executive, and her former boss, offered Curran. "I lost my race in 2009, which was right after Obama got elected," said Rep. Tom Suozzi, who served as county executive until he was defeated by Mangano. "I didn't run through the tape, and I've encouraged her – and she knew that already without me saying it – she's got to run through to the finish line here."
Curran seemed to be heeding that advice, making sure to pop up at every event, forum and town hall to ensure she has the votes to beat Blakeman. Before heading to a fundraiser last month, she made a quick stop at a small veterans appreciation event in Oyster Bay, where she spent her 10 minutes there chatting with a few attendees. As her detective escort ushered her into a black SUV for the next event, Curran said the men were having issues flying flags for parades in Syosset and she promised them that she would get in touch with the necessary agencies to try to solve their problem. Asked if they were supporters, Curran expressed confidence. "They're like 'Good luck, you seem like you're doing a great job and looking forward to four more years,'" she recounted. "I'll take it!"
Powered By
NEXT STORY: This week's biggest Winners & Losers