Campaign Confidential
Let the City Council speaker race begin
And more coverage of New York elections.
Justin Brannan is running for speaker, did you hear?
There's a lot we already know about the next New York City Council when it convenes in January. It will likely have women as a majority, more Latino members than ever and a new progressive wing that will include some of the furthest left members the city has seen yet.
But one unknown about the 2022 council – in addition to a handful of somewhat competitive general elections next month – is who will lead this history-making body. While the City Council speaker is technically elected by the council's 51 members, the race has traditionally been one in which county party leaders, members of Congress and labor unions flex the political muscles they've spent all campaign season exercising.
Those power brokers, the incoming mayor – and yes, the actual council members – are the ones wannabe speakers have to win over in the coming months.Half a dozen members are either publicly running for the position or are reported to be considering it, including Manhattan's Carlina Rivera, Keith Powers and Gale Brewer, Brooklyn's Francisco Moya, Queens' Adrienne Adams, and Diana Ayala, whose district includes parts of Manhattan and the Bronx.
And then there's Justin Brannan, the Eric Adams-supporting, Bernie Sanders-endorsing, metal music-loving vegetarian from Bay Ridge, Brooklyn, who has been not so inconspicuously gunning for speaker for years. While most observers say it's still too early to name a front-runner in the speaker race, some said Brannan is as well positioned as one can be for a contest in which political winds could change swiftly. Read more here.
By the Numbers
20-30-6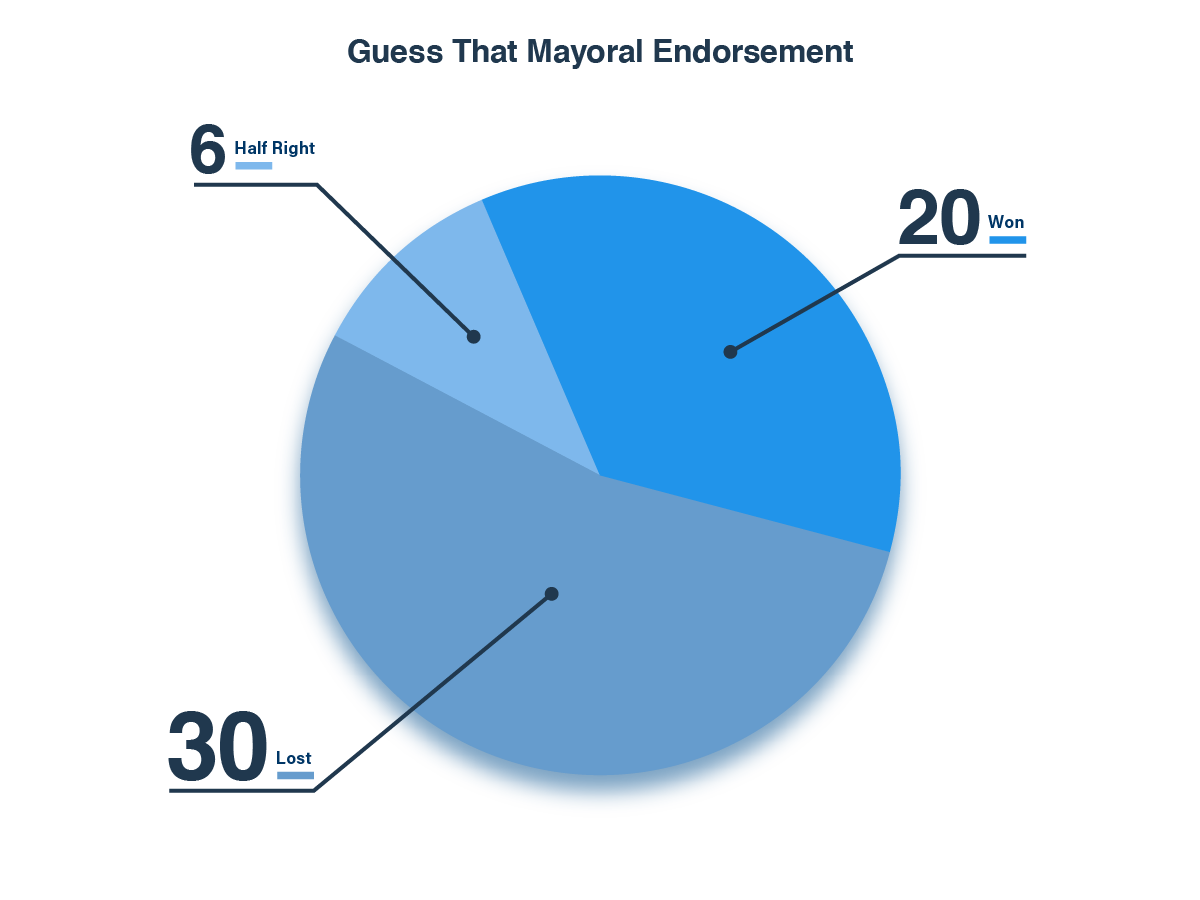 New York City mayoral candidates in the 2021 Democratic primary loved sending press releases teasing endorsement announcements without telling you who would be endorsing the candidate. And this reporter lovedguessing the endorsers. In fact between October 2020 (RWDSU backing Scott Stringer, guessed correctly) and June 2021, there were a whopping 56 endorsement guesses on Twitter. 20 were right. 30 were wrong. And 6 were half right – like when Keith Wright and Hazel Dukes endorsing Eric Adams was the guess, and Wright and David Paterson endorsing was the truth. Final winning percentage: 41%. Not good enough to make the playoffs – but better than the New York Jets.
Why they'll win and why they won't
There's a sense this year, among incoming New York City Council members and the political class that surround them, that this year's speaker race will be more diffuse, more member-driven than usual. Is that why it's seemed oddly … quiet, so far? Tiffany Cabán and Charles Barron have said they aren't running for speaker, but it looks like seven other incoming members are running. Learn a little bit about each of them, and their chances of winning, here.
Roses planted now may bloom in 2022
After a wildly successful 2020 primary season and a disappointing 2021, the New York City Democratic Socialists of America are meeting with 2022 legislative challengers who are hoping to get its coveted endorsement. DSA's Brooklyn Electoral Working Group heard this week from David Alexis, who's planning to challenge state Sen. Kevin Parker, Samy Nemir-Olivares, who might challenge Assembly Member Erik Dilan, and Abdullah Younus, a Bay Ridge resident who's waiting to see how the lines are drawn. "I am definitely considering running for office," he said. "But we're all in the same boat here – we're in the middle of a redistricting process." Would he take on state Sen. Andrew Gounardes? "I don't know if that's going to end up being the case," he said. As City & State already reported, Alana Sivin and Illapa Sairitupac are both hoping for the DSA's backing to challenge state Sen. Brian Kavanagh. So who might get endorsed for 2022? Who knows. The DSA likes to endorse early, but there is redistricting to consider and six incumbents to protect. And the group may want to keep its powder dry and run a socialist in western Queens if state Sen. Michael Gianaris opts to run for state attorney general instead of reelection.
Landmark preservation in Harlem
After Cordell Cleare was effectively appointed to replace Brian Benjamin as Harlem's state senator, likely 2022 challenger Ali Diini raised a question: "when was the last time Harlem had an actual state senate race or even an assembly race? Like with a primary. Not just folks who were appointed by the machine," she tweeted. "HMMMMMMMM THAT'S WEIRD THAT'S SUSPICIOUS." Not a bad point. Harlem's four previous state senators were effectively appointed, going back to 1980. The last real race? Carl McCall defeating incumbent Sidney Von Luther in 1974. That same year, Denny Farrell beat incumbent Mark Southall for an Assembly seat, which hasn't had a real race in the 47 years since. But the other Harlem Assembly seat? Sure, Inez Dickens was basically appointed in 2016, but before her, Keith Wright had to win it in a contested primary in 1992 … four years before Diini was born.
Endorsement Watch
So pretty much every major Democrat in New York City including, unsurprisingly, Bill de Blasio, endorsed Eric Adams for mayor at his City Hall kickoff rally on Aug. 2. Then former Mayor Michael Bloomberg joined Sept. 8. Stragglers like state Sens. Brad Hoylman and Robert Jackson formally endorsed this month … but state Sen. Julia Salazar endorsed Party for Socialism and Liberation candidate Cathy Rojas for mayor … former City Council candidates Moumita Ahmed and Carolyn Tran also endorsed Rojas … the New York City Central Labor Council has now endorsed every single Democrat running for borough president or City Council except for Tony Avella in District 19 in Queens, Darlene Mealy in District 41 and Kalman Yeger in District 44 in Brooklyn, and Olivia Drabczyk in District 51 on Staten Island … the New York City District Council of Carpenters endorsed Republican Joann Ariola for District 32 in Queens … U.S. Senate Majority Leader Chuck Schumer endorsed Felicia Singh for Council District 32 … Emily's List endorsed Singh and Drabczyk and some other Democrats who are effectively uncontested in the general … state Sen. Gustavo Rivera endorsed Rana Abdelhamid for the 12th Congressional District … the New York State Association of Letter Carriers endorsed Rep. Nicole Malliotakis for reelection in the 11th Congressional District … Malliotakis endorsed Inna Vernikov in Council District 48 in Brooklyn … state Democratic Party Chair Jay Jacobs (in his "personal capacity") and Suffolk County Democratic Committee Chair Rich Schaffer endorsed Gov. Kathy Hochul for reelection.
Staffing Up
James Juliano, former organizing director for former City Council candidate Tricia Shimamura, is now the field director for Rep. Carolyn Maloney's reelection campaign in the 12th Congressional District … Hannah Fertig, former director of mobilization for the Working Families Party, is now the campaign manager for Rana Abdelhamid's campaign in the 12th Congressional District … Seth Cohen is the campaign manager for Bridget Fleming's campaign in the 1st Congressional District … Carina Chacon and New Deal Strategies are back working with Rep. Jamaal Bowman for his reelection campaign in the 16th Congressional District … April Glick, who worked on both Maya Wiley and Dianne Morales' mayoral campaigns, is now regional communications coordinator for Citizen Action of New York … Erica Vladimer is doing communications for Tiffany Cabán's Council District 22 campaign … Drisana Hughes, former deputy campaign manager for Alvin Bragg's Manhattan district attorney campaign, is now the campaign manager for India Walton's Buffalo mayoral campaign.
Got tips? Email JColtin@CityandStateNY.com or send a DM to @JCColtin.
District Data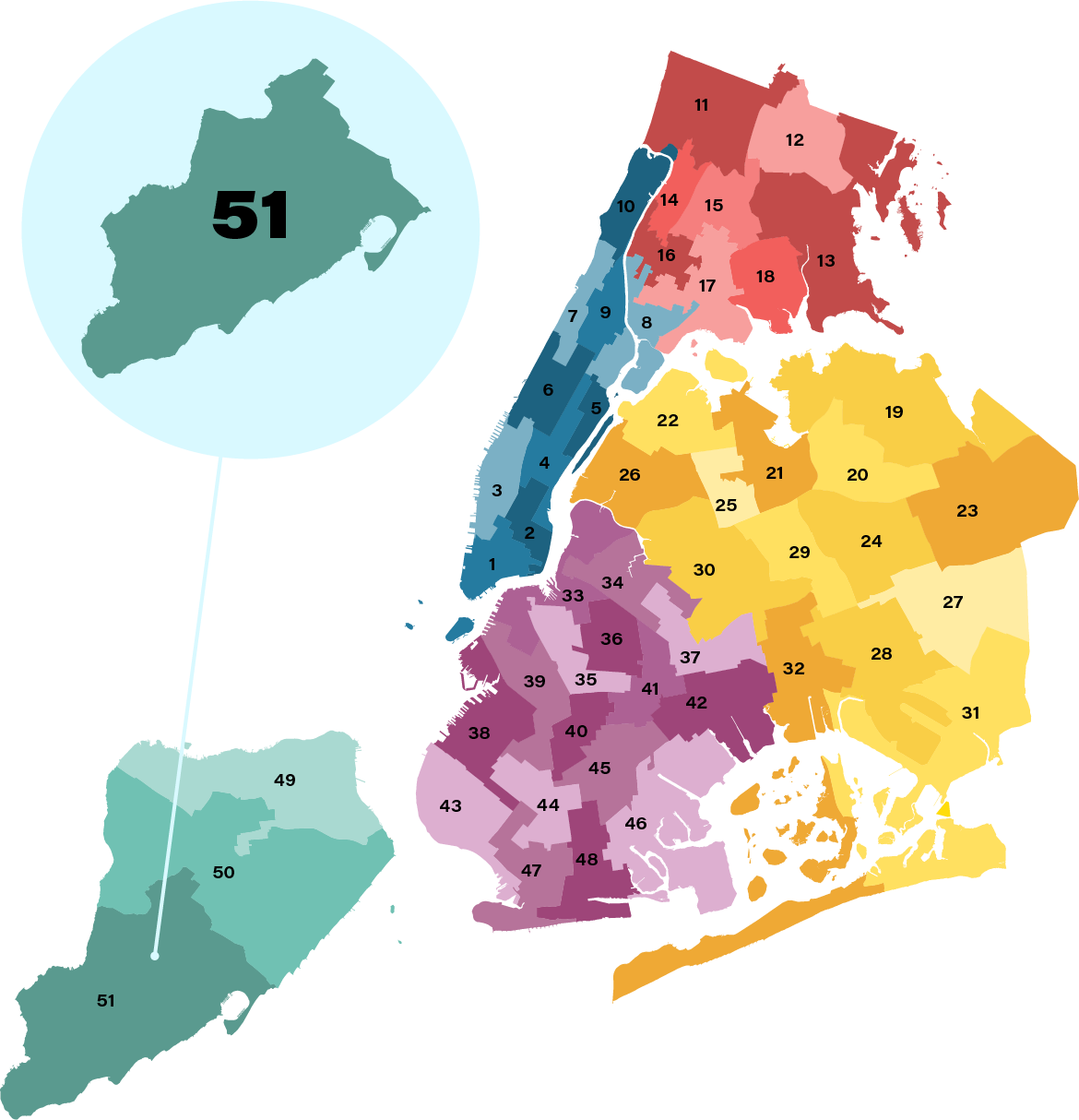 City Council District 51 on the South Shore of Staten Island, covering neighborhoods including Eltingville, Great Kills and Tottenville
Current council member: Joe Borelli since 2015, who's running for reelection
2010 census demographics: 84.1% white, 8.6% Hispanic, 5.1% Asian and Pacific Islander, 1.1% Black
Housing: 75.7% owner-occupied, 24.3% renter-occupied
2015 special election results: Borelli (South Shore First): 97.9%, write-ins: 2.1%
2017 general election results: Borelli (Republican, Conservative, Independence, Reform): 80.1%, David Schwartz (Democratic, Working Families): 19.7%
Who's running: Joe Borelli (Republican, Conservative) and Olivia Drabczyk (Democratic). Borelli represents the most deeply red district in the city – the only "Safe R" seat, if you were to rate them. Special education teacher Olivia Drabczyk is putting up a fight – her $185,000 raised has nearly kept pace with Borelli's $209,000 – but she lacks the endorsement muscle to compete in a district where Republicans outnumber Democrats roughly 8-to-5. Borelli is well known in the district and (surprisingly?) well liked in the council. He's on track to be the minority leader next year, with the only question being whether he'll lead a caucus of one or – if he's lucky – three.
Twitter Posting
"Assemblymember"
-visual clutter
-impossible to say 5 times fast
-uninspired compound word
"Assembler"
-just makes sense
-gets things done vibes
-sleek portmanteau
– Jabari Brisport @JabariBrisport
Thanks for reading City & State's Campaign Confidential newsletter, where senior reporter Jeff Coltin is covering the biggest races in New York, from the City Council speaker to mayor, and looking ahead to the 2022 elections.
Once a week, on Wednesdays. Sign up here.
Powered By
NEXT STORY: Justin Brannan is running for speaker, did you hear?