Andrew Cuomo
AG James releases hundreds of pages of transcripts, evidence in Cuomo sexual harassment probe
The documents were published Wednesday on James' website and include the former governor's interview with investigators.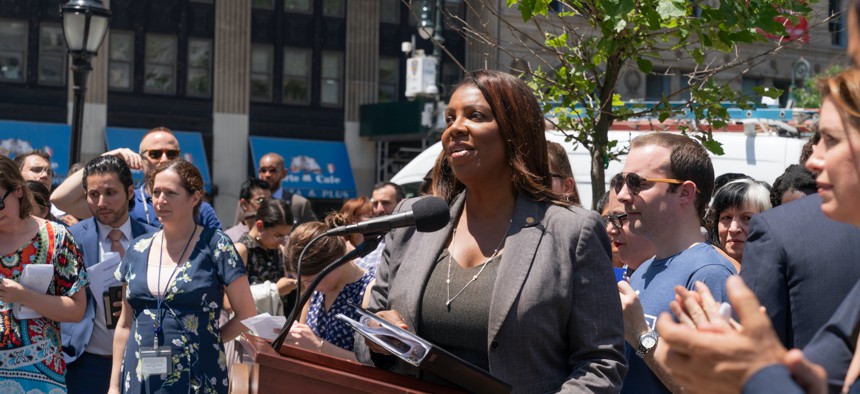 On Wednesday, state Attorney General Letitia James' office released a trove of transcripts and evidence collected during its five-month investigation into sexual misconduct complaints against former Gov. Andrew Cuomo.
The documents, published on the attorney general's website, include hundreds of pages of interview dialogue between investigators, Cuomo, seven named accusers, two state employees and a state trooper.
Hours after the AG documents were released, the Assembly Judiciary Committee announced it would meet next week in Albany to review the results of its canceled impeachment probe into Cuomo conducted by attorneys at Davis Polk and Wardwell.
In the transcript of the July 17 interview with independent investigators, Cuomo reiterates his claim that he has never had a romantic relationship with anyone in his office and characterizes the investigation as a political hit job.
He also repeatedly said he did not remember specific details about the alleged incidents but admitted generally to touching and kisses he claimed were done in a friendly, rather than sexual, manner.
Lawyer Joon Kim, a former acting U.S. attorney who was appointed by James to serve as an independent investigator, asked if he had ever kissed former staffer Lindsay Boylan – Cuomo's initial accuser whose allegations prompted a string of others to come forward – on the cheek.
"I probably kissed her on the cheek," Cuomo said. "We've been to a lot of social events together. You know, you do Christmas parties, et cetera.
"It would be usual for me in relation to her to kiss her on the cheek on occasion."
The former governor also said he did not sing "Do You Love Me?" to female aide Charlotte Bennett. The AG's office, however, later released a recording of him singing the 1960s tune to the 20-something staffer during a phone conversation in 2019.
"Maybe 'Danny Boy,'" Cuomo said when investigators asked if he had ever sung to Bennett, before definitively saying "no," when pressed about The Contours' song.
In another excerpt, Cuomo strikes a similar tone when probed about staffers sitting in his lap.
"Not as a general rule," he said. "But I wouldn't be surprised, at a social event or something, somebody may have sat on my lap."
The 515-page transcript was released following an August report by James' office that determined the 11 women who accused Cuomo of sexual harassment and inappropriate touching were credible.
Cuomo's spokesperson responded to the transcripts in a statement released late Wednesday in which he seemingly made a typo, cast doubt on the report's details and questioned why redactions were made.
"Finally – after three months for stalling – Tish James has been forced to release transcripts as more and more people are questioning her shoddy and politically motivated report," Cuomo spokesperson Rich Azzopardi said. "However, these transcripts include questionable redactions, and raise even more questions about key omissions made during this slanted process, which reeks of prosecutorial misconduct."
James' office said it began releasing evidence after the Albany County District Attorney's office submitted the information to Cuomo's team, as required by New York discovery laws that state once someone is charged with a crime they must have access to transcripts and exhibits.
Albany County District Attorney David Soares charged Cuomo with misdemeanor forcible touching in October, alleging he groped former female aide Brittany Commisso late last year. James' office said previously it would wait to release evidence, at the request of district attorneys who were conducting their own investigations.
Throughout the interview, Cuomo bills the allegations as manufactured and downplays interactions with his accusers.
"This is a biased political investigation as we know," Cuomo said at one point.
When discussing Commisso, Cuomo said he "had very limited interaction with her," but later in the discussion described her as "flirtatious."
"She's very chatty. She's outgoing. A little bit of a character. Entertaining … friendly, affectionate … you could say she was flirtatious, yeah," he said when prompted by investigators.
Cuomo is expected to be arraigned on charges of forcible touching in the Commisso case on Jan. 7 in Albany City Court. The appearance was delayed last week at the request of the Albany County district attorney, citing inconsistencies in the criminal complaint. Her interview with investigators was also included in Wednesday's document dump.
Cuomo announced his resignation a week after James' August report was unveiled, putting then-Lt. Gov. Kathy Hochul at the helm two weeks later.
When asked about the release of the transcripts on Wednesday, Hochul lauded their disclosure.
"As someone who has launched the most transparent administration in the history of New York, I believe it's appropriate that any information that leads to any investigation be available to the public," she told reporters at a press conference in Chinatown, Manhattan.
– Additional reporting by Rebecca C. Lewis
Powered By
NEXT STORY: Can another Adams lead New York City?