Campaign Confidential
Can another Adams lead New York City?
Adrienne Adams is making her case for City Council speaker, but she's got some catching up to do.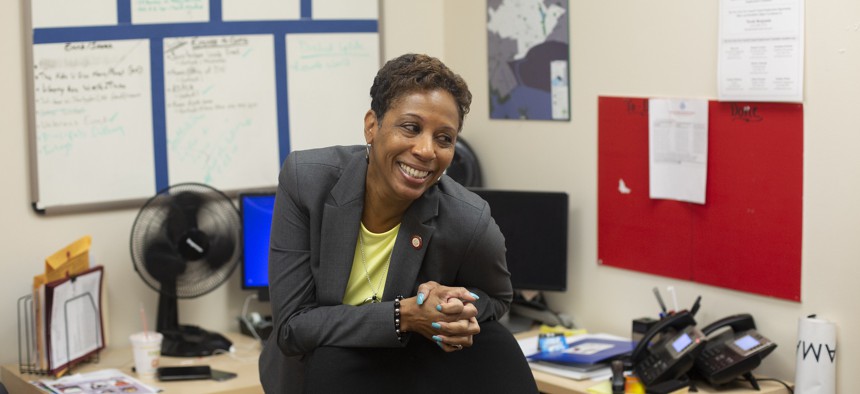 For a candidate like Adrienne Adams, the Somos conference in Puerto Rico last week offered a prime opportunity to make a splash in the increasingly muddy race for New York City Council speaker. Over ice-cold cocktails on the beach and poolside tostones, speaker candidates had the chance to convince colleagues new and old that they are best equipped to lead the council.
Council Member Adrienne Adams, who made history as the first woman to represent southeast Queens City Council District 28, is one of seven confirmed candidates vying to lead the council next year when it welcomes in dozens of new members. Adams was also one of several candidates to host receptions at Somos where candidates' allies helped boost their pitch to new and returning council members.
At a brunch on Friday morning, Adams turned out a strong crowd with a dozen members from across the city in attendance, including her close colleague and friend Selvena Brooks-Powers, returning members Kalman Yeger and Eric Dinowitz, and newcomers Linda Lee and Lincoln Restler. Rep. Greg Meeks, chair of the Queens County Democratic Party and a potential power player in the race, spoke at the reception, as did Benny Boscio, leader of the Correction Officers' Benevolent Association, a union that's often criticized by Democrats, but one that Adams has worked with on addressing sexual assault in city jails.
Before Adams spoke to the crowd, she chatted with political consultant Amelia Adams (no relation) and joked about the recent win of Eric Adams (no relation, but they did go to Bayside High School at the same time). "It's a good time to be an Adams in politics right now!" Amelia Adams said.
But in a speaker race that continues to be deemed anyone's game – the field of candidates even looked for a moment like it was going to expand this past week – it's still unclear if Adams has the support necessary to win a vote of her 50 colleagues in the council. In a crowded race that showed no signs of narrowing down during Somos, Adams has yet to really stand out.
Adams did not hit the primary campaign trail for other candidates as hard as other speaker candidates – though she did donate to a number of candidates, some of whom lost their primaries. Adams was one of several speaker contenders to face a primary challenger this year, which is how she explains her lack of involvement with other campaigns in the spring. "I was fighting to keep my job because I knew that if I didn't have it, then I couldn't be standing with you here today," she said during her Somos reception.
All of that means that Adams has a lot of catching up to do. "She has to make the case of 'Why me?' Especially considering that other candidates have been out there saying, 'why them' for a substantial period of time," said one Democratic council member who asked not to be named because they didn't want to criticize colleagues. Adams said she has been doing that work, including taking advantage of the ample opportunities Somos afforded for working council members and other figures with influence in the race, such as county party leaders, labor unions and the incoming administration of Eric Adams.
The pitch that Adrienne Adams is making to those people is one that touts a breadth of policy expertise, her experience leading sometimes messy political bodies like Queens Community Board 12, and her ability to not only represent the majority-female and increasingly diverse council, but to make history as its first Black speaker. Organizations outside the council, including the United Federation of Teachers have vowed to throw their support behind a female speaker candidate, but it's unclear whether that will be a priority for all members.
Adams chairs the council's Public Safety Committee and sits on several others, including the Land Use Committee and the Capital Budget/Finance Subcommittee. Before being elected to the council in 2017, she worked as a corporate trainer in the private sector and served on then-Gov. Andrew Cuomo's Local Planning Committee for the Jamaica Downtown Revitalization Initiative. "We're facing a post-pandemic recovery," Adams told City & State. "I've seen the passage of four executive budgets through as a member of the budget negotiating team, and I'm fully prepared to work with the incoming council and mayor to bring our city back."
Adams has developed a reputation as a relatively moderate Democrat, a point on the ideological spectrum that is increasingly judged by where lawmakers stand on the role of police in society. (As chair of the Public Safety Committee, Adams has pushed for policing reforms and increased oversight, but opposed defunding the NYPD.) And this year, speaker candidates can't ignore the slightly larger faction of Republicans in the council. Republican Council Member Joe Borelli, who may end up directing six votes in the race, said that the minority party doesn't vote by ideology in the speaker race as all the candidates are too far left. "It's more about whether the speaker candidate respects the role of the minority party and whether they see us having a role in governing," Borelli said, declining to say whether Adams – or any other candidate – fit that bill.
Adams also hopes that her early endorsement of and relationship with Mayor-elect Eric Adams makes her a contender for his support in the race. (Eric Adams has said that he won't get involved, but some observers don't necessarily believe him.) Labor leaders have also traditionally made their picks known, and this year major players like 32BJ SEIU, the building service workers union, and District Council 37, are expected to stick together as a coalition. Most labor leaders say the race is still wide open. Adams does appear to have at least one union firmly in her corner; her reception at Somos was co-hosted by Local 372, the union representing many Department of Education employees, and President Shaun Francois appeared to back her, saying, "We don't really have a say in this election, but we're going to get you."
One thing Adams does have going for her in the race is her relationship with Meeks. At Adams' Somos reception, Meeks did not explicitly endorse Adams over other speaker candidates – he also attended speaker candidate Carlina Rivera's reception – but Adams told City & State that Meeks "throws his support fully behind (her) candidacy for speaker." Representatives for Meeks did not respond to requests for comment from City & State.
Even if Adams does have Meeks' backing, that doesn't mean that she can count on votes from the full Queens delegation. "It's not the speaker's race of 2013 when the Queens boss kind of decided everything," said one Democratic consultant who asked not to be named to avoid taking sides in the race. Whereas former Queens Democratic Party boss Joe Crowley could once direct the votes of other members in his borough to a chosen candidate, the Queens delegation is increasingly fractured, and more left-leaning incoming council members are thought to be unlikely to fall in line with Meeks' pick. "I think that it doesn't hurt that she has a strong relationship with the congressman," Democratic strategist Camille Rivera said of Adams and Meeks. "That being said, I think she has to work her colleagues. The more I see the dynamics at play, particularly at Somos, that this is really a colleague vote."
Building support among council members is where Adams has the most work to do – and fast, observers said. Adams told City & State that she has support but declined to name any incoming or returning members who are in her corner. Adams said she's reaching out to members now – and has been since the primary – to make her case for speaker. Included in that pitch is a promise to focus on the outer boroughs. "A lot of focus has been on Manhattan in the past," she said. "And quite frankly, I'm looking to put more effort into putting the spotlight on the outer boroughs that have been neglected throughout the city for so long."
But the roadblock for Adams doesn't seem to be that members are unreceptive to her pitch or hold anything in particular against her. Instead, she has struggled to stand out in the crowded field. Adams' name isn't one that is mentioned at the top of many members' lists. "She likes to bring a lot of voices together and have a lot of people and opinions that matter. But I think when you're the speaker, it's you. You're the person," the anonymous Democratic consultant said. "At the end of the day, you have to make the decisions. I think that's what people are waiting to see from her, that she is going to be the person that makes those decisions." The consultant added that Adams could very well still be able to prove that. And she doesn't necessarily have to be members' first choice to succeed. "I personally think she needs to play the Keith Powers game and be everybody's No. 2," the consultant said, referring to Powers' apparent strategy to be a compromise candidate.
Powered By
NEXT STORY: Albany sheriff is accused of mishandling Cuomo probe