Politics
The 2021 speaker race comes to Somos, with a 2023 focus
As candidates woo their colleagues, reelection in also on their minds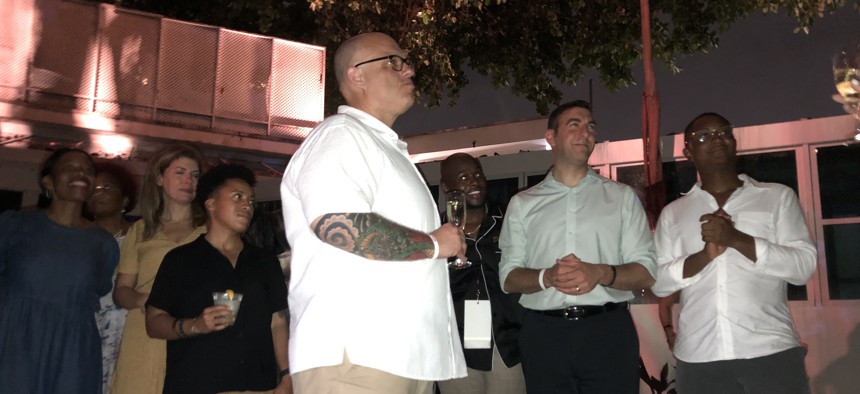 Fresh off their elections to the New York City Council, dozens of incoming and reelected legislators are at the annual Somos conference in Puerto Rico, talking about who will lead the body as speaker starting in January. It's a fluid race, with a growing field of at least eight potential candidates, and no clear front-runner – but a new wrinkle has emerged in the race this week: the 2023 election. 
Thanks to redistricting, Council members will be up for reelection again in two years, a once-every-20 years change in their usual four-year cycles. In 2003, those elections "seemed to stir little interest in voters" the Times reported at the time, and every single incumbent seeking reelection won. 
There seems to be a growing fear that might not be the case in 2023. Progressives have seen many, high profile wins over more moderate incumbents in recent Democratic primaries. And the general election this week showed that while New York is a deeply blue city, it's got red areas. Republicans are on track to increase their delegation from three members to five in the 51-member council, and two registered Democrats who ran on multiple party lines, Bob Holden and Kalman Yeger, actually received the most votes on the Republican line.  
"l think the incumbents should be scared as shit after Tuesday," said Justin Chae, a political consultant. "Now they're not only being challenged from the left, they're being challenged from the right."
One incumbent, Justin Brannan actually came down to Puerto Rico trailing his Republican opponent, Brian Fox, in the preliminary election night totals. Democrats' overwhelming advantage in the yet-to-be-counted absentee ballots suggest Brannan will be elected to another term, but there's been constant chatter about how this could affect his hard-charging speaker campaign. One incoming member mused that Brannan could be too worried about his own reelection in two years, which would draw his attention away from the duties of being speaker and protecting his own members. Brannan himself spun it as a positive Thursday night. "I'm going to win because of my constituent services and delivering for the district. And ultimately, because we're all going to have to run again so soon, it's about delivering. I know that's what matters for members," he said at a reception he hosted Thursday night. "Building new parks and playgrounds and schools and libraries and little leagues. That is the job."
But even Brannan's supporters were expressing doubts. "If Justin weathers this storm, I think he's going to be fine," said an anonymous incoming member who likes Brannan. "But Jesus, it's a big storm."
Other speaker candidates seem to be subtly shifting their pitches already. Caught walking past a beachside bar Friday, Council Member Francisco Moya said that he would be "a four year speaker," and that members wouldn't have to worry about him losing his reelection bid in two years. And at a brunch for new members Friday morning Council Member Adrienne Adams defended the fact that she wasn't as involved with other members' races in the way that candidates like Brannan, Keith Powers and Carlina Rivera were. "I had two opponents in the primary, which is why you didn't see me this summer," Adams said. "I was fighting to keep my job because I knew that if I didn't have it, then I couldn't be standing with you here today." 
It's a fact that concerns some member-elects as they hear candidates' pitches. "People want a speaker who will go to bat for them. Get them wins. Because we all have to run again in two years," said an incoming member. 
The problem for anybody trying to get a handle on the speaker race is that few members are talking publicly about their preferences. In a wide open contest, candidates – 37 of which are experiencing their first speaker vote as members – are afraid of backing the wrong candidate and ending up left off a choice committee, or placed in the back of the line when it comes to moving legislation. 
"I'm dating everybody. And I don't kiss on the first date," said Rita Joseph, a Council Member-elect from Brooklyn. "Today's the start of a sprint to the finish," another incoming member, Chris Marte from Manhattan, said Thursday evening. 
The race will not be decided in Puerto Rico, but Somos is a place to see and be seen, and to project the strength of your speaker campaign to a captive audience staying in hotels along a strip of beach called Isla Verde near San Juan. Speaker candidate Diana Ayala was spotted talking to incoming member Shahana Hanif Wednesday night at the Royal Sonesta lobby bar. Then Rivera came up and pulled her into her own conversation. On Thursday night, Powers got a drink at the El San Juan lobby bar with Council Member Joe Borelli, a Republican who is expected to be minority leader and is expected to have a bloc of as many as seven votes in the race. 
Many speaker candidates are hosting receptions with allies as well, as a way to build support. Brannan hosted his Thursday night with Assembly Member Catalina Cruz. Friday morning, Adams' brunch Friday morning featured both the Correction Officer Benevolent Association and Local 372, which represents school safety agents. Moya was working to schedule an event late Saturday afternoon. Rivera is hosting cocktails Friday night with Rep. Nydia Velázquez and Assembly Member Jessica Gonzalez-Rojas, while Ayala is hosting a dance party with Rep. Adriano Espaillat's allies – Council Members Althea Stevens, Carmen De La Rosa, Oswald Feliz and Shaun Abreu – at the same time. Ayala may also be getting a boost from her campaign thanks to an invite from Espaillat to join Mayor-elect Eric Adams on his next Caribbean stop – a trip to the Dominican Republic this weekend. Ayala said any other speaker candidate could join, but joked "If they don't want to come, that's not on me!"
Eyes were also raised Friday afternoon, when 21 in '21 and Eleanor's Legacy announced a joint reception for incoming Council candidates with the United Federation of Teachers. The two women's groups had already hosted a reception together Thursday night, but apparently decided to host a second one after working with the teachers union while at Somos on a still-growing push to elect a woman as the next council speaker. 
The intrigue, gossip and bloc-building was all too much for one incoming member, who preferred to keep it a little simpler. "Honestly," they said Friday, "can we just do ranked-choice voting anonymously?" 
Powered By
NEXT STORY: The developing storylines at Somos