Campaign Confidential
Eric Adams' begins his sprint to City Hall
And more coverage of New York elections.
Eric Adams keeps on running
Eric Adams has effectively been running a long victory lap since winning the Democratic primary in June – and on Tuesday he began the final leg of his race to City Hall, officially holding the title of mayor-elect as he expects to take office as New York City's second Black mayor on Jan. 1, 2022.
Raised in poverty in Brownsville, Brooklyn, and South Jamaica, Queens, Adams was arrested and beaten by New York City police officers at just 15 years old. He later joined the police force, rising through the ranks to captain while also serving as an outspoken critic of racism in the NYPD. The Democrat planned his run for mayor for decades, winning a state Senate seat in Central Brooklyn, a place he has called home for more than 30 years, then becoming Brooklyn borough president in 2014 after winning an essentially uncontested race. In June, Adams emerged victorious out of a hotly contested Democratic primary for the seat being vacated by term-limited Mayor Bill de Blasio, pitching his vision as a blue-collar mayor who will work with big businesses in a way that de Blasio never did.
"After years of praying and hoping and struggling and working I did it: City Hall," the 61-year-old Adams said in his victory speech Tuesday night.
Read more on the "three-headed crisis" Adams is facing – and what ammo he gave to his haters.
By the Numbers
38.3
That's the number of percentage points by which Adams beat Sliwa in the mayoral race, 66.1% to 27.8%. It's based on preliminary, in-person results only and will change, but it seems like a significant underperformance, given Bill de Blasio's 49-point margin of victory over Joe Lhota in 2013 and his 39-point margin over Malliotakis in 2017. Adams will also end up getting significantly fewer votes total than de Blasio's 795,679 in 2013. He's got 676,481 in the preliminary count, but can only pick up so many more with 73,870 absentee ballots returned to the Board of Election as of Monday. And despite a growing city and rising voter turnout trends, not that many more people voted in 2021 than 2013. Preliminary numbers suggest New York City will see just over 1,116,000 votes total. Eight years ago, 1,087,710 people voted.
Is Diana Ayala for real?
When other incoming New York City Council members talk about Council Member Diana Ayala's campaign to be the next speaker, they point to her life story. Born in Puerto Rico and raised in public housing in New York City, Ayala was a pregnant teenager when her son's father was shot and killed. She spent time in the homeless shelter system, and survived an abusive relationship.
"Her story speaks volumes," said Marjorie Velázquez, an incoming council member from the east Bronx who is not formally supporting any candidate in the speaker race. "This is a woman who's gone through so many tough things in life and she could have chosen any path, but she chose a life of service."
Ayala is increasingly seen as a real contender in a race that – on the eve of the Somos conference in Puerto Rico – still seems to be wide open, with no single front-runner. Read more here.
"He's toast"
New York City Council Member Justin Brannan won by just 3 percentage points in 2017 – and he'd be lucky to win by that much this time. With 98.25% of in-person votes reported, Brannan was down by 183 votes to Republican Brian Fox, the founder of a technology staffing firm – and peddler of conspiracy theories. Absentee ballots are highly likely to turn the tide – Democrats have turned in 1,083 absentee ballots so far to Republicans' 231. Brannan is playing it cool: "Democrats just don't win by landslides in my district," he told City & State on Tuesday night, as he watched results come in. But let's not forget that Brannan has been gunning for City Council speaker in a crowded race that requires a victor to gain the trust of the council's membership. A narrow general election win may not inspire confidence. "I already think he's hit a major wall in his run for speaker," one incoming council member said Monday night. "But if his race is close, he's toast." Another incoming member said their phone was blowing up Tuesday night. "Justin is no longer going to be considered anywhere near top tier. … How am I supposed to trust that he's going to help me keep my seat?" A new power player to watch: expected City Council Minority Leader Joseph Borelli, who has a growing bloc of votes, thanks to a GOP pickup with Inna Vernikov in Council District 48 and likely Vickie Paladino in Council District 19 too.
Can you blame her?
In this front-runnerless speaker race, everyone is seeing opportunity. The latest is Council Member Farah Louis of Central Brooklyn, who confirmed to City & State on Friday she's considering running for speaker. Surprised? So was Brooklyn Democratic Party boss Rodneyse Bichotte Hermelyn, who had no idea last week. She was a close ally of Louis, but a Brooklyn source said there's been a rift as of late. Bichotte Hermelyn was considered likely to back Brannan for speaker, but if his run is on the ropes, Louis could be a contender for at least some Brooklynites' support. To be clear, it's way late, and Louis is a long shot – but frankly, she might just want to be in the mix for majority leader instead. And keep your head on a swivel at Somos – there are whispers that another speaker candidate could join the now eight-member contest.
Who got thanked
It's Eric Adams' world, we're just living in it, so get to know these five people that the next mayor of New York specifically shouted out in his election night speech: Ingrid Lewis-Martin, "my sister," who is his deputy borough president, campaign adviser and longtime confidante. Nathan Smith, "my man," who is a senior partner at Red Horse Strategies and lead consultant on Adams' campaign. Evan Thies, "the man that captured my voice," who is the co-founder of Pythia Public and Adams' communications consultant. Gladys Miranda, "the center of Borough Hall," an executive assistant to the borough president, who also worked on his campaign, but has rarely been included in previous roundups of Adams' inner circle.Tracey Collins, for "allowing me to be me," who is Adams' romantic partner of more than a decade and he co-owns an apartment with her in Fort Lee, New Jersey.
Endorsement Watch
State Sens. Jessica Ramos and Kevin Parker, Assembly Members Nathalia Fernandez and Alicia Hyndman, Bronx Borough President-elect Vanessa Gibson and Manhattan Borough President-elect Mark Levine all endorsedLetitia James for governor … the Transport Workers Union and Higher Heights PAC also endorsed James … The Congressional Black Caucus PAC, Higher Heights PAC, New Politics and Collective PAC endorsed Democrat Jackie Gordon for the 2nd Congressional District on Long Island, currently held by Republican Rep. Andrew Garbarino … the International Brotherhood of Electrical Workers Local 3 and the Sheet Metal, Air, Rail and Transportation (SMART) division of the Long Island Rail Road endorsed Rep. Carolyn Maloney for reelection in the 12th Congressional District in Manhattan, Queens and Brooklyn.
Staffing Up
Eric Koch of Downfield Strategies is consulting on Letitia James' run for governor … New York City Comptroller-elect Brad Lander announced his 40-member transition committee, which includes former city Comptroller Bill Thompson, former Rep. Max Rose, former City Council candidate Elisa Crespo and former Andrew Yang mayoral campaign co-manager Sasha Ahuja.
Got tips? Email JColtin@CityandStateNY.com or send a DM to @JCColtin
District Data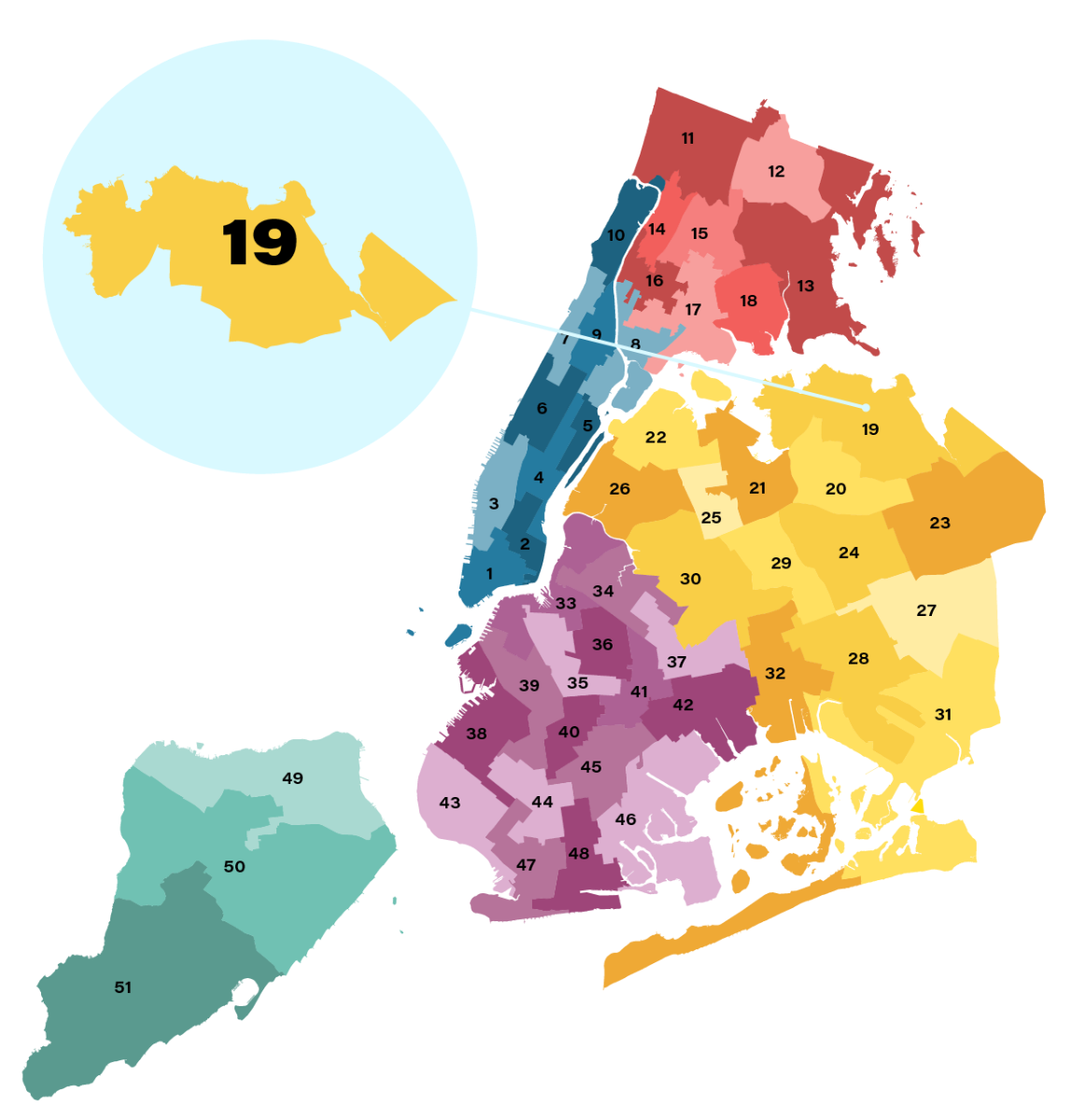 City Council District 19 in northeastern Queens, covering neighborhoods including College Point, Bayside and Little Neck
Current council member: Paul Vallone since 2014, who's term-limited at the end of this year and was narrowly losing on election night is in his bid to be a Civil Court judge
2010 census demographics: 53.4% white, 28% Asian and Pacific Islander, 15.3% Hispanic, 1.6% Black
Housing: 65% owner-occupied, 35% renter-occupied
2013 general election results: Paul Vallone (Democratic, Independence): 57.1%, Dennis Saffran (Republican, Conservative, Reform): 42.6%
2021 general election preliminary results: Vickie Paladino (Republican, Independent): 49.7%, Tony Avella (Democratic): 43%, John-Alexander Sakelos (Conservative, Save our City): 7.1%
What happened: As much fun as Democrats had with Vickie Paladino's maskless pandemic conga line, that kind of stunt probably helped her bid against former state Sen. Tony Avella – whose moderate past, including partnering with Republicans in the Independent Democratic Conference, may not have been moderate enough in a year where Republicans did well statewide. Still the machete man Avella and the alt-right courting Paladino will have to sweat this one out while they wait for absentees. Preliminary election night results showed Paladino up by 1,223 votes, but 2,208 absentee ballots have been returned so far, and 73% of them, or 1,610, are from Democrats while just 15%, or 336, are from Republicans. The math slightly favors Paladino, and anecdotes suggest there's more Dems voting for Paladino than Republicans voting Avella. So will Paladino be the 31st woman in the 51-member City Council? Likely, but it's still too close to call until all the votes are counted.
Twitter Posting 
Thanks for reading City & State's Campaign Confidential newsletter, where senior reporter Jeff Coltin is covering the biggest races in New York, from the City Council speaker to mayor, and looking ahead to the 2022 elections.
Once a week, on Wednesdays. Sign up here.