Campaigns & Elections
"I did it:" Eric Adams becomes New York City mayor at last
The city's second Black mayor will inherit a host of problems de Blasio leaves behind.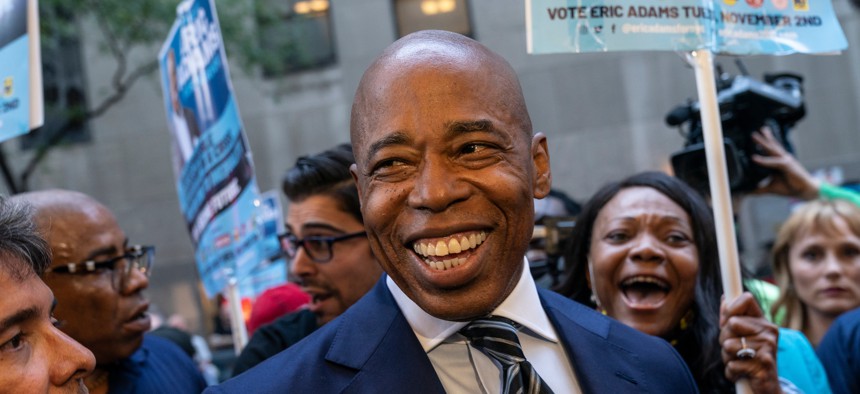 Eric Adams has effectively been running a long victory lap since winning the Democratic primary in June – and on Tuesday he began the final leg of his race to City Hall, officially holding the title of mayor-elect and taking office as New York City's second Black mayor on Jan. 1, 2022.
Raised in poverty in Brownsville, Brooklyn, and South Jamaica, Queens, Adams was arrested and beaten by New York City police officers at just 15 years old. He later joined the police force, rising through the ranks to captain while also serving as an outspoken critic of racism in the NYPD. The Democrat planned his run for mayor for decades, winning a state Senate seat in Central Brooklyn, a place he has called home for more than 30 years, then becoming Brooklyn borough president in 2014 after winning an essentially uncontested race. In June, Adams emerged victorious out of a hotly contested Democratic primary for the seat being vacated by term-limited Mayor Bill de Blasio, pitching his vision as a blue-collar mayor who will work with big businesses in a way that de Blasio never did.
"After years of praying and hoping and struggling and working I did it: City Hall," the 61-year-old Adams said in his victory speech Tuesday night.
But this isn't a foot race, and Adams won't be winning a gold medal. Instead, he'll be inheriting a city still very much struggling with the effects of the COVID-19 pandemic. Adams will have to staff his administration in the coming months, including for closely watched positions like schools chancellor and police commissioner, and may have to deal with the approximately 21,000 city workers who have not been vaccinated against the coronavirus, despite de Blasio's mandate. The current mayor has also left the next one with a $5 billion budget gap to close. While Adams can expect another massive influx of cash from the federal government in the form of the nearly $2 trillion Build Back Better package, he'll also have to negotiate new labor contracts, the biggest of which are set to expire in the mayor's first year.
It's a reality Adams acknowledged Tuesday night. "We face a three-headed crisis," he said. "We are fighting COVID, crime and economic devastation all at once."
But Adams will be taking office with widespread support, and a huge amount of goodwill as he gets set to succeed de Blasio. With 97.68% of in-person votes counted on election night, he earned 67% of the vote to Republican Curtis Sliwa's 27%. Over a million New Yorkers cast ballots in the race. 
In a city where Democrats have a 7-to-1 voter enrollment advantage over Republicans, Sliwa was never considered to have much of a chance and quickly conceded to Adams when the results came in. 
"I am pledging my support to the new mayor Eric Adams because we are all going to have to coalesce together in harmony and solidarity if we are going to save this city that we love," he said at his election night party in midtown Manhattan.
At Adams' event, another potential opponent pledged harmony: Gov. Kathy Hochul. "I'm here to declare there is a new day dawning. A whole new era of cooperation, where the only thing the state of New York and city of New York are fighting about is fighting to make your lives better," she said, in a clear reference to her predecessor, former Gov. Andrew Cuomo, who frequently made life difficult for de Blasio. "We will fight for you, not fight each other anymore!"
Adams, too, promised change in the new year. "This campaign was for those who have been betrayed by their government. There's a covenant between government and the people of our city. You pay your taxes, we deliver your tax dollars with goods and services," he said. "We have failed to provide those goods and services. January 1, that stops."
Mayor is a notoriously high-pressure job, and Adams has said he's expecting to get booed and heckled. Adams provided critics with some ammo last week, when reporters from Curbed caught him parking his city car illegally, and then driving on the sidewalk outside his home. While vote totals won't be final until later this month, it looks like Adams won't come close to approaching de Blasio's performance in 2013, when he won nearly 800,000 votes, good for 73% of the total.
That didn't seem to be on Adams' mind Tuesday night as he and hundreds of supporters celebrated at the New York Marriott at the Brooklyn Bridge – a major hotel at 333 Adams St. Beyond the address, it's just a block away from Brooklyn Borough Hall, where he has worked for eight years and famously slept in his office during the early months of the pandemic.
Adams entered the hotel ballroom just before 10 p.m., passing through the main doors and walking through the crowd of cheering admirers on his way to the stage. "The team told me to come in through the back, behind the stage. They said this is the way we want you to move," Adams explained. "And I said to them, I'm the mayor." The crowd cheered.
– With reporting by Gabriel Poblete