Andrew Cuomo
Albany sheriff is accused of mishandling Cuomo probe
Former Gov. Andrew Cuomo's lawyer called for an independent investigation into allegations that County Sheriff Craig Apple leaked grand jury information.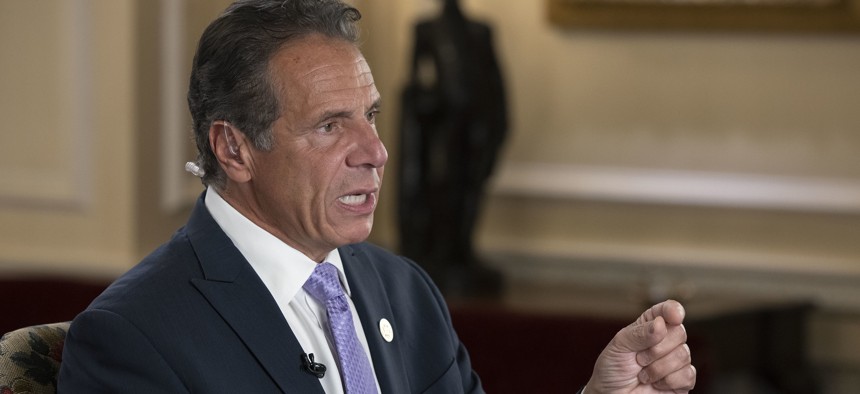 The criminal sexual harassment case against former Gov. Andrew Cuomo was dealt a blow in recent days as Albany County Sheriff Craig Apple came under fire from both sides of the defense for allegedly mishandling the investigation. 
Cuomo's camp this week requested an investigation into Apple, accusing him of unlawfully leaking grand jury information in the case to the New York Post. Cuomo's attorney Rita Glavin launched the allegations in a letter to Attorney General Letitia James seeking an independent probe into Apple's alleged conduct. 
"Given these unlawful grand jury disclosures, and the evidence of Sheriff Apple's role in such disclosures, a prosecutor must investigate whether Sheriff Apple violated New York law by disclosing confidential grand jury information," attorney Rita M. Glavin wrote in a letter sent Monday.
The accusation comes just days after Albany County District Attorney David Soares accused Apple's office of filing a criminal complaint against Cuomo including errors he said threaten the legal validity of the case. Soares' declaration led to the postponement of Cuomo's first court date. 
"Unfortunately the filings in this matter are potentially defective in that the police-officer-complainant failed to include a sworn statement by the victim such that the People could proceed with a prosecution on these papers," Soares wrote in a Thursday letter to Albany City Court Judge Holly Trexler asking her to push back the Nov. 17 arraignment by 60 days, a request she approved on Friday, which was co-signed by Cuomo's legal team.
Cuomo is now scheduled to appear before the court on Jan. 7 to face a misdemeanor charge of forcible touching. He is accused of groping the breast of a former aide, Brittany Commisso, in the Executive Mansion late last year. Cuomo has denied the allegations. Glavin has previously said that her client has "never assaulted anyone."
Apple has also drawn criticism from Soares' office throughout the investigation, which has said it was surprised to learn of the criminal charges filed by Apple's office on Oct. 28, a point of contention Soares reiterated in his Friday letter to Trexler. 
"We were in the middle of (our) investigation when the Sheriff unilaterally and inexplicably filed a complaint in this Court," he wrote to Trexler. 
Soares said that Apple's office included in the criminal complaint portion of Commisso's statement that was not given under oath and excluded other relevant portions of her testimony. 
The allegations delivered Monday by Cuomo's attorney center around two New York Post articles reporting details of the early stages of the investigation. In a Sept. 1 article, the paper wrote that subpoenas had been issued on the grounds of the Executive Mansion and state Capitol in connection with Soares' investigation, citing a "source briefed on the matter," according to Glavin's letter. 
"It is likely that Sheriff Apple was the 'source' for this September 1 article providing more information about the grand jury subpoenas for several reasons. First, Sheriff Apple has already demonstrated his willingness and inclination to speak to the press about this investigation," Glavin wrote. 
Glavin asked James' office to seek a referral from Gov. Kathy Hochul for an independent investigator to probe the alleged leak because of a potential conflict of interest between her and Apple, Glavin wrote, citing public appearances the two have made together. He also pointed to James' gubernatorial candidacy as additional evidence of a conflict. 
The characterization mirrors one shared by Cuomo's daughter, Michaela Kennedy-Cuomo over the weekend in a tweet linking to an article that claims the allegations against Cuomo were engineered by James, with the help of Apple. 
"Finally. Please read," she tweeted, along with a Substack post by Michael Tracey titled, "Unprecedented Abuse Of Power: What The Media Still Isn't Telling You About The Cuomo Debacle."
James' office declined to comment on Glavin's Monday letter. 
Apple's office did not respond to a request for comment and Soares' office declined to comment.
Correction: An earlier version of this story incorrectly identified the court where Judge Holly Trexler works.
Powered By
NEXT STORY: Who had a better Somos: Letitia James or Gov. Kathy Hochul?