Politics
The People vs. Andrew Cuomo is now officially a thing
A criminal complaint against the former governor complicates any attempts for him to stage a political comeback.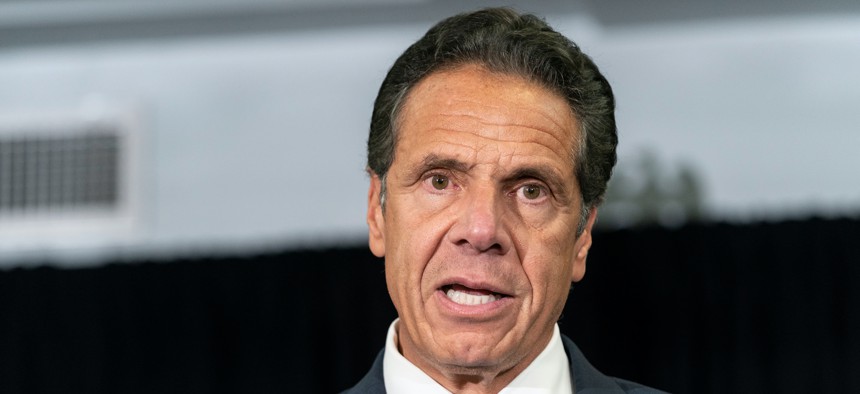 Ex-Gov. Andrew Cuomo faces a criminal charge in the alleged groping of a female aide in the Executive Mansion last year, one of many acts of alleged sexual misconduct that led to his resignation more than two months ago. 
A misdemeanor complaint released Thursday alleges that Cuomo forcibly touched an unnamed woman on the afternoon of Dec. 7 on the second floor of the mansion, an account that matches the allegations made by former staffer Brittany Commisso months ago. Cuomo has denied the allegations in the past via an attorney, who has focused on supposed discrepancies in her story in recent months while the governor and his allies have sought to discredit wider allegations of sexual misconduct made by nearly a dozen women. 
The filing of a criminal charge against the former governor marks a turning point in the long political saga that led to the downfall of the former pandemic hero of the political left. While he has faced a long list of alleged misconduct, he has never been criminally charged with anything. This includes the reported cover-up of data showing the true COVID-19 death toll among nursing home residents and a controversial multibillion book deal he inked last year. Getting criminally charged now though surely complicates any attempts by the former governor, who still has a huge campaign war chest at his disposal, to ever stage a political comeback.
He joins the long list of former New York officials charged with crimes after they left office, though Cuomo is unlikely to do hard time given the relatively minor nature of his alleged offense and his lack of prior convictions. Forcible touching is a Class A misdemeanor that could result in up to a year in jail if he were ever found guilty. However, the Times Union reported Thursday that Albany County officials are still considering whether or not to pursue the charge against him, though the New York Post reported Thursday that he could be arrested as soon as next week. Cuomo is scheduled to appear in court on Nov. 17, according to the Times Union. A spokesperson did not respond to a request for comment Thursday afternoon. 
New York Focus first broke the story Thursday afternoon about the filing of the criminal complaint, which was dated Oct. 25 and officially received by the court system earlier today, but confusion followed after the Times Union reported that the complaint had been released "erroneously." Rita Glavin, an attorney for Cuomo, responded to the charging of Cuomo Thursday by denying the groping while stoking doubt about the intentions of officials alleging wrongdoing by the governor. A criminal charge against Cuomo for allegedly touching Commisso, however, seemingly validates a key part of the damning report issued by state Attorney General Letitia James, which alleged sexual misconduct with 11 separate women. 
Cuomo allies have cast doubt on her intentions while her office and outside attorneys investigated the governor, especially considering her expected run for governor, but she said Thursday that Team Cuomo is full of it when it comes to their ongoing efforts to vindicate the former governor in the court of public opinion. "From the moment my office received the referral to investigate allegations that former Governor Andrew Cuomo sexually harassed multiple women, we proceeded without fear or favor. The criminal charges brought today against Mr. Cuomo for forcible touching further validate the findings in our report," she said in a statement. 
The release of the complaint, however, confirmed that the charge was real and whatever happens to Cuomo in the end, his political enemies are celebrating tonight. "This is a really big deal," attorney general candidate Zephyr Teachout, Cuomo's 2014 rival for the Democratic nomination for governor, tweeted Thursday evening. "Andrew Cuomo, who has avoided legal liability for a decade, is charged."