New York State
A timeline of Cuomo's fight for political survival
It's been a heck of a few months in state politics since a fateful Feb. 10 meeting between the governor's aides and state lawmakers.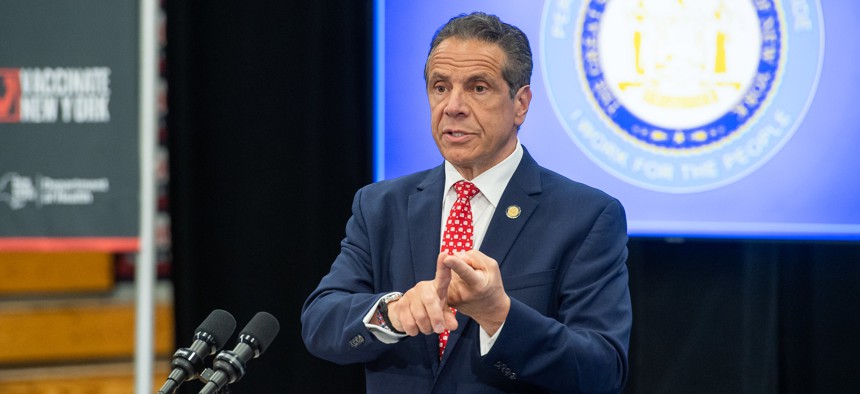 After a bombshell report by state Attorney General Letitia James detailed alleged wrongdoing by Gov. Andrew Cuomo, Democratic leaders, erstwhile political allies and former confidantes are calling on him to step down or face impeachment by the Assembly. The three-term governor denies the evidence and says he is not going anywhere. New York politics has come full circle since his political troubles began six months ago with a similar set of problems. 
The governor is in a fight for his political life with his fate depending on whether he can survive a sprawling web of state and federal investigations and potential impeachment and removal from office. That latter process would likely take at least a month or two to play out depending on how fast the Assembly wraps up its ongoing impeachment probe of the governor. A meeting of the Judiciary Committee overseeing the investigation is scheduled for early next week. Its outcome could determine whether the governor survives the byzantine state constitutional process for removing an elected official from office. 
If a majority of Assembly members eventually vote to impeach the governor, then state senators (minus Majority Leader Andrea Stewart-Cousins) and seven members of the Court of Appeals as a 69-member High Court of Impeachment could remove the governor by a two-thirds vote after a trial of indeterminate length. Lt. Gov. Kathy Hochul would be the acting governor in the meantime. This would be a potential death blow to Cuomo's longtime quest to become a four term governor. 
Cuomo has at least a few more weeks to fight back and argue one way or another that he did nothing wrong despite the evidence detailing a long list of accusations concerning sexual harassment, assault, self-enrichment with a multimillion-dollar book deal, safety concerns at the Mario M. Cuomo Bridge, preferential COVID-19 testing for family members – and the alleged cover-up of data about how many nursing home residents died of COVID-19 in hospitals. 
His present troubles really began accumulating at the end of January when James released  a report finding that the Cuomo administration underreported thousands of deaths of nursing home residents. More trouble lay ahead, yet he is still the governor six months later.  
Here is a timeline of how Cuomo has fought for his political survival over the past six months. 
This post was updated on Aug. 4.
February
Feb. 10 – Top Cuomo aides meet with legislators. The administration releases long-awaited data on the number of nursing home residents who died of COVID-19 in hospitals following legal action and months of political pressure.
Feb. 11 – The New York Post reports Secretary to the Governor Melissa DeRosa admitted the administration hid that data out of fear of how then-President Donald Trump might use it. 
Feb. 12 – Democratic legislators begin discussing impeachment. Cuomo meets with President Joe Biden though a spokesperson later says nursing home deaths were not discussed. 
Feb. 17 – Cuomo rants about Assembly Member Ron Kim during a conference call with reporters after Kim criticized the governor in the media. His administration releases a transcript of the Feb. 10 meeting with lawmakers. 
Feb. 19 – Media reports begin focusing on Cuomo's history of berating fellow elected leaders. Infectious disease expert Dr. Michael Osterholm contradicts claims DeRosa made to lawmakers on Feb. 10 of a close relationship with the administration. 
Feb. 22 – Assembly Democrats meet to discuss their response to the escalating nursing home scandal.
Feb. 24 – Former Cuomo aide Lindsey Boylan publishes a Medium post detailing allegations of sexual harassment first made on Twitter in December. Cuomo skips regularly scheduled COVID-19 briefing as calls grow for an investigation into Boylan's accusations. Karen Hinton details troubling pattern of "penis politics" with Cuomo dating back to his time as secretary of the federal Department of Housing and Urban Development. 
Feb. 27 – A second former aide, Charlotte Bennett, accused the governor of sexual harassment via The New York Times. 
Feb. 28 – Cuomo sort of apologizes to the former aides for what he says were comments misinterpreted as "unwanted flirtation" and provides a referral to James to conduct an investigation after initially trying to install a political ally to run the probe.
March
March 1 – A third woman, Anna Ruch, accuses Cuomo of sexual misconduct stemming from a 2019 encounter at the wedding of aide Gareth Rhodes. 
March 3 – Cuomo tells reporters he will not resign and claims he "never touched anyone inappropriately." Rhodes becomes the first high-profile staffer to announce his resignation amid growing scandals. 
March 4 – An unprecedented editorial in Scientific American urges Cuomo to resign over his handling of COVID-19. Media reports show Cuomo aides altered a Department of Health report on nursing home deaths. 
March 5 – State lawmakers pass legislation rolling back some of the governor's emergency powers during the pandemic. 
March 6 – Former aide Ana Liss and Hinton accuse the governor of sexual misconduct. 
March 7 – Times Union reports safety concerns at Mario M. Cuomo Bridge. State Senate Majority Leader Andrea Stewart-Cousins joins the growing list of legislators calling on Cuomo to resign. Assembly Speaker Carl Heastie questions Cuomo's ability to continue leading the state. 
March 8 – Rep. Alexandria Ocasio-Cortez and other members of the state congressional delegation call on Cuomo to resign.
March 9 – An unnamed aide accuses the governor of groping her at the executive mansion in late 2020. Lt. Gov. Kathy Hochul makes her first comments on the sexual harassment allegations against Cuomo since Feb. 27. Nearly two dozen female Assembly members – including Assembly Majority Leader Crystal Peoples-Stokes – release a letter urging patience with James' sexual harassment probe. 
March 10 – Former Rep. Nita Lowey releases a statement in support of Cuomo.
March 11 – Heastie announces the formation of an impeachment investigation. Albany police officials say the state police notified them of potentially criminal alleged groping at Executive Mansion.
March 12 – A New York magazine story details "toxic" work environment overseen by Cuomo and top aides like DeRosa. Cuomo gets mocked for appearing outside the Executive Mansion wrapped in a blanket. A former Albany reporter Jessica Bakeman accuses Cuomo of sexist and inappropriate conduct. 
March 14 – Media reports allege gubernatorial adviser Larry Schwartz mixed politics with the ongoing distribution of vaccines. 
March 17 – Black leaders stick up for Cuomo at vaccine event in Harlem. 
March 18 – Former Albany reporter Valerie Bauman outlines her own experience with troubling behavior by the governor. 
March 19 – Gubernatorial aide Alyssa McGrath accuses Cuomo of sexual harassment. The New York Times reveals an FBI investigation into nursing home deaths.
March 22 – Federal Highway Administration announces it has "no safety concerns" about safety of the Mario M. Cuomo Bridge. 
March 23 – Assembly Democrats unveil a new hotline seeking tips for impeachment probe. 
March 24 – Media reports reveal Cuomo's family members like CNN host Chris Cuomo received special access to COVID-19 tests early in the pandemic. 
March 25 – Assembly Judiciary Committee Chair Charles Lavine announces the impeachment investigation will widen to include the testing allegations. State Senate Minority Leader Robert Ortt files an ethics complaint against Cuomo. 
March 29 – Rochester-area woman Sherry Vill accuses the governor of improperly touching her during a 2017 visit to view flooding damage along Lake Ontario. 
March 31 – Media reports show Cuomo aides hid damaging information on nursing homes while the governor pursued a multi-million dollar book deal on his leadership during the pandemic. 
April 
April 5 – Assembly Member Vivian Cook defends Cuomo at closed press event in Queens.
April 6 – Cuomo appears alongside Gary LaBarbera of the New York Building and Construction Trades Council and others at a press-free event in Manhattan. 
April 7 – More details emerge about the alleged groping at Executive Mansion. Cuomo denies "intimate" knowledge of preferential COVID-19 tests given to family members. The state Legislature passes a new budget that includes numerous concessions to state legislators one week past the April 1 deadline. 
April 13 – Cuomo holds outdoor event at Capital Region cidery while claiming COVID-19 restrictions prevent reporters from attending.  
April 14 – USA Today Network reports at least six top aides were extensively involved in helping the governor with his book. 
April 19 – A Cuomo aide accuses James and state Comptroller Thomas DiNapoli of being unethical for pursuing an investigation into the Cuomo book deal. Cuomo claims staffers' work on the book was voluntary. A poll shows Cuomo's approval level with registered voters has hit a record low. Media reports show that the FBI is investigating whether Cuomo tried to shield political donors from liability during the pandemic. 
April 20 – Stewart-Cousins holds a briefing with reporters but declines to criticize Cuomo for keeping public events closed to reporters. 
April 21 – Lavine outlines purview of ongoing impeachment probe. Stewart-Cousins appears alongside Cuomo at a closed-press event in Yonkers highlighting vaccination efforts. 
April 22 – State Sen. Todd Kaminsky and Assembly Member Judy Griffin appear alongside Cuomo at a Long Island event despite their calls for him to resign. 
April 23 – Assembly Member Inez Dickens defends Cuomo at closed press event in Manhattan that also includes Retail, Wholesale and Department Store Union President Stuart Appelbaum and Assembly Member Al Taylor. Cuomo calls the impeachment probe a "review" and claims reports of sexual harassment are one-sided.
April 26 – Cuomo holds the first in-person press conference since December where he denies at a Syracuse event that he sexually harassed aides and other accusations of wrongdoing. The state Senate Investigations Committee opens a probe into safety concerns at Mario M. Cuomo bridge. 
April 27 – A Cuomo aide attacks a New York Post reporter over story alleging he said accusers "want attention." Assembly Member Donna Lupardo, who has not called on Cuomo to resign, and local officials appear alongside Cuomo at an open-press event in Binghamton. 
May 
May 3 – Cuomo denies any wrongdoing at first in-person briefing in New York City since December.  
May 10 – The governor declines to directly answer reporter questions at a New York City press conference on comments by his aide accusing James of allowing political motivations to taint her investigation into the governor. He also declines to say whether he has been interviewed by James, the FBI or Assembly members in their respective probes.
May 13 – Asked whether he recognized that his intent has no legal bearing on sexual harassment, Cuomo offers his own definition of the standard he signed into law. 
May 17 – The governor releases a financial disclosure that reveals a $5.1 billion deal for his erstwhile best-selling book. 
May 19 – The New York Times reveals that DeRosa's father was among the people who received preferential COVID-19 tests early in the pandemic. 
May 20 – It is "stupid" to ask whether he personally profited from the pandemic, Cuomo says at a Buffalo press conference alongside Mayor Byron Brown. The Washington Post reveals Cuomo bro Chris helped craft the administration's response to scandals during strategy calls with gubernatorial staff. 
May 24 – A Siena College poll finds his favorability rating has stabilized with registered voters. State Sen. John Brooks joins the ranks of elected officials willing to appear next to Cuomo in public. 
May 26 – Assembly Judiciary Committee provides first update in weeks on its ongoing impeachment investigation.
May 27 – Cuomo gives reporters a tour of a train tunnel in Manhattan, the most extensive exposure to reporters since he resumed in-person press conferences weeks before.  
June 
June 1 – Bloomberg reports a planned $10,000 per plate fundraiser scheduled for June 29 – the first known time Cuomo has solicited campaign cash since his scandals erupted. 
June 7 –  Cuomo reportedly hosted legislators from Rochester at the Executive Mansion to discuss infrastructure. 
June 8 –  The state Senate confirms both of Cuomo's picks for the Court of Appeals, despite fairly significant opposition to former Nassau County District Attorney Madeline Singas.
Jun 10 – The state legislative session ends without Cuomo's bid to split the MTA leadership position into two separate roles getting approved. 
June 11 –  Cuomo signs a bill that would provide the funding for the Assembly's impeachment investigation into him.
June 15 – Cuomo holds a celebratory press conference, announcing that 70% of adults in the state have gotten at least one vaccine dose and that nearly COVID-19 restrictions have been lifted without taking questions from the press.
June 24 – James offers no timeline for concluding ongoing probe. 
June 29 – A $10,000 per-plate fundraiser highlights a million dollars' worth of ongoing support for the governor from labor and business leaders.  
June 30 – Judiciary Committee announces it will use subpoena power in ongoing impeachment investigation. 
July
July 6 – The governor declares a public health emergency over gun violence. 
July 11 – Gubernatorial spokesperson Rich Azzopardi says without evidence that a top transit labor leader only criticized the governor to boost James' political prospects. 
July 15 – Financial disclosures show Cuomo getting outraised by a GOP rival for the first time since his 2006 campaign for attorney general.  
July 17 – Cuomo testifies before investigators overseen by James. The governor would not appear in front of reporters until July 26. 
July 21 – Assembly Member Charles Lavine tweets letter to governor warning of "severe repercussions" if aides continue criticizing James publicly. The administration defends Azzopardi's comments, with DeRosa saying in a now-deleted Tweet that the Empire State is not the "People's Republic of New York."
July 23 – Heastie tells reporters that damaging findings by the attorney general would not necessarily be enough by itself to justify impeachment. The Department of Justice announces it will not open a civil investigation into COVID-19 deaths in nursing homes in New York and other states. 
August
Aug. 3 – James releases her much anticipated report. President Joe Biden and a long list of New York political leaders call on the governor to resign. Cuomo issues defiant video and statement denying allegations. 
Aug. 4 – At least four local district attorneys have requested investigative materials from the office of the state attorney general.
This article has been updated to clarify the timing of comments by Lt. Gov. Kathy Hochul.
Powered By
NEXT STORY: Jamaal Bailey's shaking up the Bronx Dems