New York State
Buffalo Mayor Byron Brown faces backlash after winning write-in campaign
Progressives say the movement to oust Brown from the Democratic National Committee serves as a warning to the establishment.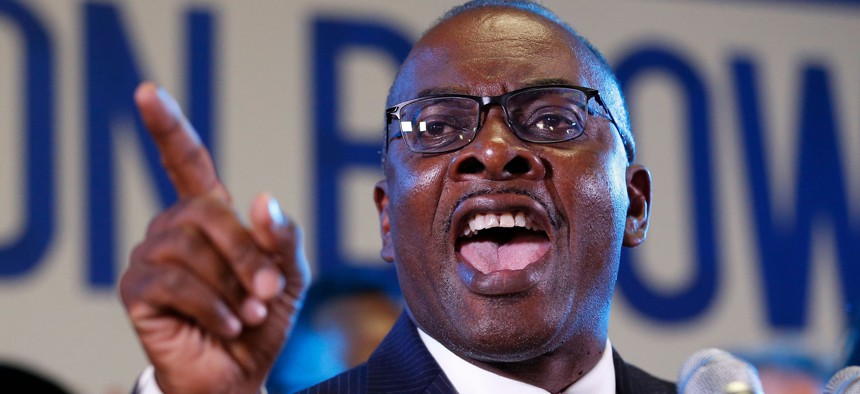 A week after Buffalo Mayor Byron Brown won a write-in campaign for reelection, which shocked progressives across the state who backed Brown's challenger, India Walton, the incumbent mayor is facing retribution for running against his party's own primary winner.
Calls have grown in recent days to have Brown removed from his position on the Democratic National Committee, Larry Cohen, the board chair of the Washington-based progressive group, Our Revolution, who is backing the effort, told City & State.
"(The push to remove Brown from the DNC) started to originate when he ran the write-in campaign and obviously intensified as the election occurred," said Cohen, who is also among the approximately 450 DNC members.
Now that Brown's reelection appears all but certain, some Democratic lawmakers in Buffalo who stayed on the sidelines during the campaign are speaking out against Brown's alignment with the GOP. Prominent Republicans donated to Brown's campaign and the New York Republican State Committee sent mailers on his behalf.
"Brown didn't need help from some of Donald Trump's most hardline supporters to beat India Walton but he took it anyway … calling Brown a good Democrat after he just empowered some of Trump's closest allies is offensive," Assembly Member Patrick Burke, who did not endorse either candidate, told City & State in a text message.
State Sen. Sean Ryan, who supported Walton's campaign, said in an email to City & State that "it's not unreasonable to think that running a GOP-backed campaign against a Democrat might have consequences for a member of the DNC … especially when his biggest donors are Republicans."
Those surveying the aftermath of the election say the party has been shaken to its core by the unlikely turn of events, with one elected official describing the situation as "a touchy subject in Buffalo these days." 
The warring Democratic factions are both pointing fingers – a theme that has been playing out nationally between progressives and moderates. 
"I think what we may be likely to see is what we see oftentimes when either party or party factions are unable to win," University of Buffalo associate professor of political science Jabob Neiheisel told City & State.
"And that's a tendency, at least in the immediate aftermath, to double down. I think there is a tendency for parties and intra-party factions to live out in the wilderness for a while until they figure out how to build coalitions," Neiheisel said.
Burke said the party needs to unify its messaging if it wants to draw voters.
"This is just a proxy fight between two factions of Democrats that aren't well liked by anyone. The choices can't be between uninspiring corporate Dems and activists who operate far to the left of the Average American," he said.
Progressives are hoping the backlash against Brown serves as a warning to other establishment Democrats that the party's future depends on its coordination with their burgeoning movement.
"What India built can't be ignored or minimized," Sochie Nnaemeka, director of the New York Working Families Party, which campaigned for Walton, told City & State in an email statement. "She lifted up the urgent needs of working class Buffalonians, whose concerns have been pushed aside by Brown and the political establishment. Buffalo will never be the same again. This election lit a flame that won't stop burning."
Political observers say the election both proves the power of the progressive party is a force to be reckoned with but at the same time has a long way to go to convert its impassioned messaging into voter turnout. 
"They're certainly loud, I'll say that. They are able to mobilize … It's a presence. But frankly, I'm not sure it's one that Democrats need to be necessarily worried about," Neiheisel said, adding the strategy of linking Brown to Republicans will likely fizzle. 
"I don't think any sober observer is going to confuse Brown for a Republican any time soon," he said.
Jeremy Zellner, chair of the Erie County Democratic Party, told City & State he does not support Brown's removal from the DNC, and that he hopes to have a close working relationship with the newly reelected mayor, along with Walton. He blamed the intra-party squabbling on what he said is an overstep by the WFP into Democratic politics. 
"I don't think the Working Families Party ought to be telling the Democratic Party how to run our party in any way," Zellner told City & State on Friday. "They've kind of come and gotten themselves involved in our Democratic primaries, right? And to me, that's partly what's to blame here for causing the problem." 
The process to have Brown removed from the DNC if he doesn't go voluntarily is arduous, described by Cohen as an "uphill slog." The message left by the effort is more important, he said. 
"This kind of behavior can't be tolerated if we're going to do party building in this country," Cohen said. "If party building doesn't occur, from the center-left, as well as the center-right, there's no chance for Democrats in this country to build the kind of majority that's needed," he said. 
Walton, a first-time candidate backed by the Democratic Socialists of America, beat Brown in the June primary election, winning the party nomination.
Brown, a centrist who was first elected mayor in 2005 and is the former State Democratic Committee Chair, then attempted, unsuccessfully, to get on the general election ballot by forming his own political party. He campaigned as a write-in candidate instead and was reelected on Nov. 2 with about 59% of votes in his favor, according to unofficial tallies from the Erie County Board of Elections.
Walton, a 38-year-old former nurse, campaigned on promises to address wealth inequality, invest more in public schools and redistribute police spending to community development programs. 
Brown billed her as inexperienced and blasted her calls to "defund the police," a position she later distanced herself from. 
She earned endorsements from prominent Democrats including Senate Majority Leader Chuck Schumer and Rep. Alexandria Ocasio-Cortez. Others, such as Gov. Kathy Hochul, chose not to publicly back either candidate.
Walton has also called on Brown to step away from his DNC post. 
"Not only do I support the DNC revoking Byron Brown's post; I believe it would set a dangerous precedent not to," she told Politico.
Brown has not publicly addressed the effort, but on Thursday, avowed his commitment to the Democratic party.
"Mayor Brown is a life-long Democrat and has been a champion for the platform that makes the Democratic Party the party that stands for the values and goals of most Americans," he said in a statement that included a list of his more-progressive accomplishments including community policing and affordable housing initiatives. "The Mayor will continue to uphold these values and support Democrats who embrace this widely popular approach to addressing the needs of everyday residents."
Democratic Assembly Member Bill Conrad of Tonawanda, who did not endorse a mayoral candidate, defended Brown's victory and said he should not be removed from the DNC.
"I think we do have to keep in mind that Buffalo is a city of nearly 156,000 registered voters – nearly 70 percent of whom are Democrats – and yet the primary was decided by roughly 23,000 voters," he said in an email to City & State.
"Ms. Walton ran an excellent campaign to win the primary, but as was his right, Mayor Brown continued on after that loss – and voters in the General Election made their preference known."
The Brown-Walton faceoff has drawn comparisons to another New York primary election in which the moderate incumbent lost to a progressive, first-time candidate, who also happens to be a woman of color and Democratic Socialist. 
"Oftentimes, if you've been elected four different times, you're not terribly worried about a primary, and so you tend to let your guard down just a little bit," Fordham University associate professor of political science Christina Greer told City & State. "Ask Joe Crowley, right?" 
Crowley was a 10-term incumbent when he lost a Congressional primary to Ocasio-Cortez in a stunning 2018 upset. He did not wage a write-in campaign.
"When Joe Crowley lost the primary to AOC, he could have pulled this. He didn't do it. And that's the right way to behave," Cohen said. 
Powered By
NEXT STORY: Hochul adds more Latinos to her administration