Campaigns & Elections
Byron Brown's write-in gambit apparently worked
The former state Democratic Party chair worked with the GOP to seemingly defeat socialist India Walton.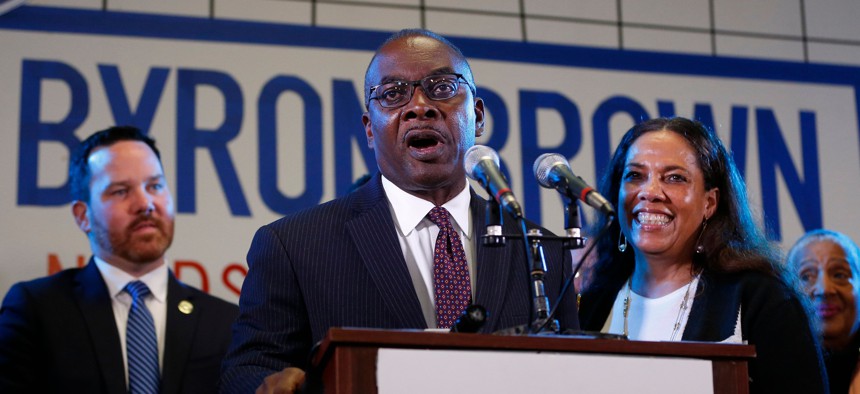 When India Walton won the June Democratic mayoral primary for Buffalo mayor, it appeared that the political left would reach new heights in November by electing the first socialist mayor of an American city in decades.
Instead, Democratic Mayor Byron Brown declared victory Tuesday night in what once looked like a long shot bid to win an unprecedented fifth term in office as a write-in candidate. While the final results might not be known for weeks, nearly 60% of Buffalonians voted for a write-in candidate compared to more than 40% for Walton, as of Tuesday night. The wide margin suggests she would be unlikely to prevail even if his apparent lead dwindles because of write-in votes for other candidates.
"This election was not just a referendum on the direction of the city of Buffalo," Brown said in a victory speech Tuesday night. "It was a referendum on the future of our democracy."
Walton's apparent defeat was one of many setbacks for the political left on election night in New York and across the nation. Republicans won the race for governor in Virginia and Democratic Gov. Phil Murphy of New Jersey was trailing slightly in his race for a second term.
A number of factors appear likely at play. President Joe Biden has seen his approval ratings sink in recent weeks as congressional Democrats continue negotiating on a massive spending package. Republicans have also been able to seize on a number of wedge issues in key races. Their opposition to same-day registration and no-excuse absentee voting – part of a wider effort inspired by former President Donald Trump to sow doubts about election security – might sink two statewide initiatives favored by Democrats. GOP attacks on bail reform might also doom state Sen. Todd Kaminsky in his race for Nassau County district attorney.
The big takeaway of the night appears to be that wherever you look – upstate and downstate – the candidate on the right tends to be winning. This trend has taken on a uniquely strange form, however, in the race for Buffalo mayor. Brown – a former state chair of the Democratic Party who lost the June primary after largely not campaigning – leaned on a coalition of centrist Democrats and Republicans while opposing his own party's nominee.
Not all the votes have been counted yet, and Democrats might end up doing better in some races than the ballot counts suggested on election night. Brown's apparent victory in Buffalo, however, is a big setback for the political left. Powerful groups like the Working Families Party invested a lot of resources into supporting Walton, while big names like Rep. Alexandria Ocasio-Cortez and U.S. Sen. Chuck Schumer supported her candidacy in the final days of the campaign.
Now Republicans have more to celebrate with Brown's apparent victory over someone who appeared to be a rising progressive star. "Socialism has been defeated in Buffalo!" state Republican Party Chair Nick Langworthy, who comes from Western New York, tweeted Tuesday night.