Politics
Is Chris Cuomo doomed?
A women's advocacy group joined the chorus of lawmakers and Cuomo accusers calling for the network to oust the veteran anchor after he tried to help downplay sexual harassment claims against his brother.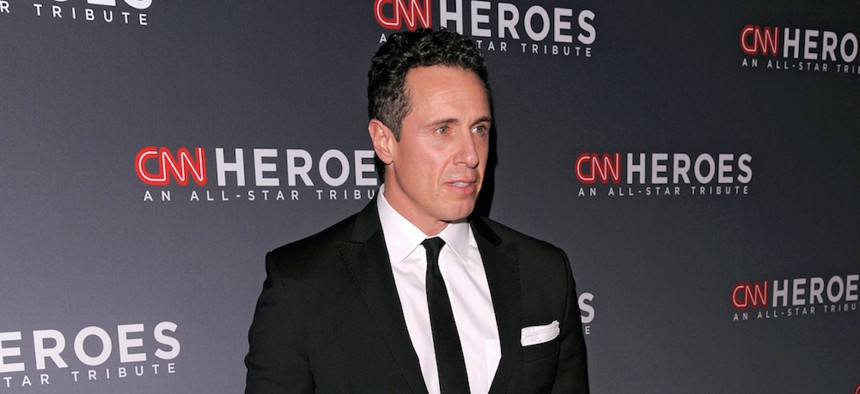 A national women's advocacy group renewed their calls for CNN to take action against anchor Chris Cuomo following revelations he attempted to steer the narrative surrounding the downfall of ex-Gov. Andrew Cuomo. 
UltraViolet, a feminist group that promotes women's rights, including anti-sexual harassment and pro-abortion efforts, upped its call for the network to punish Chris Cuomo after his involvement in the scandal was detailed in documents made public on Monday.
"Reports that Chris Cuomo not only joined strategy calls with his brother, former Governor Andrew Cuomo, on how to respond to the numerous sexual harassment allegations against him, but actively advised his brother to push back against the allegations, using his position at CNN to seek information on the accusers, are completely unacceptable. He should be fired immediately," Elisa Batista, campaign director of the Washington-based group said Tuesday in a statement to Fox News.
The group called the younger Cuomo's behavior a "severe breach of journalistic ethics" and warned that keeping him on air "further harms survivors of sexual abuse."
The group previously called on CNN to suspend Chris Cuomo in May, following his admission that he was "looped into calls" about how to manage the scandal. 
The scope of the veteran CNN anchor's involvement was revealed Monday in transcripts and evidence released by state Attorney General Letitia James' office as part of its investigation into sexual misconduct allegations against the former governor. The document dump included transcripts of a six-hour July 5 interview investigators conducted with Chris Cuomo, along with text messages he sent to executive staffers attempting to manage the crisis. 
"I have a lead on the wedding girl," Chris Cuomo texted then-top Cuomo aide Melissa DeRosa in March in an apparent reference to Anna Ruch, a former staffer who accused the governor of manhandling her at a wedding. 
Chris Cuomo also told investigators that he was part of a conference call with his brother's advisers to discuss Lindsay Boylan's sexual harassment allegations against Andrew Cuomo after she went public in a series of tweets in December 2020. 
"They were hoping that it wouldn't get a lot of traction," Chris Cuomo told investigators, referring to the inner circle's reaction to Boylan's accusations.
The conference calls continued as the scandal mushroomed, according to the transcript. 
"I just know that as the situation started to accelerate, my brother asked me to be in the loop. And so from time to time, I would be contacted by Melissa or another member more frequently," he said. 
The TV vet also admitted to working behind the scenes to dig for details on unflattering reports before they surfaced.
"I would – when asked, I would reach out to sources, other journalists, to see if they had heard of anybody else coming out," he said.
The files released Monday include transcripts of interviews with 16 of Andrew Cuomo's former advisers and staffers, including DeRosa and Cuomo spokesperson Rich Azzopardi. 
They were unveiled following the conclusion of an August report by James' office that found 11 of the women who accused the former governor of sexual harassment and/or unwanted touching were credible. Cuomo announced his resignation less than two weeks after the report was published.
A chorus of lawmakers, activists and media watchers, along with at least two of Cuomo's accusers, called on the cable network to take action against Chris Cuomo in the hours after the evidence was made public on Monday. 
"In addition to scouring the internet for personal information about me, he reached out to his professional network with the hope of intercepting additional allegations against his brother, Governor Cuomo," Charlotte Bennett said in a statement late Tuesday that was retweeted by Boylan.
"CNN must act – now. Anything short of firing Chris Cuomo reflects a network lacking both morals and a backbone," added Bennett, who accused the governor of grooming her for sex and asking inappropriate questions about her romantic life.
Chris Cuomo, meanwhile, did not mention his brother – or revelations about his own involvement in managing the crisis – while hosting his nightly "Cuomo Prime Time" show on Monday.
And on Tuesday morning, he parroted defenses previously made by his brother's legal team that the then-governor was forced to step down – not because he was guilty, but because the political and public pressure in the wake of James' report was too strong to weather. 
"I did not want him to resign in the beginning because I believed him and I thought that you don't resign, you ( . . . ) let due process take care of the situation," he reportedly said in a SiriusXM podcast. "But eventually when there wasn't going to be due process ( . . . ) then he had no choice."
Criticism of Chris Cuomo's coverage of his brother began early in the pandemic, when CNN lifted a reportedly longtime policy against allowing the anchor to interview his politician brother. The joint appearances became must-see TV for many Americans who came to view the older Cuomo as a national leader of efforts to combat the COVID-19 crisis.
CNN remained silent on the star anchor until Monday, when it issued a statement vowing "thorough review and consideration" of the evidence and transcripts.
"We will be having conversations and seeking additional clarity about their significance as they relate to CNN over the next several days," the network said in a statement to the Washington Post.
Neither CNN, nor the former governor could immediately be reached for comment.
Chris Cuomo defended his practices regarding his brother to investigators, but acknowledged that he may have put his own reputation at risk.
"This was just – you know, just wanted to be able to help my brother ( . . . ) through a situation where he has told me he did nothing wrong," he said, according to the transcripts. "Probably should have been thinking more about how I protect myself, which just never occurred to me. And that was it."
Editor's Note: Following publication of this article late Tuesday, CNN announced it suspended Chris Cuomo indefinitely.
"The documents, which we were not privy to before their public release, raise serious questions," the network said in a statement to The New York Times.
"When Chris admitted to us that he had offered advice to his brother's staff, he broke our rules and we acknowledged that publicly. But we also appreciated the unique position he was in and understood his need to put family first and job second. However, these documents point to a greater level of involvement in his brother's efforts than we previously knew."
Powered By
NEXT STORY: Hochul, de Blasio urge masks indoors amid concerns over omicron variant