News & Politics
Hochul, de Blasio urge masks indoors amid concerns over omicron variant
The New York City Department of Health issued an advisory on Monday encouraging all businesses to require masks indoors.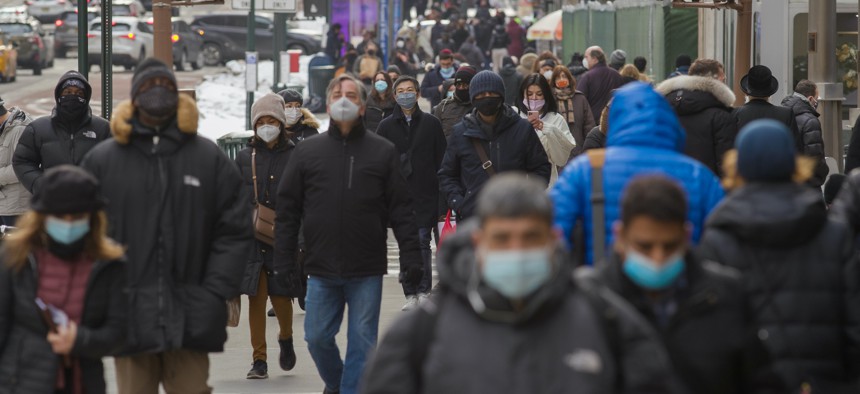 Gov. Kathy Hochul asked New Yorkers to mask up and get vaccinated on Monday as the state braces for the arrival of the new COVID-19 omicron variant and an uptick in post-holiday cases but stopped short of instituting any new mandates. 
New York City's Health Department, meanwhile, issued a directive urging businesses to require masks indoors.
"Today I'm issuing a commissioner's advisory strongly recommending that all New Yorkers wear a mask at all times when indoors and in a public setting like at your grocery or in building lobbies, offices, and retail stores," Health Commissioner David Chokshi said in a virtual press briefing Monday morning.
Hochul said at a briefing later in the day that while she is "very concerned" about the rising caseloads in some parts of the state, reinstating restrictive mandates is not being seriously considered, yet.
"We're not talking about shutdowns. We're not talking about reinstituting the harsh measures that were needed at a time when we did not have any defenses," she said. "Just get vaccinated. Wear your mask and you won't have to worry."
Also on Monday, New York City Mayor Bill de Blasio announced a new vaccine mandate for all day care staffers in the city, which must be met by Dec. 20.
No omicron cases have been identified in the U.S., but Hochul reiterated her Friday statement that the new strand's arrival here is imminent. Currently, the mutation, which originated in South Africa, has been found in more than a dozen countries.
Scientists at the State Department of Health's Wadsworth Center, along with a consortium of three labs across the state, are currently conducting genetic sequencing to identify mutations in the virus, Virology Lab Director Dr. Kirsten St. George explained at Hochul's press briefing. 
"The results of the sequencing and what it tells us about the strains and variants that are circulating are reported to those public sequence databases ... every week, so that the information is available to scientists worldwide," St. George said.
Hochul on Friday reinstituted a state of emergency as cases continue to rise in Upstate and Western New York. The order allows hospitals, where bed capacity is less than 10%, to limit elective surgeries and other non-emergency care until at least Jan. 15. 
On Sunday, she announced that the state's nursing homes would be required to make booster doses available to all residents. 
Statewide, the seven-day average test positivity rate stood at 4.1% as of Sunday. In Western New York, the positivity rate was at 10.2% and in New York City, 1.9% of tests were positive, according to the State Department of Health.