New York State
FAQ: all the Cuomo investigations
The former gov is facing probes at the county, state and federal level. Here's the breakdown.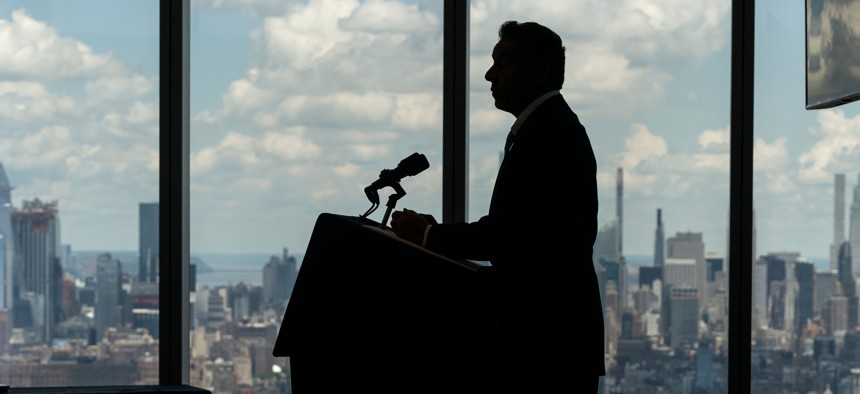 The Assembly Judiciary Committee finally released its long-awaited report on former Gov. Andrew Cuomo, the highly anticipated conclusion in one of the many ongoing probes that have plagued the ex-governor for the past year. But it doesn't quite mark the end of a confusing web of investigations, criminal liability and potential civil lawsuits. Probes at the state level have come to a close, but with the amount of time between when they were first announced, when they came out and everything else that came in between, one would be forgiven for losing the plot once or twice. 
Now is a good time to look back at what has happened so far with regard to the various scandals that enveloped Cuomo's last days in office, and what may yet still be in store for the former state executive.
The Assembly Judiciary Committee has released its impeachment report, does that mean that the body can impeach Cuomo?
Originally, Assembly Speaker Carl Heastie charged the Judiciary Committee with conducting a report into various allegations against the then-governor relating to sexual harassment and COVID-19 response as a first step toward potential impeachment. Lawmakers would assess based on the report whether to actually bring articles of impeachment. After Cuomo stepped down, the Assembly originally suspended the investigation but under pressure reversed that decision. Because Cuomo has already resigned, he can no longer be impeached even if the report concluded he committed impeachable offenses. Although originally, some legal experts and lawmakers had differing opinions on the vaguely written state Constitution on the matter of impeachment, the report itself came to the final conclusion that the Assembly cannot impeach a governor who has already left office. That said, investigators based their conclusion on an over 150-year-old memo from the Judiciary Committee, and lawmakers ignored a relevant part of it the last time they tried to impeach a governor, so nothing is really stopping the Assembly from ignoring it again and moving ahead anyway.
What's the difference between this report and the state attorney general's report released in August?
The state attorney general's report and the impeachment report do have a number of similarities as they covered the same ground on allegations of sexual harassment. On that topic, the new report largely confirmed the findings of the state attorney general's report. The biggest difference is that the Assembly investigation covered more topics, also looking into Cuomo's handling of the COVID-19 pandemic, the work that went into the writing of a memoir that earned him an over $5 million advance and potential safety issues with the Governor Mario M. Cuomo Bridge. The potential results of the two reports also represent key differences. While state Attorney General Letitia James did not have a specific end goal for releasing her report, the Assembly, in theory, conducted its investigation with the expectation that it could lead to articles of impeachment. Now that the prospect seems to be off the table. Both reports similarly offer evidence against Cuomo and draw certain conclusions without any legal weight behind them.
When James released her report in August, why didn't she bring criminal charges?
The reason is the same as why it took a few attempts for her to get the authority to even investigate in the first place. Just as James needed an official referral from the governor in order to investigate the alleged indiscretions, she likewise would need a referral from either the governor or an agency head to pursue charges. James did not receive such permission, meaning her hands were tied. In fact, despite concluding Cuomo broke sexual harassment law, the report from James' office did not actually weigh in on whether any of his alleged actions amounted to offenses subject to criminal prosecution – sexual harassment is a civil offense, not a criminal one. The report did, however, say that Cuomo could in theory face charges of misdemeanor forcible touching and third-degree sexual abuse. Some legal experts have said that James made too many prejudicial statements to have been able to prosecute a case against Cuomo, having come to her own conclusions through the report and condemned the former governor. 
How is James responding to people who call her gubernatorial run a conflict of interest after her office released a report that led to Cuomo's downfall?
James has repeatedly denied that her interest in running for governor played any role in her office's investigation into Cuomo, pointing to the fact that she selected independent investigators to conduct the probe rather than members of her own office. Still, she has garnered criticism, even from outside Cuomo's circle of supporters, for the way she took center stage when announcing the results of the report and imprecise language about her own role in the investigation.
What's happening with criminal cases brought by local officials then?
As of right now, very little. The district attorneys in Albany County, Nassau County, Manhattan, Oswego County and Westchester County opened investigations into the potentially criminal behavior alleged to have happened in their jurisdictions with regards to Cuomo's executive assistant Brittany Commisso, an unnamed state trooper and former senior staffer Lindsey Boylan. So far, the only movement in any of those cases has come in Albany. But the situation there is hardly straightforward. The Albany County sheriff's department filed charges against Cuomo in the Commisso case as part of an investigation apart from the local district attorney, but did so prematurely. It came before members of the sheriff's department and the county district attorney's office could meet and discuss how to move forward. The charges did not include a proper sworn statement from Commisso, and the district attorney criticized the filing as potentially compromising the entire case against Cuomo.
OK, then what about civil cases involving the sexual harassment?
There is a statute of limitations three years for for filing a sexual harassment complaint, so some allegations made by Boylan from years ago would not be subject to lawsuits now. But most of the women who have made allegations of harassment against the governor, including Boylan with regards to alleged retaliation after she first went public last year, could still bring their cases to court. Although some have said they may bring lawsuits, none have actually filed one yet. So like the potential criminal cases, little has moved yet on the civil side yet.
What happened with the federal investigations into COVID-19 nursing home deaths?
Like so many other aspects of these scandals, not much yet. After Cuomo used federal probes as an excuse not to release more accurate data on nursing home deaths during the Trump administration, little has actually come from those probes. In July, the Department of Justice said it would not open a civil rights investigation into Cuomo's handling of COVID-19 in nursing homes. But the FBI and investigators with the Eastern District of New York are supposedly still looking into whether Cuomo deliberately downplayed the toll that COVID-19 had in nursing homes, a fact that seems to have become increasingly clear over the past year as more information comes out. Nothing new from that has come out since the revelation that a probe was underway in the spring.
---
Keep your finger on New York's political pulse - get our First Read newsletter in your inbox.