Campaign Confidential
Gale Brewer is late to the City Council speaker race. Is she worth the wait?
The outgoing Manhattan borough president is hoping a wealth of experience will appeal to the new council.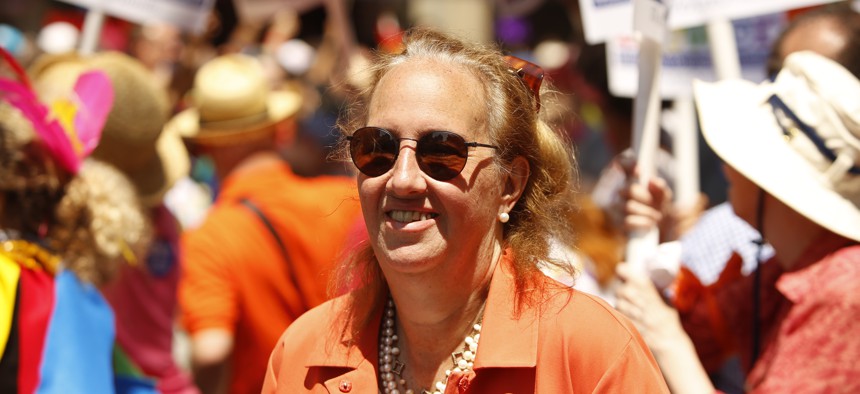 Gale Brewer is running for City Council speaker at her own leisurely pace.
In the summer and early fall months during which other candidates for speaker were cozying up to and pitching likely new council members, labor leaders and other power brokers, Brewer was openly mulling a run but not quite committing to it. She's unsure when asked to pinpoint when she officially decided to run. "It was when I started meeting with people some weeks ago, maybe a month ago," said Brewer, the outgoing Manhattan borough president and former City Council member.
At the Somos conference in Puerto Rico earlier this month, that work was on display, as Brewer hosted a string of meetings with members on the Royal Sonesta hotel's sweeping patio. (Incoming Council Member Rita Joseph of Brooklyn was just one new member spotted meeting with Brewer.) While she started to pack in those meetings at Somos, some members and observers said that Brewer was still late to the game.
Try to point out that she's a little tardy and Brewer will deny it. "I think it's a wide open race," Brewer told City & State. And she may be right about that; the speaker race does not seem to have a clear leader yet. Even though there isn't one consensus front-runner, there are names that are brought up more often than others in discussions about who will be the next speaker, and Brewer is not among that top group right now. (To be sure, that tier is somewhat murky and ever-changing, but nobody thinks that Brewer is in it.)
After being a "maybe" candidate in the race for months, some members are still waiting for Brewer to step into the race with more gusto. Despite confirming that she's running and appearing at a couple forums, Brewer's candidacy still seems to lack some resolve. Several incoming members said that in meetings with her, Brewer has hardly brought up the fact that she's running for speaker. "I don't know how for real she is," said one incoming member who asked to remain anonymous because they haven't endorsed a speaker candidate yet. "The sense that I get from her is that she's kind of throwing her hat in the ring. If it happens, it happens."
Still, if anyone could come from behind in this race, it might be Brewer. Before serving 12 years in the City Council from 2002 through 2013 – where she introduced the city's initial paid sick leave bill – Brewer worked for then-Council Member Ruth Messinger in the '80s, and for then-Mayor David Dinkins and then-Public Advocate Mark Green in the '90s. Her local political ties run deep – including with Mayor-elect Eric Adams, her fellow borough president who has complimented her at length for her wisdom. That résumé has allowed her to be a contender, despite not currently serving in the council. All the other speaker candidates are entering their second terms, while she's entering her first (for the second time).
So while her soon-to-be colleagues in the council may be familiar with Brewer, the constituent advocate and fixture of the Upper West Side, that doesn't mean that they're well acquainted with Brewer, the City Council speaker candidate. "Obviously she's got a ton of experience, and I'm sure to an extent could do the job with her eyes closed," said another incoming council member who asked not to be named because they hadn't made up their mind in the race yet. "But I don't know that I've really heard much about her candidacy from other incoming folks. It kind of feels late."
Brewer said she has been reaching out to and meeting with council members, but declined to estimate how many she's spoken to so far. "She's in the hall of fame. Everyone knows who Gale Brewer is," said Democratic political strategist Chris Coffey, who added that Brewer's experience in local government is her major strength. "But I don't know that that means that they have personal relationships with her." Brewer said she already knows many of the members from working or crossing paths with them in her work as borough president.
The first anonymous incoming council member said that Brewer had reached out but they haven't had a meeting yet. That person added that they don't know enough about Brewer's pitch for speaker, including how she would serve as a check on the Adams administration. "I truly don't know where she is on any of that," they said. "I'm definitely open to it. But I think if the vote was tomorrow, I don't think I could feel good about supporting her just because I don't know anything about what her plan is."
Part of Brewer's pitch is that she would use her knowledge of how to get things done to elevate other members' work. "I have a history of knowing what has and has not worked in the past," she said. "I don't have all the great ideas. But many people have great ideas. The question is how you get them implemented. That's where I come in."
Brewer is under no illusion that she's winning the math of the speaker race yet, which will require the winner to win the majority of votes from their 50 colleagues. "I can't say that I have one person who is supportive, but I think the race is open," Brewer said. "I don't think one person has any 26 votes, or whatever the amount is. And I think I'll get some support from labor."
Stuart Appelbaum, president of the Retail, Wholesale and Department Store Union, said his union has not endorsed anyone in the race but they like many of the candidates, including Brewer. "She has demonstrated throughout her career a commitment to the highest standards of service," Appelbaum said of Brewer. "We've been extremely impressed with every position she's held in public life."
Brewer may have goodwill with RWDSU and other large unions, but she's yet to turn that into a firm endorsement – though neither has any other speaker candidate. Unions that are a part of the Labor Strong coalition – such as District Council 37 and 32BJ SEIU, the building service workers union – are expected to align to try to influence the race this year, but have yet to publicly endorse anyone.
If her late announcement and lack of personal connections with the incoming members didn't hurt her enough, she's got another problem: She's eligible to serve for eight years, while all the other speaker contenders could only serve for another four. That's a huge problem for incoming members who harbor their own dreams of becoming speaker in 2026. In response, Brewer has promised she would serve for only four years if elected speaker – but there may still be some uneasiness with the unprecedented idea of a "speaker emeritus." And while Brewer is a woman in a council that will have a female majority for the first time, there are concerns that a 70-year old brownstone-owning white woman isn't the ideal representative for the young and diverse new council. "There are other people who should take over. I want to just do one term, period," Brewer said, mentioning the incoming class of members is "very smart, dedicated, committed."
The speaker race may still be an open one, but Brewer has a long way to go in establishing herself as a top contender. But some said that the political veteran shouldn't be discounted. "Just based on Gale's deep experience and relationships, she could potentially be a sneak attack type of candidate," said the incoming council member who earlier said they hadn't heard much about Brewer's candidacy yet. "I wouldn't overlook her potential."
Marjorie Velázquez, an incoming Democratic council member from the Bronx, was one of several people to sit down with Brewer at the Somos conference in Puerto Rico. As they talked, Brewer spent more time offering guidance about entering the council as a new member than she did pitching herself for speaker. Velázquez said that regardless of who wins the speaker race, Brewer showed that she is someone other new members can rely on. "It's great speaking to someone with so much knowledge and experience," she said. "To have that coming into the City Council when there are a lot of fresh faces is very reassuring."
Powered By
NEXT STORY: Making an entrance: Comparing campaign launch videos for governor