New York City
It was a good year for electing women to the New York City Council – including Republican women
The New York City Council's new female majority looks like it'll include three Republican women, two of whom flipped Democratic seats.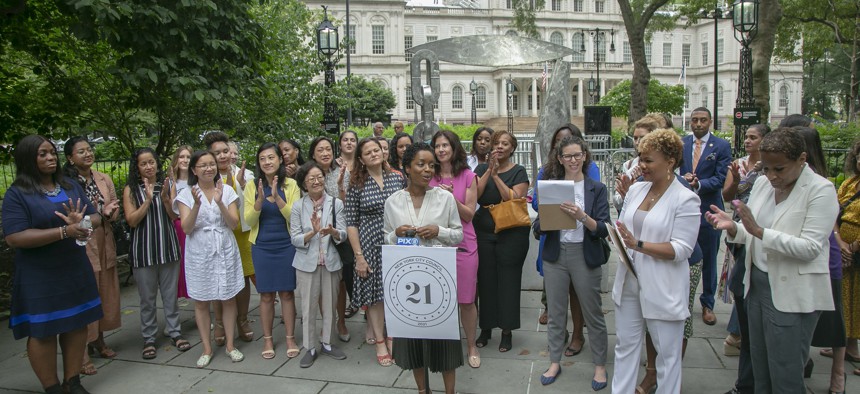 For the first time, the New York City Council will consist of more women than men – as many as 31 female members, in fact, blowing out of the water a goal to elect 21 women to the council in 2021. The female majority is a victory for the incoming and returning women members, the vast majority of whom are Democrats. But that female majority will also likely include three new Republican members, up from zero GOP women currently in the council.
Republican women have been on the rise nationally, with a record number elected to Congress in 2020. Now, as the local success of Republican women coincides with a record number of Democratic women being elected to the City Council – 28 in total – some of those incoming Democratic members are eager to see whether all 31 women will be able to work together, in particular on issues that have an outsized effect on women, including pay equity, maternal mortality and abortion access. "In spite of party, we're more similar than we are different," said Council Member Adrienne Adams, who is running for council speaker.
Others are skeptical that collaboration across party lines will happen. "I would hope that everyone's able to come to a common ground," said one incoming Democratic female member, who asked not to be named in order to speak openly about her future colleagues. "But my values, and the values of my community, are probably going to be polar opposite of what these people ran on." 
The three Republican women who won on Tuesday each did so in races that were considered toss-ups, in some districts handing decisive defeats to Democrats. In Queens' 19th District, Republican Vickie Paladino leads former state Sen. Tony Avella by roughly seven percentage points, though the race has not officially been called. But in the 32nd City Council District, Queens Republican Party Chair Joann Ariola handily beat Democrat Felicia Singh, while Republican Inna Vernikov bested Steven Saperstein in southern Brooklyn's 48th District. 
Paladino, Ariola and Vernikov each ran on issues including public safety and fully funding the NYPD in their campaigns, as well as so-called "bread-and-butter" issues for their constituents and supporting small businesses. "We've seen that these recent races were less about party and more about issues," Ariola said in an emailed statement, adding that she's eager to work with Democratic Council Member Bob Holden and other moderate members. "The vast majority of New Yorkers want common-sense policies for safe streets, clean parks, thriving small businesses and educational opportunities for their children." Ariola did not comment on whether she would work on issues like pay equity or abortion access – some of the topics incoming Democratic women have listed as priorities. Vernikov and Paladino could not be reached for comment.
At the annual Somos conference in Puerto Rico, where New York politicos flocked following Tuesday's election, several of the Democratic incoming council members said they didn't know much about any of the three Republican women and that they hoped they could work together. But their support for former President Donald Trump is also a red flag for some incoming Democrats. Donald Trump Jr. actually assisted Vernikov with a robocall in the final stretch of her campaign. "How do we push back on the Trumpism that is going to be really prevalent in City Hall?" asked Amanda Farías, a Democrat who on Tuesday was elected to represent District 18 in the Bronx. Farías said, however, that she hoped the entire women's caucus could find some common ground.
Part of the goal of electing more women to the City Council has been to elevate issues that predominantly affect women and that tend to get less attention in majority male bodies. But one incoming Democratic member said that even if Republicans do work across the aisle on pay equity, for example, she'd be curious to see whether they'd focus on women of color, who on average face greater pay disparities in the workplace. 
Paladino, Ariola and Vernikov are part of the council's growing Republican minority – a faction led by Council Member Joe Borelli, which may ultimately have some influence in the speaker race. Council Member Carlina Rivera, who is also running for speaker, said that she hoped the Republican women could work with the Democrats on issues such as affordable child care and access to safe and affordable abortions. But she noted that tackling bread-and-butter issues – like trash pickups, ponding, even dealing with the city's pest population – is just as important and may open the door to working together on other matters too. "I'm gonna be talking a lot about rats," Rivera said.
Ariola, meanwhile, said she's looking forward to more moderate Democrats in control at City Hall. "I hope that Mayor Adams will set a more moderate tone for city government, and I look forward to working with him, as well as the next speaker," she said.
Powered By
NEXT STORY: New York Democrats process 2021 losses at Somos