Politics
State lawmakers to review Cuomo impeachment report in Albany today
Investigators interviewed 165 witnesses in the probe.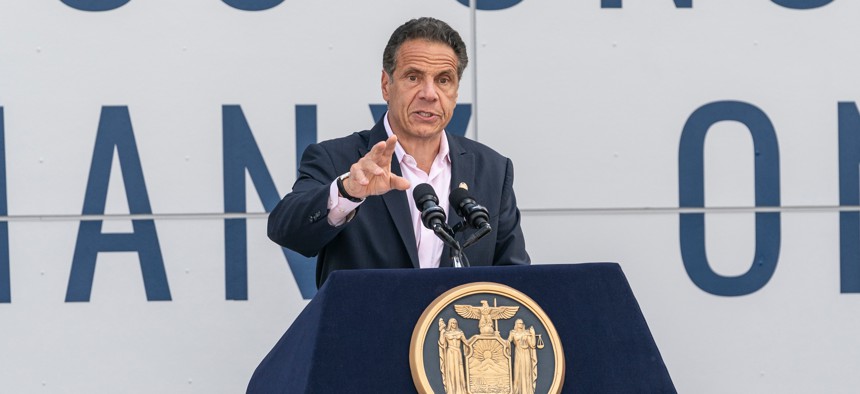 Members of the Assembly Judiciary Committee met Thursday in Albany to review a report on their defunct impeachment probe into former Gov. Andrew Cuomo that could be released to the public in a matter of days.
The committee's 20 members are expected to review the 45-page document by the end of day Friday, then "it is going to be available to the public for public consideration in the next few days," Democratic Assembly Member and the committee's chair, Charles Lavine told NY1. 
The report was compiled by attorneys with Davis Polk & Wardwell, which interviewed 165 witnesses and reviewed hundreds of thousands of pages of documents in their investigation, Lavine said previously. 
Lawmakers met in private to protect the report's secrecy but have made general characterizations of its contents in the hours since they were given access. 
Probers found multiple violations of the Public Officers Law related to Cuomo's alleged use of state staffers to work on his book deal, NY1 reported. The report also includes a timeline of former aide Brittany Commisso's allegations against the governor, who is facing a criminal charge accusing him of groping her in the Executive Mansion late last year. 
Lavine said Thursday that the report does not include testimony from Cuomo, but there is "no doubt" the information collected during the investigation could aid criminal probes of the former governor, he told The Albany Times-Union.
The Assembly previously laid out plans to draft articles of impeachment against Cuomo, but he resigned before it got to that point. 
The committee made a surprise announcement last week, the same day state Attorney General Letitia James released transcripts of her investigation into Cuomo, that members would review the report Thursday and Friday.
-With Additional Reporting by Zach Williams.