Campaign Confidential
Corey Johnson's shadow looms over the speaker race
As the outgoing speaker reflects on his legacy, candidates don't hesitate to criticize his tenure.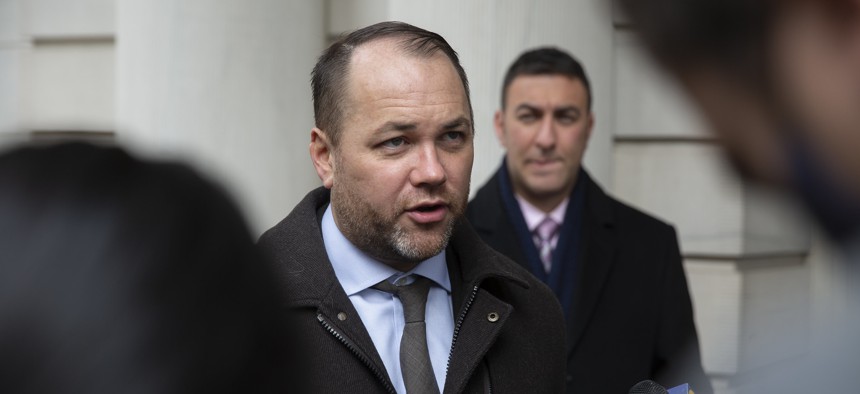 Most elections are a reaction to the previous candidate, and Corey Johnson's shadow has been looming over this year's speaker race, as leading candidates feel free to criticize his tenure. Asked at a November forum hosted by the New York Working Families Party and other progressive groups about how he would be different from the current speaker, Council Member Francisco Moya laid in. "The City Council's (bill) drafting process is broken. There is a lack of transparency for council members on how legislation is being written, and how their legislation is actually being negotiated," he said. "We have to be able to give members the right to receive early drafts of bills before we make decisions on what we're voting on. It's really important that we are providing a very clear, transparent process on how members put in their bills to get drafted."
Members often gripe about the system, which they feel operates in the dark. Now, whichever member first asks the speaker's office to draft a bill on a certain topic gets "first dibs." But the office often refuses to share with other members who exactly is "first-in-time" on a bill. That, among other issues, bestows the already powerful position of speaker with even more influence, since they alone hold all the knowledge. The speaker also controls the calendar for when bills get hearings and committee votes – and the calendar is often not posted until the last minute.
Council Member Adrienne Adams, who along with Moya has become a final contender to be the next speaker, has raised the same issues as her competitor. City & State asked in November, what would she change from the Johnson era? "Most definitely deal with the way that we process legislation. And that bottleneck that is called first-in-time. All of it would center around our processes of legislation and moving things a lot better than we happen to move them these days."
To be fair, this system didn't start with Johnson. A current council member, who asked for anonymity so as not to make enemies, called it a historic wrong: "The staff run the body. And with every speaker it gets worse and worse because of the longevity of the permanent government."
But Adams had even harsher words about the speaker's tenure at a December speaker forum hosted by City & State. "The outer boroughs have been neglected by the speaker for far too long. And as speaker, I will change that," said Adams, who like Moya, is from Queens. "Things will change radically, quickly and drastically for the outer boroughs that I intend to support," Adams said.
In a November interview with City & State, Johnson brushed off criticism from the speaker contenders.  "I don't take it personal," he said. "Every race … is about turning the page on the past and doing something different. … I think it's harder to make changes than people realize."
Johnson was a sounding board to a number of candidates during the speaker race. Keith Powers, Justin Brannan, Diana Ayala and Francisco Moya all said they've talked to him. "All these aspiring candidates want his advice and rightly so. He's the one who has it," said a consultant who's closely following the race. But asked in November, Adams said she hadn't spoken with the current speaker yet. "Not at all," Adams said. "It's all opportunity – it's been a very, very busy season for all of us."
Rumors have been flying in the speaker race for weeks that Johnson was supporting Moya – five separate sources told City & State they'd heard that – but the race is admittedly plagued by rumors and misdirection, and Johnson has adamantly denied that he has whipped votes for Moya. "I haven't made a single phone call for Francisco Moya to a council member," he told City & State.
It's not just Johnson's time in government that's on the minds of speaker candidates. It's also his efforts at politics. Every single City Council speaker in the modern era has gone on to run for citywide office, and none of the five were successful. Johnson's loss in the Democratic primary for comptroller was just the latest example. The fact that some of the also-rans in the 2017 speaker race – Rep. Ritchie Torres, New York City Public Advocate Jumaane Williams, Queens Borough President Donovan Richards, Manhattan Borough President-elect Mark Levine – have ascended in politics hasn't been lost on this year's crop of candidates. Becoming speaker of the City Council creates a massive opportunity to impact the city and huge political capital. But as we've seen with Johnson, the job also creates headaches and guarantees that you end up with more political enemies than friends. Consultant Evan Roth Smith gave a word of caution in a Daily News opinion piece last month: "Whoever the next speaker is, they will not find themselves in an easy job, and they could well find themselves in their last job."
Johnson reflected on that Wednesday, ahead of his final stated meeting as council speaker. He's leaving on a two-week vacation for South America soon after, and – as far as the city knows – doesn't have a job lined up for when he returns. But Johnson sounded like a man who was glad to have the job.
"The position of speaker outlasts a single person. The influence that you're able to have, the time that you have in office, is really about the position that's being created. And really shepherding that position and using it for the best of your constituents and for the best of the city," he said. "I've tried to do that. I haven't gotten it right. I've made plenty of mistakes. Plenty of mea culpas, plenty of mulligans, plenty of things I could do better. But I've really tried my best. I've loved this city. I will never live anywhere else. I'm grateful for the time that I had."