Politics
Former Gov. Andrew Cuomo under federal investigation into sexual harassment allegations
The probe was made public on Thursday through the release of a state contract.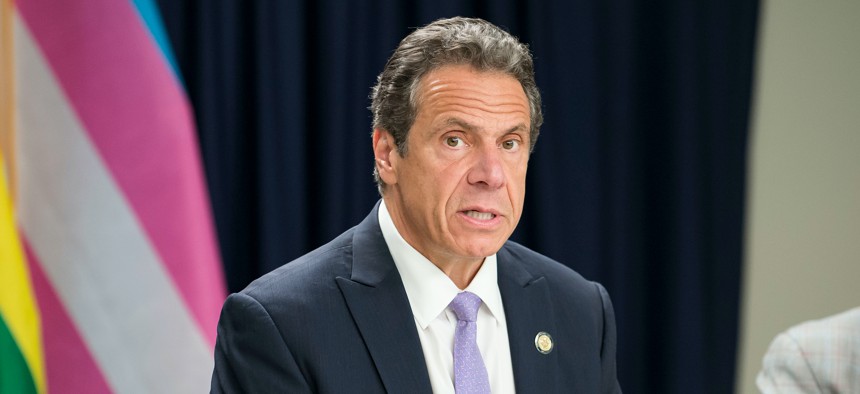 Federal investigators have opened a probe into allegations of sexual harassment against former Gov. Andrew Cuomo, according to public documents unveiled Thursday.
The investigation was made public through the release of a contract between the State Executive Chamber and an outside law firm hired by Gov. Kathy Hochul's administration to navigate the various allegations into her predecessor. 
The $2.5 million contract with the law firm Wilkie Farr and Gallagher, which was signed in October and approved by the State Comptroller's Office on Tuesday, mentions previously reported federal investigations into Cuomo's efforts to shield the number of nursing home deaths and his use of state resources to produce and promote his pandemic memoir. 
The document also notes that the "DOJ has undertaken an inquiry related to sexual harassment claims made against the then Governor."
Cuomo's spokesperson did not deny the investigation in a statement to the New York Post on Thursday. 
"Our understanding is that the Civil Division opened an inquiry in August based upon the AG's politically motivated sham report and we have heard nothing since," Rich Azzopardi said.
Cuomo resigned in August following a report by State Attorney General Letitia James that revealed allegations of systemic sexual harassment and, in at least one case, forcible touching. He is currently facing a misdemeanor charge in Albany City Court for allegedly groping his former aide Brittany Commisso in the Executive Mansion last year. At least six additional agencies at both the local and federal levels are involved in probes of his conduct. 
With additional reporting from Zach Williams.
Powered By
NEXT STORY: 2021 New York state general election results