News & Politics
Hochul lays out her winter surge plan 2.0
The governor closed out 2021 with a new plan to combat COVID-19 that mainly consisted of continuing what the state has been doing.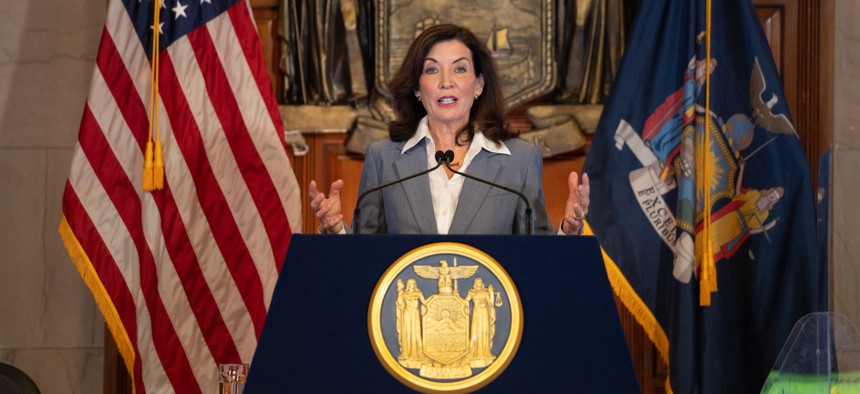 In her last scheduled public appearance in 2021, Gov. Kathy Hochul laid out her new and improved plans to deal with the winter surge of COVID-19, which is expected to get even worse in January. As the state once again broke its single-day record of new cases with 76,500, the governor announced new vaccine mandates for students and faculty at public universities, as well as an extension of the statewide mask or vaccine requirement for private businesses. However, the five-pronged approach Hochul explained was largely much of the same.
Hochul's winter surge plan 2.0 consisted of five overarching goals: keeping kids in school, continuing testing and masking wearing, preventing illness and death, increasing vaccinations and continuing to work with local leaders. If that all sounds pretty similar to what the state had already been doing, that's because it was. "We've been doing the right things," Hochul said at a New Year's Eve briefing in Albany. "But 2.0 is simply improvements upon what we've been doing and, again, to sound the alarm that the numbers are continuing to increase, (but) they don't have to."
Perhaps the most significant update to the plan are new requirements for vaccines at State University of New York and City University of New York. Beginning Jan. 15, eligible students will have to get a booster shot in order to come onto campus. And for the first time, faculty will have to be vaccinated as well. The move was met with praise from the one major union that represents college professors, including those at SUNY. "United University Professions has long supported efforts to get the entire SUNY community vaccinated… which is why we applaud Governor Hochul's latest effort announced today," said union president Fred Kowal in a statement.
Hochul also extended the mandate for private businesses to either require proof of vaccination or a mask for entry until at least Feb. 1. She said she wanted to make the announcement well before the original Jan. 15 end date – when she said she would revisit the mandate to decide if it needed to be extended – to give businesses enough prior notice. "This is all geared toward keeping the economy open," Hochul said of her decision. "The other alternative is to say, shut it all down."
Absent from the new winter surge plan were new plans to address the state's ever decreasing hospital bed capacity. The state tallied nearly 8,000 COVID-19 hospitalizations yesterday, another 600 person, one-day increase that the state has seen for the past several days. If that rate continues, the state is only days away from the January peak in 2021, and weeks away from hospitalization rates unseen since March 2020.
Instead, Hochul simply touted the success of her executive order allowing the state to halt elective surgeries in hospitals that were nearing capacity. The original list of 32 hospitals issued on Dec. 6, when the order took effect, had decreased to 21. "We want to continue having those numbers decline," Hochul said, adding that her administration is "in constant communication" with hospitals to determine which should go on and off the list. She then emphasized the need for more people to get vaccinated and boosted, as data shows the vast majority of people in hospitals with COVID-19 are unvaccinated. Although Hochul said that discussions about hospital surge and flex plans are part of the state's "overall strategies," she offered no other details, nor announced any new state guidance in that area. 
Acting Health Commissioner Dr. Mary Bassett said that health officials are concerned about hospitalizations, but stressed that the state is not struggling yet. "It seems clear the omicron does not cause as severe (a) disease as the previous variants," Bassett said. "The challenge before us is simply the numbers."
The governor also indicated that a vaccine mandate for school children likely won't come soon. "We have mandates in place, starting with the first in the nation to require healthcare workers to be vaccinated," Hochul said about the prospect of new mandates, including an eye towards school. She also touted the 2 million tests to students in New York City as a positive means to keep them in school. "My goal is to be the one who says mandates are over and to say that masks are over, but we are not there yet," Hochul said, once again emphasizing her focus on testing sites and vaccines.
At the same time, Hochul did not explicitly rule out the prospect of school closures in January, a prospect she would like to avoid. "We're being asked to predict the future here, and that's not something we can do," Hochul said, mentioning that the state is prepared with a game plan for a "worst case scenario." Among the worrying trends right now are increasing pediatric hospitalizations for COVID-19.
Hochul did announce new deployments of state and federal resources to help with pandemic response around the state and to support hospitals with the sickest patients. Among those are medical response teams sent by FEMA and the Department of Defense to a handful of upstate hospitals that have consistently had high numbers of COVID-19 hospitalizations, including SUNY Upstate and Erie County Medical Center. FEMA will also send 50 new ambulance teams to New York City early next month, freeing up the teams already in New York to assist in the North Country. 
At the state level, Hochul also said she would send 50 National Guard members to New York City to provide nonclinical support. The state will also train 80 members in EMT services so that more people can provide clinical medical support around the state.
Otherwise, the rest of the plan largely consisted of continuing what the state had already been doing, like getting masks out to counties, home-tests to parents for the Test to Stay Program and vaccines in the arms of kids.The state will open six new testing sites around the state to help with increased demand, as well as two MTA pop-up sites. Hochul added that she has asked the federal government for more supplies, access to more antiviral medicines and the ability to require nursing home visitors to be vaccinated. 
Hochul ended both her press conference and the year on a positive note, despite the ever increasing caseload and hospitalizations. "(2022) is the year we beat this pandemic," Hochul said. "And I am so energized."