Politics
How Andrew Cuomo could help Tom Suozzi become governor
The Long Island Democrat could gain an edge in the 2022 Democratic gubernatorial primary by mobilizing supporters of the state's fallen top executive.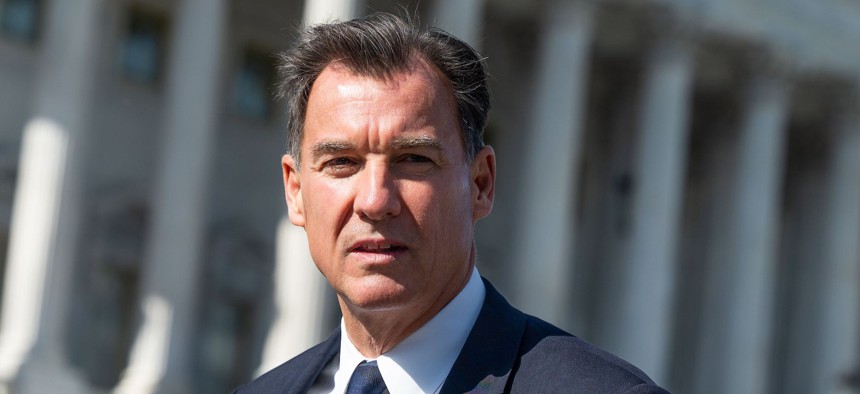 Most of the Democrats running for governor are doing everything they can to distance themselves from Gov. Andrew Cuomo, but Rep. Thomas Suozzi appears to be a different story entirely. A Wednesday virtual press conference on COVID-19 is a case in point. The Long Island moderate told reporters that he would centralize decision making on pandemic policy to a much greater extent than Gov. Kathy Hochul, a top rival for moderate voters in the primary.
"Everybody has their feelings about the previous governor, Andrew Cuomo, but one thing that he really did well was that he constantly laid out a comprehensive plan," Suozzi said. A powerpoint presentation echoed past policy prescriptions from the fallen governor like the idea of managing coronavirus hotspots through a color-coded system of micro-clusters or coordinating more with other tri-state governors. That's pretty Cuomoesque for anyone that remembers his once celebrated COVID-19 briefings.
Political experts say Suozzi's seemingly narrow path to the 2022 Democratic nomination could widen significantly by appealing to voters as a Cuomo-style pragmatist – minus the strong-armed political tactics that helped drive the three-term governor (who appears to not be running for governor next year) from office months ago. Recent elections even suggest that Suozzi's positions on taxes and criminal justice reforms could help him significantly expand his support beyond his suburban base enough to maybe, maybe win the increasingly crowded primary. "I'm not saying Suozzi isn't a longshot by any calculations," Larry Levy, executive dean of Hofstra University's National Center for Suburban Studies, said in a text. "But it's not a 'no shot.'" 
Recent polling suggests that somewhere around 15% of the Democratic electorate would vote for Cuomo again if he ran for governor. About half of registered voters say he did a pretty good job despite all the alleged sexual misconduct, nursing home cover-up and other reported nefariousness. Gov. Kathy Hochul has the stated support of about a third of Democrats, state Attorney General Letitia James about a quarter – and Suozzi usually in the high single digits alongside New York City Public Advocate Jumaane Williams. Clearly, Suozzi could gain a lot by winning over Cuomo supporters. "It's not a bad strategy," Democratic political consultant Hank Sheinkopf said in an interview. "He can run in that mode as long as he doesn't mention the guy." Or at the very least, not too much. 
To be fair to Suozzi, he was presenting himself as a can-do liberal before Cuomo got elected to anything. The former Nassau County executive made waves in the early 2000s as a wannabe "fixer-in-chief" with an eye on eventually winning the governorship. A 2006 campaign for the Democratic nomination fizzled and Eliot Spitzer, and later Cuomo, would take up the mantle of being the white knight governor who could supposedly best bring change to a state government long plagued by corruption and dysfunction. 
Cuomo arguably had significant success in that regard, with a string of timely state budgets and various political victories like increases to the minimum wage and the legalization of gay marriage. Suozzi meanwhile made a name for himself as a moderate member of Congress after getting elected in 2016. "Fix" was once again an important word in his pitch to voters.
The most important issue he worked on, at least in terms of the emerging race for governor, was the yearslong effort to eliminate the federal limit on state and local tax deductions. Getting rid of the so-called SALT cap – a longtime goal of Cuomo's that was created by tax changes approved by Republicans in 2017 – was a matter of such importance months ago that Suozzi even said that he would not run for governor unless some changes were made. "It only happened because we said 'No SALT, no deal,'" Suozzi told reporters last month of a federal bill passed by the House that aims to increase the current $10,000 limit on SALT deductions to $80,000. That number is expected to change if and when the Senate passes its own version of the Build Back Better package championed by President Joe Biden, but Suozzi has already effectively declared victory.
He kicked off his campaign at an opportune time. Beyond SALT, he was the most prominent Democrat in the Empire State to support Buffalo Mayor Byron Brown during his successful long-shot reelection bid as a write-in candidate. The election of Eric Adams – who unsuccessfully tried to recruit Suozzi as deputy mayor – came after Adams ran towards the political center on issues like police reforms during the Democratic primary. 
Other recent elections have highlighted how moderate many Black and Latino voters are when it comes to controversial topics like defunding the police and bail reform. Now Suozzi appears to be spending his accrued political capital on presenting himself as a pragmatist who could appeal to a diverse range of constituencies. "The governor can do a better job," Suozzi told reporters Wednesday after chasticizing Hochul for supposedly spending too much time doing campaign events. Telling others to do their job? Cuomoesque indeed. Suozzi notably waited much longer than other members of the state Congressional delegation in calling on Cuomo to resign. 
Suozzi has pushed back at the idea that he is running in the "Cuomo lane" as one reporter put it in a virtual press conference earlier this week. Yet, he nonetheless tends to echo the former governor when describing his brand of moderate politics. "I've got a lot of progressive chops," Suozzi said. "I've got a lot of moderate chops, a lot of centrist chops, I mean, I'm about getting things done." He then offered some kind words days later for the ex-governor's handling of COVID-19 despite new revelations about how public health experts say his hands-on approach was not such a good idea after all. "Gov. Cuomo accomplished a tremendous amount for the state of New York; there's no question about that," Suozzi told City & State Wednesday when asked how he would compare himself to the former governor. "Cuomo had a reputation for being very controlling of everything," Suozzi said. "That's a difference between he and I." 
Not everyone believes that Suozzi is riding a political wave that will take him anywhere near the Second Floor of the state Capitol. The political left is particularly powerful in Democratic primaries and representation matters a lot in progressive circles nowadays. "I don't think what the state needs now is another white, cis, man to run for governor," Democratic political consultant Camille Rivera said in an interview. "We need some diversity." 
Hochul is running to become the first woman to win election as governor. Williams would be the first Black man. James would be the first Black woman elected governor anywhere in the United States. Many voters might be tempted by the transformative nature of such candidates. If Suozzi wins, he will not be Cuomo 2.0 exactly, but Suozzi's recent efforts to woo whatever Cuomo supporters might be out there on the campaign trail suggest he is hoping that history can at least rhyme a little bit in the June primary next year.
Powered By
NEXT STORY: Cuomo accusers celebrate release of Karen Hinton's memoir