News & Politics
Suozzi emerges as big winner with SALT changes
The Long Island Democrat is among the moderates happy about reversing a controversial 2017 change to the federal tax code.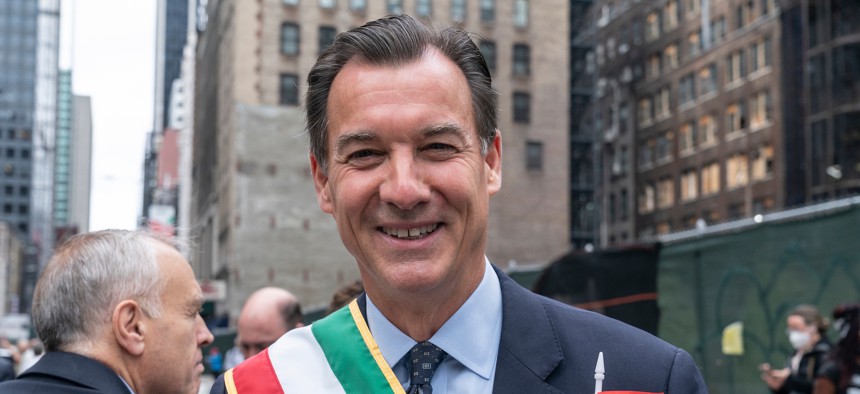 Former President Donald Trump did many controversial things, but nothing quite got the goat of moderate Democrats quite like the limit that Republicans imposed in 2017 on state and local tax deductions. Ex-Gov. Andrew Cuomo called the so-called SALT cap "an economic missile" launched by a hostile federal government against the tax bases of places like New York. Congressional Democrats vowed to repeal the cap, and even some Republicans joined in. Now these collective efforts have begun to pay off – at least for the folks who are still in office. 
A version of President Joe Biden's approximately $2 trillion "Build Back Better" package passed by the House will increase the SALT cap from $10,000 to $80,000. While it faces an uncertain future in the Senate, Majority Leader Chuck Schumer is championing the changes as swing state moderates tout how they successfully deployed their leverage in the narrow Democratic majorities to overcome progressive opposition over how a higher limit mostly benefits the top 10% of income earners. "It only happened because we said 'No SALT, no deal," Rep. Thomas Suozzi of Long Island said of the bill that passed Friday. "I'm excited about addressing climate change for real. I'm excited about bringing children out of poverty by doing the child tax credit, and I'm excited about child care provisions … but I had to make sure that this existential threat to my state, to my district, (was) being addressed by increasing the cap on SALT." 
Suozzi is one of many political moderates who have latched on to the idea of repealing SALT over the years. This has included Democrats like Sen. Kirsten Gillibrand as well as Republican members of the state congressional delegations including Reps. Andrew Garbarino of Long Island and Rep. Tom Reed of the Southern Tier, but not a single Republican voted for the social spending omnibus bill Friday – no surprise given the political pushback to Republicans who supported an infrastructure package last week. There is a lot to unpack there, including Republicans' talking point about the Democrats having the party that is all about helping the rich. From an immediate political standpoint, that means Suozzi and other Democrats will have less competition for reaping any political windfall from changing SALT. 
Rep. Antonio Delgado of the Hudson Valley, who was not elected yet when SALT was first implemented, touted his own role in changing SALT by releasing a letter Thursday showing how Biden was supportive of raising the deduction cap. While Schumer – whose outreach to the president weeks ago reportedly kept SALT changes alive, will likely have a starring role in getting the new spending package through his own chamber, the field appears wide open for moderates to reap the potential political benefits of getting it done. Suozzi has yet to say whether this means he will run for governor despite some prodding by City & State Friday. Once high-profile champions of SALT repeal like Cuomo and retired Rep. Peter King of Long Island no longer have the bully pulpits they once had. 
Suozzi, who was elected to his current seat in 2016, appears to be an emerging victor by default though political longevity alone. His potential rivals for credit among the Democrats are either long gone, relatively junior like Delgado, or too slow in calling a press conference to attract the political limelight. On the Republican side, there is no credit to be had considering their unified opposition to the Democratic omnibus bill. So Suozzi's big bet on the issue as a make-or-break moment in his career appears to be paying off. That could mean his potential path into the 2022 Democratic nomination has widened a little bit or that reelection to his current seat. Hating on Trump has proven to be a winning message for Democrats in the past, but to do it in a way that saves suburban voters money on their tax bills? Now that is something to brag about with suburban voters, according to Larry Levy, executive dean of Hofstra University's National Center for Suburban Studies. "This is one of those cases where a lot of politicians are gonna want to take credit but (Suozzi) certainly can crow the loudest," Levy said.
Powered By
NEXT STORY: Lawmakers, legal experts react to Rittenhouse not-guilty verdict