Politics
Jim Malatras keeping his job – for now
The embattled SUNY chancellor has important allies as he resists calls to resign over his involvement in alleged nefariousness by ex-Gov. Andrew Cuomo.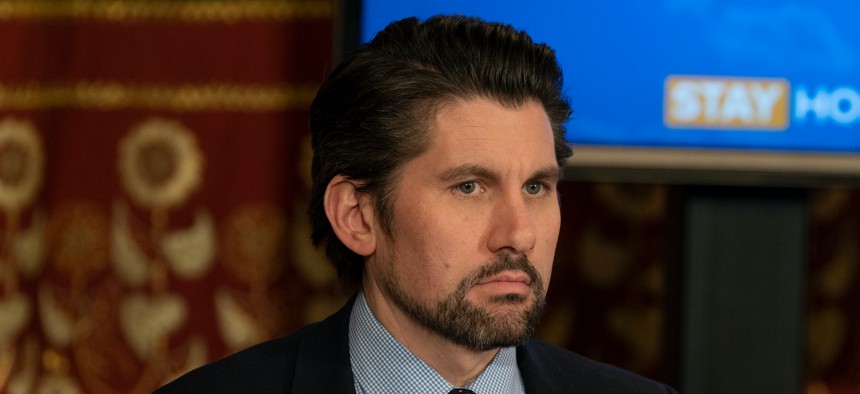 An apology might be enough to save SUNY Chancellor Jim Malatras. The embattled university president faces growing calls for his resignation following recent revelations about comments he made about a former gubernatorial staffer, Lindsey Boylan, who accused his longtime boss – ex-Gov. Andrew Cuomo – of sexual misconduct and a toxic work environment. "Malatras to Boylan: Go f__ yourself," the chancellor texted colleagues in 2019. Malatras questions her sanity in another exchange about her "cray [sic] emails." 
Some people – like Assembly Higher Education Chair Deborah Glick of Manhattan – say comments like that are unbecoming the leader of a 64-campus university system. The SUNY Student Assembly has said Malatras' words (included in recently-released transcripts from a state attorney general investigation into alleged sexual misconduct by Cuomo) ought to be "disqualfiying for the position of chancellor." Some faculty evidently agree, but they are not the people whose voices ultimately matter most. "My words were inappropriate, disrespectful and wrong," Malatras said in a statement released this week. 
The SUNY Board of Trustees – which has the ultimate say on hiring and firing chancellors, says he should stay – even calling him an "outstanding leader" in a Dec. 3 statement following the release of the transcripts. Gov. Kathy Hochul and other elected officials appear unwilling to get involved or say that his contrition should be enough to save his job despite his involvement in some of the various scandals that led to Cuomo's resignation months ago.
"We welcome the chancellor's apology. It was necessary and appropriate," Frederick E. Kowal, president of United University Professions, which represents faculty and staff across the SUNY system, said in a Dec. 3 letter to the board. State Senate Higher Education Chair Toby Ann Stavisky of Queens told WCNY on Monday that Malatras "acknowledged he made a mistake, taken full responsibility for it, and apologized appropriately." Other powerful elected officials have either said nothing publicly or similarly left the matter to the board. ​​"I understand that he's working with individuals to earn their trust, and I encourage him to do so," Hochul told reporters Monday. 
The apparent firewall of support for Malatras among the board and key elected officials has not blocked his critics from continuing their push to get him to resign or be fired by the board. Some union members disagree with their leadership about letting Malatras get by with an apology. "I marvel at the many people who stand up and say enough is enough," Boylan tweeted in response on Dec. 7. "This is the kind of courage that gives me endless hope." Yet, for now, Malatras appears likely to keep his job despite the efforts of his critics. The SUNY University Faculty Senate issued a statement Tuesday calling on the Board of Trustees to investigate Malatas and his past actions while leading the university, SUNY Empire State College and the Rockefeller Institute of Government. 
The transcripts highlight how close Malatras was to the former governor and top staffers after he left the administration in 2017. He is now trying to distance himself from the types of language and practices that helped topple Cuomo months ago. "This was many years ago, people have disagreements in high-stress jobs, I should have used different language, it's a long time ago, I gotta focus on SUNY," he told New York Now on Nov. 30 about texts he sent in the past about Boylan. Malatras was also involved in efforts by the former governor to obscure the number of nursing home residents who died of COVID-19 in hospitals. 
Members of the board, Hochul and others say Malatras ought to keep his job despite his role in such alleged nefariousness involving Cuomo and his former aides. He has apologized and some officials say he is needed in his current position given wider political considerations. "We need a leader of the SUNY system," Hochul, who has significant leverage over the board through the state budget and her appointments, told City & State Monday when asked what her opinion about keeping Malatras on the job. "I'm going to make an overhaul of the SUNY system part of my State of State … continuity at this point is important."