Politics
Max Rose announces he's running to reclaim his congressional seat
Rose would face Republican Rep. Nicole Malliotakis in the 2022 November election for New York's 11th District.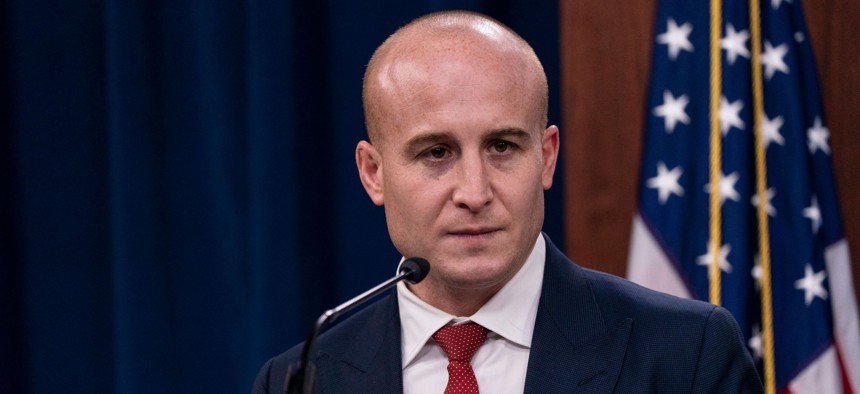 Former Rep. Max Rose is running to take back his congressional post after losing to Republican Rep. Nicole Malliotakis in the 2020 election that flipped the seat from blue to red.
Rose announced his candidacy in a video shared on his Twitter account Monday morning in which he urged unity and touted his experience as an Army platoon leader during the war in Afghanistan. 
"I'm running because this country, it can be affordable and fair. Our politics can lift us up, rather than tear us down. The America we believe in is possible – a just America, a safe America, our America. All we need are leaders willing to risk everything to do what's right," he said.
Rose, 35, was initially elected to represent New York's 11th District, which includes all of Staten Island and a portion of southern Brooklyn, in 2018, before losing to Malliotakis by 6 percentage points. He has been hinting at a comeback for months and started hiring a campaign team after he left President Joe Biden's COVID-19 task force in July.
Rose has faced criticism from his conservative constituency by aligning with left-leaning issues, including voting for President Donald Trump's impeachment and marching in a Black Lives Matter protest last summer.
Rose also filed paperwork to run for New York City mayor after his defeat in November 2020, but quickly dropped out of the race.
Before he faces Malliotakis in the November 2022 election, Rose will need to defeat progressive candidate Brittany Ramos DeBarros, who is also an Army veteran and activist, in a primary.
The race could also be affected by a new redistricting proposal that is expected to swing heavily in the Democrats' favor, creating an advantage for Rose.
Malliotakis on Monday said in a statement that she is "extremely confident that voters will support my record and once again reject Max Rose, Nancy Pelosi and their socialist agenda. Max Rose, you will be a two-time loser," BuzzFeed News reported.
Correction: An earlier version of this story incorrectly described a march that Rose attended last summer.
Powered By
NEXT STORY: With an X-factor in Hochul, Albany faces some new math