New York State
With an X-factor in Hochul, Albany faces some new math
The governor has several carrots – and sticks – to offer in the annual budget talks with the Legislature.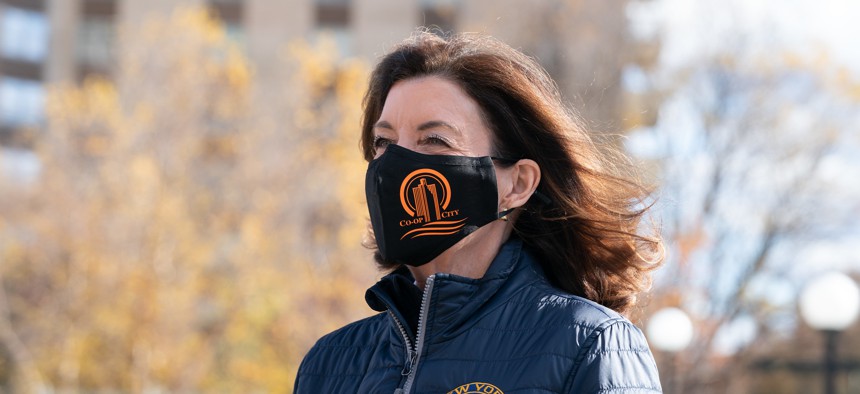 The state budget process has followed a certain routine for the past decade or so. The governor would propose a spending plan in January. Legislators would hold hearings and issue their formal responses weeks later. The two sides then haggled over the details. Political drama sometimes ensued – and then a ginormous spending package would pass sometime around the April 1 deadline. The $212 billion budget that passed last spring arrived a few days late and contained nearly a dozen bills that included record spending on schools and an array of policy initiatives ranging from mobile sports betting to COVID-19 relief aid for undocumented people. Budget negotiations could go a similar way when Gov. Kathy Hochul delivers her first proposed budget next month.
Hochul has touted how she wants to work with Assembly Speaker Carl Heastie and state Senate Majority Leader Andrea Stewart-Cousins as part of a wider effort to distance herself from the infamously heavy-handed governor she once served. That is one reason why budget traditions are likely to continue next year. "It's safe to say that the relationship between the Legislature and the governor is better than it's been for the last 10 or 11 budgets purely because of the change in the executive," Democratic political consultant Evan Stavisky said in an interview. "That doesn't mean the Legislature is going to get everything they want." So a lot has changed in state politics over the past year, but a key truth about the state budget process remains the same: Executive influence looms large, though it is hardly absolute.
How the unexpected incumbent uses her formidable powers as governor will be a key variable in the budget process this year. State lawmakers expect that she will use carrots more than sticks while negotiating a spending plan for the fiscal year that begins April 1. However, controversial issues like raising taxes on the wealthy and bail reform could test her reliance on diplomacy alone in the months before she faces voters in the June 2022 Democratic primary for governor. "I'll accomplish the goals I need to get done and I will do that with strength," she told City & State in November. "My first position is to reach out a hand in friendship and collaboration." Sounds like what one of her famous predecessors once said about the twin virtues of speaking softly and carrying a big stick.
The relationship between the Legislature and the governor is better than it has been in the last 10 or 11 budgets.
– Evan Stavisky, Democrat political consultant
The stakes are high this year as the economic recovery from COVID-19 continues. Hochul has talked about making "historic" investments in green energy projects, expanding state support for local economic development projects and avoiding tax increases. As governor, Hochul has a huge amount of leverage to get what she wants in the state budget because of a 2004 state court decision that limits how state lawmakers can change the governor's  proposed budget. They cannot add spending proposals of their own though they can reduce gubernatorial numbers or even eliminate them, which a governor can then block through line-item vetoes. Then-Gov. David Paterson expanded this edge by threatening to place his entire budget in temporary spending plans if and when the state budget deadline was missed. That means legislators, to put it simply, face unique disadvantages in the Empire State compared to their counterparts in the federal government or other states. Changing this power dynamic would require going through the yearslong process for amending the state constitution.
Democratic lawmakers do have some advantages considering their supermajorities in the Senate and Assembly, but prominent legislators say they expect conflict to be minimal this year compared to when Andrew Cuomo was governor. "She wants to win a new election for herself come June, and so because of that, yes, she wants to make friends," state Senate Finance Committee Chair Liz Krueger said of Hochul in an interview. "Having said that, I actually think she is surprising people by how much she knows about a large number of topics and how rapidly she is coming to decisions." Hochul's recent efforts to become the latest governor vowing to restore Penn Station to its former glory reflects a desire to think big while responding to criticism at the same time, especially when members of the state Senate and Assembly have demonstrated before how they can stymie such efforts. Parole reforms. Gun control. Authorizations for local tax increases. Those are just a few of the topics addressed in the litany of bills Hochul has already signed into law, sometimes after negotiating changes to avoid vetoes and to show she wants to work with, rather than against, the Legislature.
It's going to be very interesting to see if they actually have the self-control in an election year and not go on a spending spree.
– Peter Warren, Empire Center for Public Policy research director
State leaders are unlikely to face choices as tough as last budget season. "We talk a lot about how much things have changed in really just the last 12 months," said Patrick Orecki, director of state studies at the nonpartisan fiscal watchdog Citizens Budget Commission. "This time a year ago, the state was still staring down expectations of about $15 billion a year in lost tax revenues and completely uncertain about what level of federal aid would be delivered." New York is now $4 billion ahead in meeting revenue projections, according to a mid-year budget update released in October by the Hochul administration. Balanced budgets are now expected through fiscal year 2025. The continued growth of state health care spending remains a problem over the long term. Yet, budget experts say the state has plenty of money for now. "It's going to be very interesting to see if they actually have the self control in an election year not to go on a spending binge," Peter Warren, research director at the nonpartisan think-tank Empire Center for Public Policy, said in an interview. A shared commitment to maintaining record funding for public schools suggests Hochul, Heastie and Stewart-Cousins are hardly looking to cut state spending anytime soon.
Still, history shows how legislators typically push for more spending on social programs and higher taxes compared to former governors like Cuomo, Paterson, Eliot Spitzer and George Pataki. Hochul has a record as a relatively moderate Democrat, and her recent vow to avoid tax increases puts her at odds with left-leaning legislators who have supported raising taxes on a variety of items – from stock transfers to pied-à-terre apartments to luxury yachts. Lawmakers succeeded last year in raising income tax rates on people making more than $1 million. Hochul has warned that doing so again risks driving rich people out of the state, though some economists have argued such concerns are overblown and current levels of poverty necessitate more state spending. "There are some people who will say: 'Oh, look, we have all this extra money, why do we need to raise more revenue?'" Jonas Shaende, the chief economist at the liberal Fiscal Policy Institute, said. "We did not address all the needs in the state in the last budget season, so the needs remain." Ongoing concerns about controversial bail reforms – including recent calls by New York City Mayor-elect Eric Adams to give judges more discretion over jailing people pretrial – show how policy matters can cause friction between the governor and  state lawmakers with little warning.
Exactly where the governor and the legislative supermajorities stand on one issue or another remains in flux. Democratic legislators traditionally huddle in December to discuss their priorities for the upcoming budget, but their ultimate plans depend on the State of the State address that Hochul is expected to deliver sometime in the latter half of January. That is when she will detail how she wants to make good on getting big things done at a critical point in the state's history. COVID-19 cases are again surging, and a new variant of the coronavirus has revived concerns about whether the economic recovery will continue. Republicans meanwhile have won some recent elections in Long Island by campaigning on how an ongoing increase in violent crime supposedly raised questions about the wisdom of allowing Democrats to continue one-party rule in Albany. The underlying dynamics of the budget process remain the same, and it remains to be seen how a new governor might add her personal touch before the final budget bill gets passed. Lawmakers for their part remain optimistic that this upcoming budget will at least be easier to negotiate than the last. "We're going into this budget in this coming budget year in a much better situation than we were facing last year," Helene Weinstein, chair of the Assembly Ways and Means Committee, said in an interview. "(Yet) there's still so much that's up in the air."