Campaigns & Elections
Racial justice is coming to a New York City ballot near you
The Racial Justice Commission convened by the mayor this year has approved three ballot proposals for next year.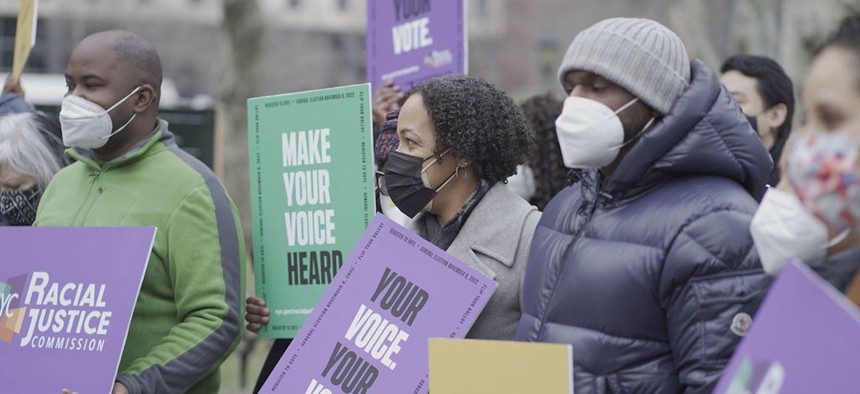 For the past several months, New York City has once again been quietly preparing to amend its governing document, the New York City Charter. A commission tasked with recommending changes with an eye on racial justice has been researching and holding public hearings to gather input about what such changes should look like. Now it has approved and delivered three ballot proposals, giving New Yorkers just under a year to learn about what amendments they've been asked to vote on.
In March, Mayor Bill de Blasio announced the formation of the Racial Justice Commission to study structural racism in the Big Apple and determine ways to minimize its impacts. Although it was given a different name, the commission had all the powers of a charter revision commission, which the mayor can create whenever he likes to recommend changes to the City Charter. This particular commission was meant to "at least begin to do the work" of laying foundations for systemic change, according to Chair Jennifer Jones Austin. 
"We knew that we were not going to be able to up end structural racism with one fell swoop, one ballot proposal," Austin told City & State.
De Blasio praised the work of the commission in one of his last public addresses as leader of New York City. "This is first in the nation, and I hope it becomes an example for the whole nation," de Blasio said during his penultimate press conference as mayor on Tuesday. "Having this public conversation with an eye to change and solutions is incredibly powerful." He urged New Yorkers to remember to flip their ballot in November next year so they can weigh in on the three proposed charter amendments.
The first proposal would add a preamble to the City Charter, something it doesn't currently have, to lay out the city's guiding principles and values for lawmakers. It would include references to historical inequities and a vision for a more equitable New York City. 
"We felt it important that New Yorkers, particularly New Yorkers who have been on the receiving end of oppression … that they could see themselves in this charter," Austin said. "That they could see that we're trying to set forward a new way of thinking about what it means to be in the office." 
The second proposal would create an Office of Racial Equity, require Racial Equity Plans – both citywide and agency by agency – and form a Racial Equity Commission composed of city residents. The final proposal would create a True Cost of Living measure to supplement existing poverty measures to offer a more accurate picture of New Yorker's lived realities and help set eligibility for public benefits. 
While charter revision commissions hardly draw extensive attention in the best of times, except perhaps among the very civically minded who enjoy the finer points of municipal governance, the Racial Justice Commission has been particularly low-profile as the city fought a pandemic and dealt with a contentious race for mayor that utilized a brand new voting system. Still, the commission went about its work, holding public hearings in each of the five boroughs, soliciting additional feedback online between and hosting information panels from July and November. In all, the commission heard from over 1,200 New Yorkers. And on Tuesday, it officially delivered its three proposals.
But the commission's work is not over yet – next comes the long road of public education to ensure voters know about what's on their ballot. 
"We're going to have to take the show on the road," Austin said, comparing the work the commission has already done to the first leg of a marathon. 
The proposals benefit from high-profile statewide races next year for governor and attorney general, likely to drive turnout, especially compared to a year like 2019, when only a small percentage of New Yorkers voted to approve ballot proposals. 
Austin said that the commission will get money to help with education, although the specific amount still needs to be determined. However, she said that conversations with incoming Mayor Eric Adams have been positive and she expects that he'll be supportive of the ballot initiatives and be a partner in achieving greater racial equity in the city.
Since de Blasio took office, the city has had two other charter revision commissions – one convened by the mayor himself in 2018 and another the following year created by the City Council in an unprecedented move. The first commission resulted in the city's new public campaign finance program, while the latter gave the city ranked-choice voting, among other big changes.