New York City
Who's on Eric Adams' Transition Committee?
New York City's Mayor-elect has identified more than 700 people who will serve on his mayoral transition committees, and that's just a start.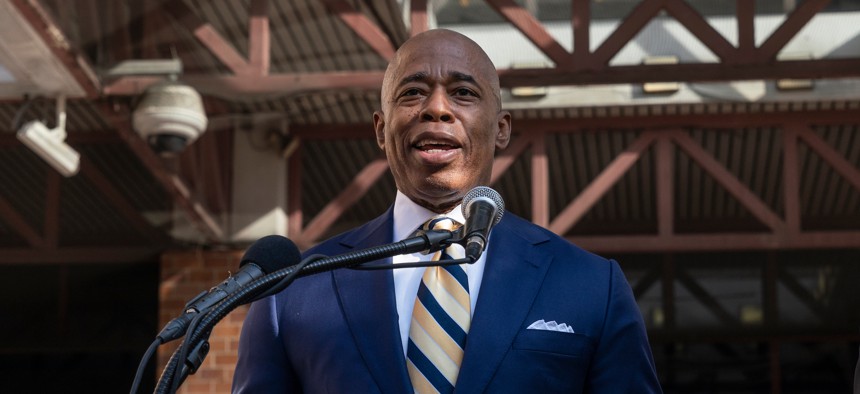 New York City Mayor-elect Eric Adams published the names of the members of his various mayoral transition committees Friday afternoon. It's a massive list of more than 700 people working on 20 different committees, including Education, Economic & Workforce Development and Public Safety & Justice. 
Taken all together, it's a helpful list of who might have influence inside and outside of Adams' City Hall. Names include political moderates like former comptroller candidate Michelle Caruso-Cabrera and Lisa Blau, a venture capitalist who led an effort to get Republicans and independent voters registered as Democrats ahead of the June municipal primary as well as progressives like former City Council Speaker Melissa Mark-Viverito and Murad Awawdeh, executive director of the New York immigration Coalition. Outgoing elected officials such as Democratic Bronx Borough President Ruben Diaz Jr. and Republican Staten Island Borough President Jimmy Oddo are also on committees.
A half dozen elected officials who endorsed Adams in the Democratic primary and were active on his campaign are included on a list of senior advisors: Rep. Adriano Espaillat, state Sen. Diane Savino, Assembly Members Jenifer Rajkumar and Rodneyse Bichotte Hermelyn – who also leads the Brooklyn Democratic Party – and City Council Members Peter Koo and Ydanis Rodriguez. 
A politician who did not endorse Adams, City Council Speaker Corey Johnson, is listed as one of six leads on the Intergov committee. Johnson didn't endorse anybody in the mayoral primary, and is term-limited at the end of this year. But Johnson has said he's not interested in working for the Adams administration. 
However, some members of the transition committee definitely are expected to get jobs in the administration, once Adams takes office on Jan. 1. One of the seven co-leads of the Education Committee is David Banks, President and CEO of the Eagle Academy, who's widely expected to be Adams' pick schools chancellor. 
Another committee that will be closely watched is Public Safety & Justice, which is led by three women of color: Karol Mason, president of John Jay College of Criminal Justice, where Adams received his bachelor's degree, Erica Bond, a member of the Civilian Complaint Review Board and a vice president for justice initiatives at John Jay, and Candis Tolliver, political director of 32BJ SEIU. Adams has previously said he'll appoint a woman as police commissioner. He's currently on a nine day vacation in Ghana, and plans to return Dec. 8.
Also sitting on the committee are Manhattan District Attorney-elect Alvin Bragg, Queens District Attorney Melinda Katz and Paul DiGiacomo, president of the Detectives Endowment Association, an NYPD union.
In an emailed statement, Adams highlighted the diversity of his "this unprecedented collection of great minds and hard-working New Yorkers," and said that, "If we are going to tackle the many challenges in front of us as a city, the advocacy, nonprofit and business worlds must all be at the same table, working in collaboration--and that is exactly what this transition is doing."
The Adams' overall transition committee is led by Sheena Wright, CEO of United Way of New York City, who is the romantic partner to David Banks. He previously announced the appointment of Wright and nine co-chairs last month, including leaders in labor unions, nonprofits and banking. 
Transition committees are temporary by nature and meant to advise the mayor and his team on policies and appointments before he takes office. They can raise money from donors, but aren't eligible for public matching funds. Eight years ago, outgoing New York City Mayor Bill de Blasio announced a significantly smaller 60-member transition team on Nov. 20. 
And look out – Adams' massive committee may grow. A press release from the transition team warns that "New members are still being added as work continues."
Correction: An earlier version of this story misidentified the race of Erica Bond, who is Latina.
Powered By
NEXT STORY: Congeniality wins out at NYC Council Speaker race debate