Opinion
Opinion: Making the case for Latinos in the Adams administration
The incoming mayor has an opportunity to appoint Hispanics into key government positions as he sets out to best represent and serve the needs of all communities.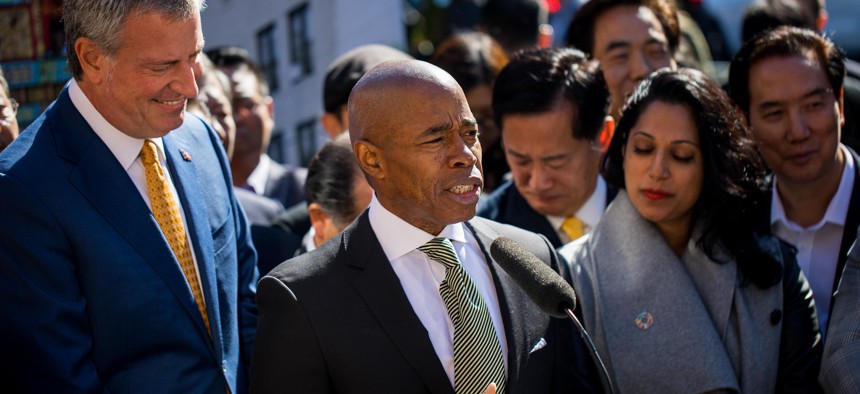 Every year at the SOMOS conference, leaders from across New York come together to exchange ideas about the challenges Latinos face and explore solutions. Coming on the heels of the conference earlier this month, and as we prepare for the start of a new New York City mayoral administration, we are reminded that Latinos must unite to raise our voices and exert our power to increase our representation in leadership positions across government. 
New York City has a new mayor-elect. Eric Adams will be the second of only two Black men among 110 men to be elected mayor of our city. We congratulate him on his victory, stand ready to support him and urge him to seize this critical opportunity to lift up the Latino community. A new administration always has the potential to bring new opportunities; hope for overcoming the challenges that impact so many New Yorkers and the promise of new possibilities for all communities. However, this impending transition is different.
The last two years have unequivocally and universally changed "normality" for everybody. They also exacerbated and heightened pre-existing disparities among New Yorkers. With the advent of COVID-19, there were those who could "shelter in place" (whether in New York City or elsewhere), working from home relatively safely. Still there were others who had to continue exposing themselves on a daily basis because their jobs were suddenly deemed "essential." They didn't have the option of continuing to earn an income in the safety of their homes. Their jobs were considered essential for the survival of the city. 
Not coincidentally, a large number of essential workers are disproportionately Black and Latinos, as well as immigrants and women. In New York City, frontline workers represent approximately 25% of the overall workforce, yet 75% of frontline workers are Black and Latino, and over 60% women. They are our under-employed; making the lowest wages and often lacking access to adequate healthcare.
Latino communities were suffering even before the pandemic. For instance a 2020 analysis by the Center for an Urban Future found that the number of Hispanic-owned businesses in the city has been declining in recent years. From 2012 to 2017, the numbers declined by 8.7% in the city as a whole. The most dramatic drop during this period was in the Bronx where Hispanic-owned businesses went from 2,933 to 2,259, a loss of approximately 23%. Manhattan and Queens experienced a much smaller decrease of 6.8% and 8.1% respectively, however these percentages represent a combined loss of 549 Hispanic-owned businesses. Brooklyn was the only borough that saw a slight increase of 4.6% in Hispanic-owned firms. 
As Latino leaders representing a cross-segment of sectors in the city, we urge Mayor-elect Adams and his transition team to seize the opportunity to transform the city's leadership to reflect its demographics and prioritize identifying qualified Latina and Latino leaders to champion the interests and needs of our communities. These leaders should hold senior positions in the executive cabinet, overseeing agencies and initiatives that are central to the opportunity, well-being and dignity that Latinos, and all New Yorkers, deserve. Latinos should be meaningfully represented in the next administration, with a critical voice, as well as the direct power to support transforming New York City into the equitable and just city we all believe is possible.
According to the 2020 U.S. Census, Hispanics make up nearly 30% of the city's population, the second largest group behind whites. Population changes between 2010-2020 also showed that four of the city's boroughs, percentage wise, grew to have more Hispanics than the current statewide total of 19.5%. The Bronx has the highest with 54.8%, followed by Queens, Manhattan and Staten Island with 27.8%, 23.8%, and 19.6% respectively. Brooklyn slightly trails the state with 18.9%.
The power of these numbers is showing up at the polls. In 2022, the City Council will have 14 of 51 members who are of Hispanic background. More notably there will be ten Latinas among them. At the same time, Latinos were a key constituent in helping Mayor-elect Adam's win the Democratic primary, especially in the Bronx where Adams garnered over 50% of the votes.
Latinos are integral to New York City's recovery. They are politically engaged. Yet they are still underrepresented in city government, particularly in leadership roles. The late Angelo Falcon in his role as president of the National Institute for Latino Policy kept monitoring data on this issue. It's long past time for Latinos to be represented in every sector of city government. Adams' transition team and future administration must ensure that Latinos are appointed and hired to a proportionate number of positions at all levels of his administration as deputy mayors, commissioners, chancellor of schools and the NYPD chief of department, to name a few.
"Representation matters and few places is that axiom truer than in government. Citizens should be able to look at the government and see people who look like them, have similar life experiences, and hail from the neighborhoods they call home." wrote the Hispanic Federation in its recent La Gran Manzana 2021 NYC Policy Blueprint for the incoming mayor and City Council.
The intersection of multiple crises over the past two years have presented extraordinary challenges for our communities. The election of a new mayor presents an equally unprecedented opportunity; to do differently, to do better. Not by building on the status quo, but by partnering with communities most in need, creating a new paradigm of leadership and transforming the way we work together to address the needs of New Yorkers. In that way, together we can confront the challenges, inequities and disparities that have burdened our communities for so long. Because we believe that together - truly together - we can finally live up to the rhetoric of being the greatest city in the world.
By Quenia Abreu, president, New York Women's Chamber of Commerce; Edgar Alvarez, Director, Total Impact Agency; Sulma Arzu-Brown, president, Sulma LLC; Karina Aybar-Jacobs, founder, Karina Aybar Life & Leadership Coaching; Eddie Cuesta, executive director, Dominicanos USA; Norbertha Díaz, president, Asociación de Mujeres Poblana de Brooklyn; María Estrella-Jiménez, president, Dominican Parade of Brooklyn; Jeffrey Garcia, president, New York State Latino Restaurant Bar & Lounge Association; Erica González, former executive editor, El Diario; Margarita Guzman, executive director, Violence Intervention Program; Jennifer Guttierez, New York City Council Member-elect, 34th District; Altagracia Hiraldo, executive director, Dominican Community Center NYC; Patria Lopez, president, Latino Association of Beauty Professionals; María Lizardo, executive director, North Manhattan Improvement Corp.; Luisa Lopez, president, Latino Social Work Coalition & Scholarship Fund; Mino Lora, executive director, People's Theatre Project; Francisco Marte, president, Bodegas Association; Madeline Maldonado, president, Madeline Maldonado, LCSW Consulting PC; Ingrid McFarlane, MSW, LCSW-R; Paula McMillan-Perez, CEO and coaching director, Personalize Your Coaching, LLC; Francis Medina, DefendPR; Franklin S. Montero, managing attorney, Law Offices of Franklin S. Montero, LLC; Dianne Morales, former nonprofit executive; Cesar Ordóñez, president, New York Telepresa; Maria Ortiz, Community Board 4, co-chair of Committee on Housing, Health and Human Services; Ramón Pequero, CEO, Committee for Hispanic Children and Families: Diana Reyna, founding principal, Diana Reyna Strategic Consulting; Rosita Romero, executive director, Dominican Women's Development Center; Dr. Kaliris Salas-Ramirez, Distinguished Medical Lecturer, CUNY School of Medicine and president of the Community Education Council, D4; Jasmin Sanchez, community organizer, NYCHA; Erica Sandoval, LCSW and founder of Latinx in Social Work Inc.; Eileen Torres, executive director, BronxWorks; Zenaida Mendez, director, El Barrio Firehouse
Powered By
NEXT STORY: Editor's note: De Blasio's latest COVID-19 vaccine mandate draws legal threat, of course!