The 2022 Democratic congressional gerrymander in New York – revealed
Newly proposed redistricting plans could turn several districts blue in the 2022 midterms as Democrats fight to hold their slim majority in the U.S. House.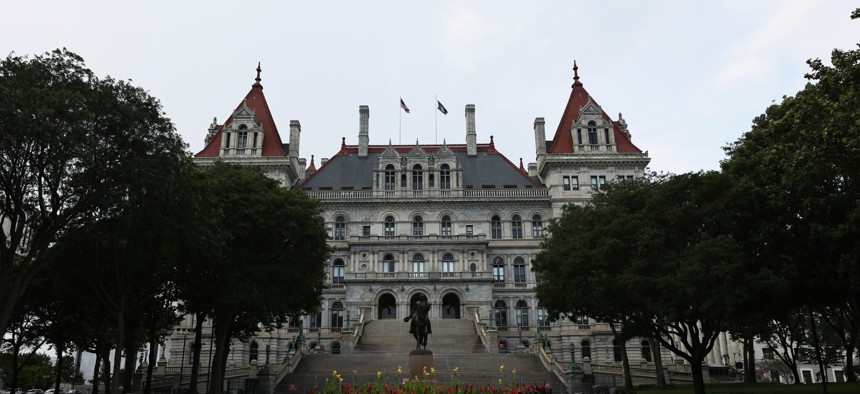 Newly proposed congressional lines could help Democrats flip several seats in the 2022 elections with the help of gerrymanders in upstate and downstate alike. 
Legislation submitted Sunday details how Democrats aim to disadvantage Republicans in battleground seats across the state as they complete the decennial redistricting process following the U.S. Census. The new maps add blue areas to Republican-held districts on Long Island, New York City and upstate while cramming as many GOP voters as possible into a few solid red areas among the 26 districts that remain out of the current 27. 
Republicans will face new disadvantages in New York once redistricting concludes in New York, but they could still make big gains in Congress with the help of plans approved by GOP-controlled legislatures in other states. The Democratic supermajorities in the state Senate and Assembly will do their part as soon as Wednesday to help defend their party's slim majority in the U.S. House by approving the new congressional lines by two-thirds votes in both chambers of the state Legislature. Bills for legislative redistricting were not published by publication time, but they are expected to give the Democrats a solid electoral boost like their plans for Congress. 
The Democrats might have been prevented from gerrymandering had the Independent Redistricting Commission submitted a single set of proposed maps for legislative and congressional redistricting – but they did not. That eventually left the process in the hands of Democratic legislators. Here are some highlights of the redistricting plan they are proposing.
GOP Reps. Nicole Malliotakis and Claudia Tenney face tougher reelections compared to other Republican incumbents.
Democrats are not adding any parts of Manhattan to the Staten Island-based district currently represented by Malliotakis, but new constituents in liberal areas like Park Slope and Sunset Park could help the Democrats win back the seat they lost two years ago while using some cartographic artistry to keep certain areas of Brooklyn connected to Manhattan in a neighboring district.
Democrats meanwhile are also aiming to split up the district currently represented by Tenney, who could run in the new Congressional District 22 surrounding Syracuse. The Democratic proposal, however, places her reported New Hartford residence in a Congressional District 19 that will stretch all the way to the eastern border of the state. There are challenges either way, but the latter path to reelection would require beating Dutchess County Executive Marc Molinaro in the primary before facing Democratic Rep. Antonio Delgado in November. 
Democrats are leaving Republicans with just a few safe seats upstate. 
A new Congressional District 24 will stretch from the Buffalo area all the way to the North Country north of Watertown, according to the Democratic proposal, which will presumably benefit incumbent Rep. Chris Jacobs. Another super-red district will stretch along the entire southern tier from Western New York eastwards until swinging north of Democratic-heavy Binghamton, which will now be linked to Congressional District 19 in the Hudson Valley and Catskills. The North Country seat currently held by Republican Rep. Elise Stefanik will stay largely intact. So that means three upstate seats appear to be safe for the Republicans.
The congressional map is really getting scrambled in the New York City suburbs.
Rep. Jamaal Bowman could have his constituency extend northwards into parts of Putnam County if the proposed map gets adopted. Voters in the Riverdale area of the northwest Bronx would also get detached from the suburbs and added to the South Bronx-based Congressional District 15 represented by Rep. Ritchie Torres. Another interesting change is happening with voters in the Bronx and Westchester County who are getting added to the Long Island-based seat currently represented by outgoing Rep. Thomas Suozzi, who is running for governor. These proposed changes could lead to unexpected candidates in some races. State Sen. Alessandra Biaggi, for example, is reportedly interested in the Democratic primary to replace Suozzi, which already includes several candidates from across the Long Island Sound. 
Long Island is becoming a gerrymandered mishmash, but Democrats have new advantages to flip a seat.
Adding Westchester to a Long Island district is not the only shenanigans happening downstate. Congressional District One is undergoing big changes now as Albany Democrats have proposed extending the seat being vacated by GOP Rep. Lee Zeldin – who is running for governor – into Nassau County. Most of the Republican-friendly south shore of Suffolk is going into the seat currently held by Republican Rep. Andrew Garbarino. The new lines as a whole on Long Island snake their way will leave just one seat comfortably under GOP control. 
Democrats flexed their control over the process.
The Independent Redistricting Commission may not have been able to compromise on a single set of maps to send lawmakers, but the two they sent bore many signs of common ground. Commissioners have said they agreed on 90% of the congressional lines, evident in the significant similarities between the Democratic and Republican proposals. However, Democratic lawmakers seem to have largely scrapped both maps and whatever bipartisan agreements they reached in favor of drawing totally new lines for congressional districts. The new proposal shares little similarity with even the plan approved by commissioners from their own party. Given the power, Democrats in the state Legislature were quick to use it to draw totally new lines in a matter of days in another loss for the Independent Redistricting Commission's inaugural outing – and for its goal of bipartisanship in redistricting.