News & Politics
Public safety and redistricting plans top the agenda
Rounding up the week's political news.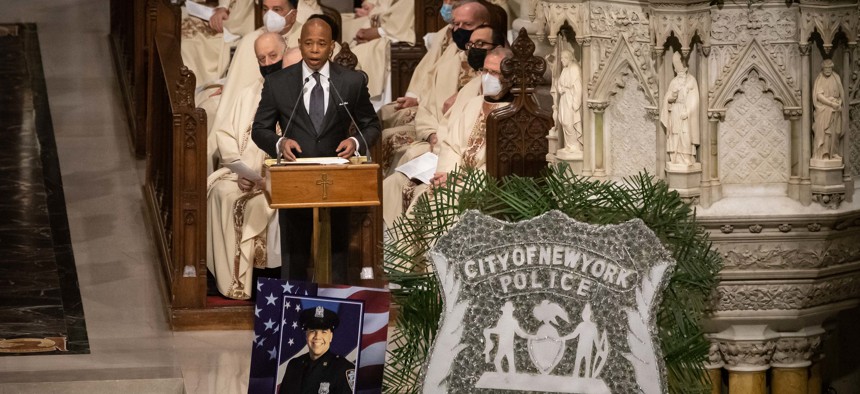 They said snow! If you're reading this Saturday morning and live downstate, then a nor'easter is likely already in full swing. There was a degree of uncertainty for much of the week about what course the storm would take, with a now somewhat infamous tweet predicting between 2 and 20 inches for New York City. The Big Apple will likely get up to a foot, with more snow the further east on Long Island. So the best thing to do is follow Gov. Kathy Hochul's advice: Curl up with a nice six pack and wait it out. There might even be new redistricting maps to pour over once you're recovered from digging out. Keep reading for the rest of this week's news.
Deadly shooting leads to new safety plans
Two New York City police officers were fatally shot while responding to a routine domestic disturbance call, rocking the city further after a series of other high-profile shooting deaths in recent weeks. It prompted Mayor Eric Adams, who ran on a campaign of public safety and supporting the NYPD, to release a new gun violence prevention plan to help tackle the crisis facing the city. A key part of that plan is making good on his promise to reinstate the anti-crime unit disbanded under former Mayor Bill de Blasio with 400 members who would focus on gun crimes. Adams also doubled down on his call to amend the state's bail reform law, though it is not directly related to the officers' murder nor any of the other shootings making headlines this month. The mayor wants the state to allow judges to consider a defendant's dangerousness when deciding on pretrial detention, but both legislative leaders indicated there is no appetite in their conferences to make changes. Gov. Kathy Hochul also indicated that she would not champion the issue in Albany. But the pair did make a joint appearance at the inaugural meeting of Hochul's interstate gun task force, first proposed in her State of the State address, that aims to stem the flow of out-of-state guns into New York. Hochul also indicated that she may take action with regard to Manhattan District Attorney Alvin Bragg, who has come under scrutiny for his anti-carceral policies and directives not to prosecute a variety of crimes. In response to the deadly police shooting, Bragg added a new prosecutor to his office specifically to handle gun crimes.
Disgraced former Assembly speaker dies
The once powerful Sheldon Silver, who served as speaker of the Assembly for two decades, died at the age of 77. He was serving out a six-and-a-half year prison sentence for corruption when he died. Silver was first convicted in 2015, although it took several more years before he actually went to prison. Before he was brought down by scandal, Silver was a well-respected liberal leader known for his negotiation and deal-making skills, even when he was the only Democrat among the "three men in a room."
Redistricting reverts to Legislature
After the Independent Redistricting Commission failed to compromise on a new set of maps to send to lawmakers, the state Legislature once again has total control over drawing new legislative lines. State legislators had rejected both the Republican and Democratic set of maps the commission originally sent them, giving the commission two weeks to return with something new. At the end of those two weeks, commissioners had no new maps to offer after failing to even meet to discuss a compromise. Both legislative leaders promised to draw fair maps and plan to approve new district lines for Congress, the state Senate and the Assembly within the next week. Good government groups want lawmakers to hold hearings on the maps they propose, but given the speedy timeline leaders are eyeing, the prospect seems unlikely.