New York City
Adams probably can't veto the new noncitizen voting law – but he might not defend it either
The new mayor said he is uncomfortable with allowing noncitizens who have lived in the city for just a month to vote. He has some choices to make about the controversial voting rights bill.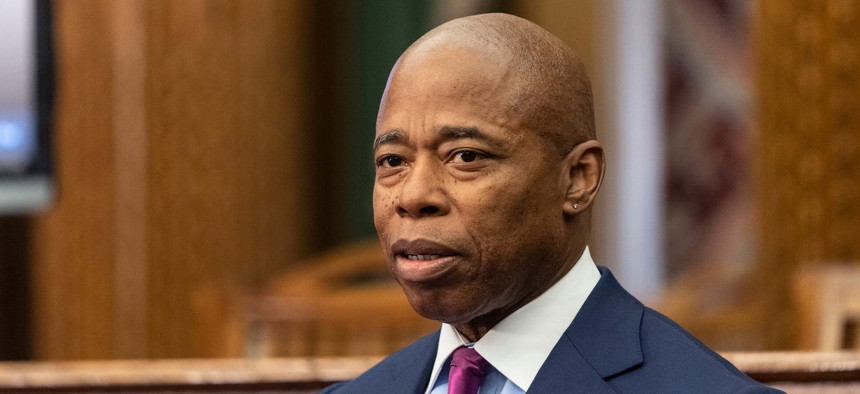 After years of publicly supporting the right of noncitizens to vote in municipal elections, New York City Mayor Eric Adams is now saying he's "concerned" about a specific part of the bill, which passed the City Council on Dec. 9, 2021. Adams has his hands tied – it seems that he took office too late to legally change the law or to veto it. But the bill will face other hurdles before Green Card holders actually cast a ballot, and Adams will have to choose whether or not to put his weight behind the cause.
Under the "Our City, Our Vote" bill, Int. 1867-2020, somebody could vote in municipal elections if they are "either a lawful permanent resident or authorized to work in the United States" and will have been residing in New York City for  "30 consecutive days or longer" by the day of the election.
That's the piece that Adams highlighted when asked about the bill at a press conference in Queens on Saturday. "We're going to look at the bill," he said. "One part of the bill I'm concerned about: the 30 day part. If someone is in this city 30 days, they have the right to vote. That's problematic for me. I understand the importance of local elections, but to give that power to someone that's here for 30 days, I think that's a problem. And I need to, in the next couple of days, make a determination about what we're going to do."
Changing that section of the bill could conflict with state law, which requires U.S. citizens to live in the city for only 30 days to vote.  Article II, Section 1 of the state constitution says that voters "shall have been a resident of this state and of the county, city, or village for thirty days next preceding an election." And Section 5-210, D, xii of state election law requires New Yorkers registering to vote to sign an affidavit including, in part, "I will have lived in the county, city, or village for at least 30 days before the election." 
The Adams administration did not respond to a request for comment Monday, but experts said that the mayor couldn't veto the bill – or sign it – even if he wanted to. Per state law on Municipal Home Rule, the mayor had ten days to call a hearing and 20 days to hold a hearing before acting on a bill. So nevermind that the new mayor took office 21 days after the bill was passed – "We are beyond the time limit in this bill," tweeted Jon Paul Lupo, who once served as former Mayor Bill de Blasio's director of intergovernmental affairs. 
There is some disagreement on this point – Richard Briffault, professor of legislation at Columbia Law School, told City & State that he thinks state law would still allow Adams to veto the bill within 30 days of its passage. But another council source suggested that this is an untested area of the law, given that both the mayor and the majority of the Council have changed. Adams taking action could bring on a legal fight with the City Council and supporters of the bill that Adams would certainly want to avoid. So the most likely path is that the bill will automatically become law 30 days after the Council passed it – Jan. 8. 
(Update, Jan. 10: Adams did not take action and let the bill lapse into law on Jan. 8. Adams released a statement saying that he will continue to support the legislation. "While I initially had some concerns about one aspect of the bill, I had a productive dialogue with my colleagues in government that put those concerns at ease," he said. "I believe allowing the legislation to be enacted is by far the best choice, and look forward to bringing millions more into the democratic process.")
While the bill passed 33-14 with two abstentions in the council, it was one of the more controversial pieces of legislation in the past few years. More conservative members argued that it cheapened the right to vote, and even progressives like de Blasio questioned whether it would pass legal muster. Some council insiders speculated that Adams' comments were just an attempt to please critics of the bill, even if he couldn't change anything immediately. One of the mayor's political allies, former Council Member Laurie Cumbo, voted against the bill even though she was a co-sponsor, citing the incendiary concern that it could weaken African American voting power if more Latinos and Asians could vote. But Cumbo also said the residency requirement of 30 days was too few, since "it takes more time to learn the political system and the issues to have a true vested interest in a community." 
Of course, other Adams allies felt differently. Former Council Member Ydanis Rodriguez, an indefatigable Adams booster who the new mayor appointed to be his transportation commissioner, was the lead sponsor of the bill, and pushed it over the finish line in his final days in the council. Rodriguez did not respond to multiple requests for comment. 
Even if the noncitizen voting bill becomes law as expected, it will face challenges to being enacted. Republicans have said they will sue if it becomes law, arguing that it violates the state constitution. If Adams really didn't like the law, he could direct city lawyers not to defend it in court. The City Council, under presumptive Speaker Adrienne Adams, could defend the law, Lupo tweeted, but that would complicate the legal arguments, since it's Adams' administration that would be tasked, in part, with enacting the law. Adrienne Adams voted in favor of the bill in December. 
The bill faces other challenges too. The New York City Board of Elections has been given until July to submit a plan for implementing the law. But the board has five Republicans and five Democrats, and may not be able to come to a majority agreement. Republican City Council Minority Leader Joe Borelli has specifically called on the GOP commissioners to not comply. In that case, Adams would have to decide how far to push it – and whether to sue the BOE. 
Adams comments may be making a difficult legal situation even thornier. And a council source said that Adams' opposition to the bill would cause frustration on the east side of City Hall. "I don't think there's anybody that wants to go back and redo this."