New York City
Adams' real estate ties called into question after Bronx fire
The mayor's relationship to the burned building's landlord, along with his 'close the door' directive in the wake of the tragedy, are raising eyebrows.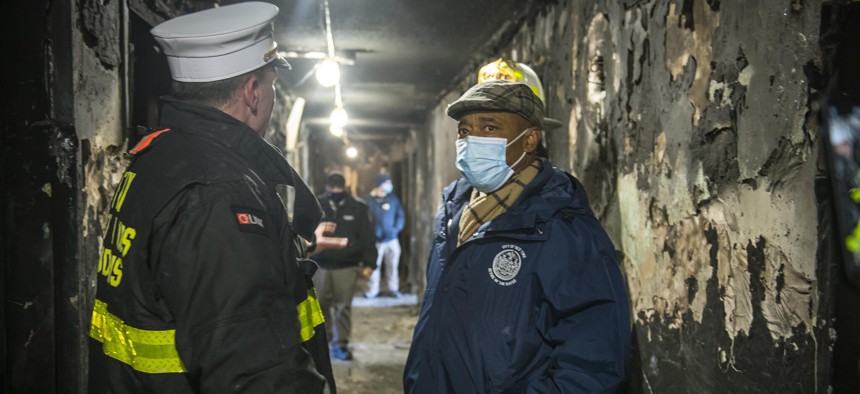 Mayor Eric Adams, in the wake of the deadly Bronx fire at a Mitchell-Lama apartment complex where residents have said there were persistent maintenance issues, told New Yorkers the key message he wants them to take from the tragedy is to "close the door."
The plea – one that's been made for years by fire officials who say the practice can stop rapid spread of flames – has been heavily politicized in recent days. Some, such as the New York City chapter of the Democratic Socialists of America, have even gone as far to say the comment takes the onus off of landlords and instead focuses the blame on the fire's victims. 
A second storyline has emerged from the Bronx fire in relation to Adams' dealings with landlords: one of the part-owners of Twin Parks is a member of his transition team.
The optics surrounding what's being called Adams' first big test, in some ways, don't look great, especially for a mayor who made headlines during the race as the most real-estate friendly candidate, experts told City & State. But despite characterizations as someone who cozies up to the industry, whether Adams' ties will affect the city's long-term response to the Bronx fire and the decades-old problem of bad landlords, has yet to be seen.
"Everyone in New York politics is somehow connected to owners of real property, whether it's landlords or homeowner groups," David Schleicher, a professor at Yale Law and expert in New York City politics, told City & State. Adams' platform on housing issues, he said, has been "pretty spare," but noted the mayor's politics "have not traditionally been driven by the politics of tenant activists."
Adams received more donations than any other candidate, by far, from the real estate community during the 2021 election. Industry leaders openly celebrated the new friendship with Gracie Mansion, with one telling Politico it was "refreshing and pragmatic" after years of a rocky relationship with former Mayor Bill de Blasio. Adams has never been shy about using the business community to the city's advantage, and in one memorable moment on the campaign trail, said "I am real estate," in a nod to his own status as a property owner.
As Brooklyn Borough President, Adams also ran the One Brooklyn Fund charity and received donations to it or his own campaign coffers from developers and lobbyists with business before Brooklyn Borough Hall – to the tune of hundreds of thousands of dollars, according to an analysis of four years of contributions by The City.
But even housing advocates note Adams is hardly an outlier in New York City politics when it comes to taking real estate money, though some candidates in the recent mayoral race denounced it.
"Of course he took money from real estate . . . he is a landlord himself," TenantsPAC Treasurer Mike McKee told City & State. "But I worry about his frame of mind in terms of how he thinks about landlord-tenant rights. I worry about who he might appoint to the New York City Rent Guidelines board, because those appointments are entirely under the control of the mayor."
McKee also expressed dismay at Adams' focus on closing doors following the Bronx fire.
"I think that was a very unfortunate thing for Eric to have said – blaming the victims," McKee said, echoing a Twitter statement made by the New York City chapter of the Democratic Socialists of America.
"Tenants in the building complained for months about lack of heat and doors not automatically closing, as required by law," the group tweeted. "The building is owned by Camber Property Group, whose co-founder was on @NYCMayor's transition team . . . But Adams blames the victims, not the landlord."
Adams' made the "close the door" statement after fire officials said that an open door to the fire apartment, along with one leading to the 15th floor stairwell, allowed smoke to spread throughout the building. 
The comment has been seen as tone-deaf considering the building, and other low-income ones like it, have struggled for years with maintenance issues that often lead to fires. The one at Twin Parks was started by a space heater and fueled by open doors with failed self-closing mechanisms, according to fire department officials. Residents have said in recent days that heat was regularly out, and the self-closing doors required by law were often broken. 
It's also been revealed this week that a member of Adams' housing transition team, Rick Gropper, is co-founder of Camber Property Group, of the three firms that purchased Twin Parks two years ago.
"It doesn't look good that he's attached to this landlord in any capacity," Fordham University Associate Professor of Political Science Christina Greer told City & State. "I think it remains to be seen how he'll handle it – if he comes out, either against this individual personally, or if he just keeps it as a more general narrative."
Another member of Adams' housing transition team, who spoke to City & State on condition of anonymity, defended the group's work and said the meeting they attended with Gropper was largely about affordable housing. The anonymous member noted that there are hundreds of people on Adams' transition committee, and the real estate industry does not make up a disproportionate share. 
It's unclear how Gropper earned a seat or what his connections to Adams are. Adams' spokesperson, in a statement to City & State, said more information will be made public about the cause of the fire once it becomes available.
 "As the mayor has said repeatedly, there is a thorough, impartial investigation underway into the causes of this tragedy, and we will share the results of that investigation once it is complete," Charles Lutvak said.
Public Advocate Jumaane Williams also said it may be too early to pass judgement on landlords at Twin Parks before the investigation is complete. 
"I want to make sure we have all the information so we can cast blame where it belongs. It's clear the tenants believe they need additional heat. It's clear that some doors didn't self-close, and we have to look at that and figure out why," Williams told City & State, noting that the complex didn't have an egregious amount of violations on its record. 
"I do know that the amount of complaints that were there, for that size building, also isn't all that abnormal," he said. 
Powered By
NEXT STORY: De-De-Blasifying the city's highways