Politics
Eric Adams is on Signal
Government officials have come under heat for using the app, which can flout record-keeping laws.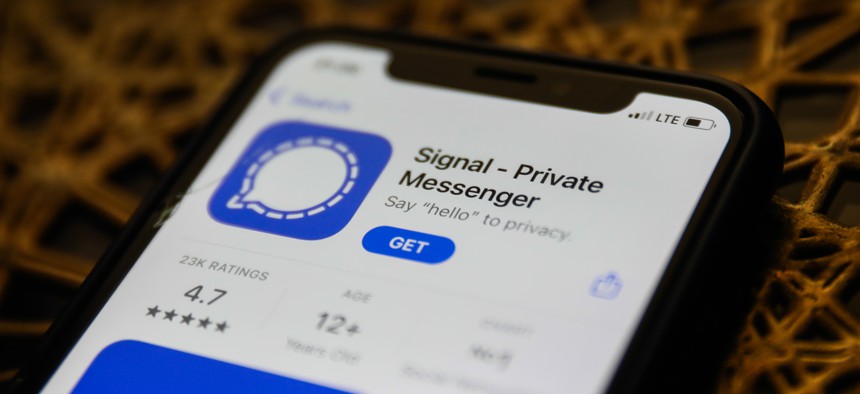 New York City Mayor Eric Adams is different from his predecessor in many ways, but the two appear to share an interest in a style of communication that has raised ethics and legal questions. Adams uses the encrypted messaging app Signal, which can be set to automatically delete messages between users.
When former Mayor Bill de Blasio joined Signal in 2020, good-government experts raised concerns that it could be used to flout a state law that requires all kinds of communications and information produced and held by the mayor's office – and other city agencies – to be retained. "If you have an elected official who is using an encrypted app, essentially they are exploiting a loophole in the Freedom of Information Law," John Kaehny, executive director of Reinvent Albany, told City & State when asked about Adams' use of the app. "It's essentially impossible to retrieve documents other than using court order under a criminal subpoena from an app like that."
Adams appears to have done more than just join the app. Adams' personal cellphone number is registered to a Signal account. The mayor responded to a message from City & State through the app on Wednesday evening, but denied that he used the app to communicate about City Hall business. "This is my private phone number," Adams told City & State over Signal. "Government business is conducted on my government phone."
Others in Adams' circle appear to be using the app as well. Frank Carone, chief of staff to the mayor, responded to a Signal message from City & State on Wednesday, but also clarified that he was communicating from his private phone number. Carone's City Hall phone number is not registered on Signal. Carone did not respond when asked if he ever uses the app to discuss government business.
While neatly separating government business from nongovernment business – and committing to only conduct the latter on the app – might seem to address ethics concerns, but Kaehny wasn't convinced. "If you're using Signal, it means that only you – the mayor or Frank Carone or whoever – decide whether or not that's a public record," he said. "The odds that anyone who is using an app like Signal is going to then forward that to an email that can be searched by their FOIL counsel is zero."
Adams is far from the only elected official who is shown to have an account on Signal, and it's impossible to know whether – or how much – those registered on the app actually use it to communicate. Aides to de Blasio took heat for communicating about the mayor's schedule over Signal. Aides to former Gov. Andrew Cuomo used the app too. (Ironically, Signal has become a popular way for elected officials and others to communicate securely with reporters.) Adams, meanwhile, was known on the campaign trail to give his personal cellphone number out widely and to text people, replete with a memoji created to look like the mayor in cartoon form.
Spokespeople for the mayor did not respond to requests for comment about the extent to which Signal is used by members of the administration.
– with additional reporting by Jeff Coltin