New York State
Jan. 6 insurrection only aligned New York GOP closer to Trump
A year after the Capitol riots, Republicans continue to use Trumpism to their advantage.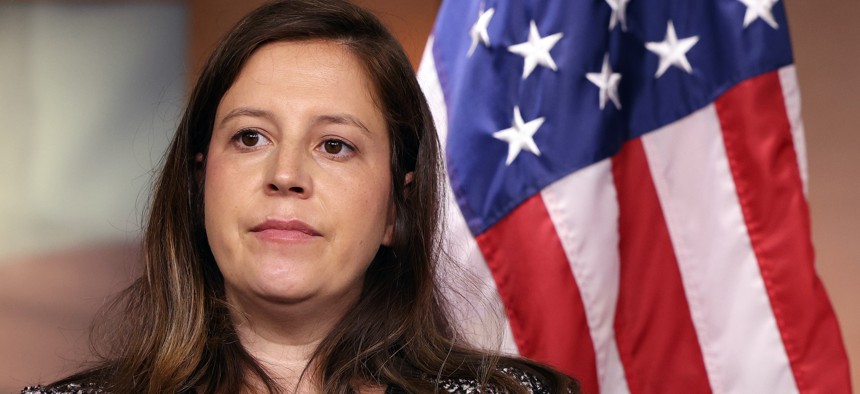 A year after the Jan. 6 United States Capitol insurrection, New York's Republican elected leaders continue to align themselves with the former president who inspired the rampage – and some have even raised their profiles thanks to continued allegiance to Donald Trump.
Out of all the Republicans who continue to defend Trump, few have reaped more benefits of doing so than Rep. Elise Stefanik. The North Country member of Congress rose to become the number three House GOP member after Republican stalwart, Rep. Liz Cheney of Wyoming, was thrown from the post for criticizing Trump and voting in favor of his impeachment following the insurrection. 
Stefanik, once relatively moderate and a former Trump critic, swiftly gained the support of Minority Leader Kevin McCarthy and ousted Cheney. She has since held record-breaking fundraisers held at Trump's properties. 
Stefanik's rise shows that the Republican party is nowhere near letting go of Trumpism – and her counterparts have taken note. 
Rep. Lee Zeldin of Long Island, who is running in next year's race for governor, voted against certifying the results of certain states in the 2020 presidential election. But he's also shown signs of distancing himself from the former president, a smart move in his uphill battle to net votes in a state that hasn't elected a Republican governor since 2002. For instance, Zeldin did not mention Trump in his gubernatorial campaign announcement. 
At the same time, Zeldin's alliance with the former president has been credited for his rise from a lesser-known congressman to one of the most fervent Trump defenders. During Trump's impeachment probe, Zeldin spoke more times than any other Republican, according to an analysis of deposition transcripts by NBC News. 
On the Republican stronghold of Staten Island, Rep. Nicole Malliotakis, the only GOP congressperson who represents New York City, still enjoys the support of Trump, even though she voted in favor of President Biden's infrastructure bill. 
In an apparent attempt to capitalize on the Trump-Malliotakis alignment, Max Rose, her potential opponent in next year's congressional race who she unseated in 2020, published an op-ed in the Daily News on Monday declaring Jan. 6 a "dark day" on which "we nearly lost our democracy."
At the local level, another GOP gubernatorial candidate, former Westchester County Executive Rob Astorino, has championed voting restrictions, which have widely been seen as a rebuttal on the 2020 presidential election results.
In August, he revealed a "5-point election integrity plan" that seeks to restore the signature requirement on absentee ballots, among other initiatives. 
"As it's made easier to vote, it must be made harder to cheat. Andrew Cuomo banning  the signature requirement for absentee ballot applications opens the door to the latter. It's a  completely unnecessary step that only further undermines faith in our elections," Astorino wrote in a press release. 
Meanwhile, Trump was supposed to hold a press conference at Mar-a-Lago on Thursday to mark the anniversary of the Capitol riots but cancelled, citing "bias" of the "Fake News Media" and House committee investigating the riots.
"This is the Democrats' Great Cover-Up Committee and the Media is complicit," Trump said in a statement.