Politics
NYC teachers are stretched thin as COVID-19 surges in schools
More than 14,000 students and staff have tested positive since winter break.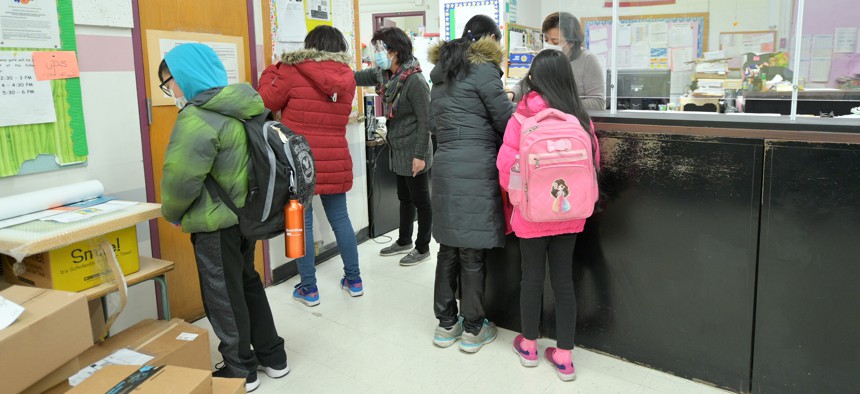 More than 14,000 students and staff at New York City schools were reported COVID-positive since the start of winter break, according to Department of Education data that represents a 1,000-per-day average since Dec. 23. 
The data dump comes as union members continue to call for a remote learning option until testing is expanded to include every student and staffer. 
As of Tuesday at 6 p.m., 8,743 students and 3,980 staffers were reported infected, according to the data, which also includes counts from charter schools. On Sunday, ahead of the first day back, 2,476 staffers and students were COVID-positive, more than a two-fold increase from the number of cases recorded a day earlier.
Since the start of school in September, 61,453 students and staff have tested positive for COVID-19.
The DOE said that the 1,000-per-day average is comparable to pre-winter break numbers, when approximately 800-900 cases were being reported. 
While no schools were closed as of Wednesday at 6 p.m., 33 classrooms across the district were, while 10 others were partially quarantined. 
All infected school children must quarantine for 10 days, while the teacher-quarantine period has been reduced to five, per CDC recommendations. Attendance dipped to just 67% on Monday, before rising slighting to 72% on Tuesday.
The data underscore the highly contagious omicron variant's tear through the city since early December, and it's alarming impact on young children, who are being hospitalized at a much higher rate than during earlier COVID surges largely due to low vaccination rates among kids.
Union leadership has committed to Mayor Eric Adams' goal to keep schools open, but some of its members say the plan endangers staffers and has been chaotic to manage. 
"A lot of students are spending the day in the auditorium, because there are not enough adults to watch them. Learning is not happening. Teachers can't teach if they're sick," Lydia Howrilka, a social studies teacher at Clara Barton High School in Brooklyn, who is suing the school district to force remote learning, told City & State.
Howrilka said that 10 of the school's 12 English Language Arts teachers were out on Tuesday. 
Just a fraction of students are being tested for COVID-19, because not all of them have turned in consent forms, she said.
"So we basically have the same group of 100 kids out of a school of 1,400 getting tested," she said.
What's more is communication about teacher testing has been limited, Howrilka said, noting that she was unable to be tested on Monday because she did not submit her own consent form on time. 
"Apparently you have to give them your consent form 72 hours before, but if no one tells me that there will be testing on the first day, how am I expected to get my permission slip in?" she said. 
A second Brooklyn public school teacher said she feels uneasy at school and has kept her two children home this week due to COVID-19 concerns.
"I don't feel safe. The number of cases, how little testing there is, how hard it is to access tests, and how long the test results are taking to come back – the protocols that we have in place can only protect us so far, even vaccination. At this point, everything is flawed," said Andrea Castellano, who teaches at Brooklyn Landmark Elementary School, adding that about half the students in her class have been out this week. "I don't believe the mayor when he says the schools are safe, because I see with my own eyes all the ways that it's not safe."