New York State
Schumer endorsed for reelection by like, every labor union
The U.S. Senate Majority Leader also has a substantial warchest, as a primary from AOC seems increasingly unlikely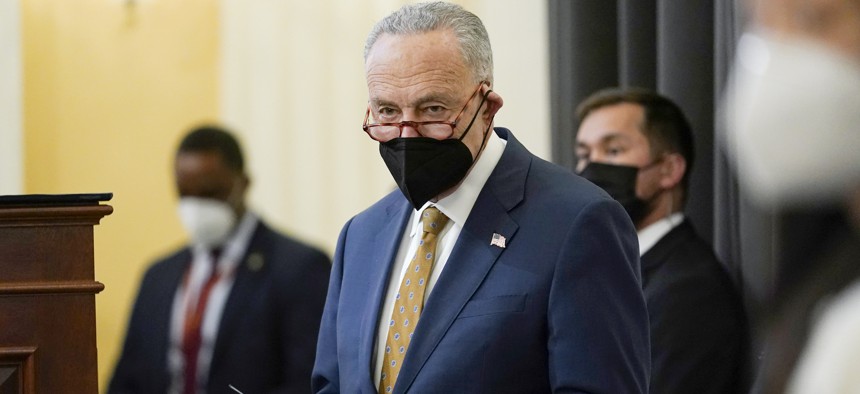 U.S. Senate Majority Leader Chuck Schumer announced endorsements from nearly every major labor union in New York state Friday. And the missive from Schumer's campaign was a good reminder that the Rep. Alexandria Ocasio-Cortez will almost certainly not challenge him for reelection this year – no matter how many Republicans openly daydream about the scenario. 
Twenty-nine unions and labor groups are backing Schumer, the campaign announced, including 1199 SEIU, District Council 37,  Teamsters Joint Council 16 and the the New York City and New York state Building Trades Council. By the campaign's count, they represent more than 1.9 million workers in New York state. 
The endorsements aren't a surprise. Schumer is among the most powerful Democratic politicians in the country, and carries major influence at the state level. He can take credit for huge influxes of federal funding to the state – most recently a $6.2 billion grant to the Metropolitan Transportation Authority. That money greatly pleased the Transportation Workers Union, one of the unions that backed Schumer Friday, and there are countless other examples. 
"New York is a union town, and I am proud and humbled to receive these major endorsements and the support of so many unions and their members," Schumer said in a press release, shared in advance with City & State. "From walking picket lines to passing legislation that kept millions of unions workers on-the-job during the whole pandemic to securing a rescue package for at-risk worker pension funds to passing a bi-partisan infrastructure law to invest billions to create American jobs, I will never stop fighting for New York's working people and the unions that represent them."
Schumer also has a lot of money flowing in. He reported having $32 million in his campaign account as of September 30, and a campaign source says that the next filing due Jan. 31 will show over $35 million. 
With that kind of money and labor support, it isn't hard to see why there has been little to no serious talk in New York's left-leaning political circles in recent months about Ocasio-Cortez primarying Schumer. Some eyes have already turned to U.S. Sen. Kirsten Gillibrand, who is up for reelection in 2024, instead. Ocasio-Cortez' campaign didn't immediately respond to a request for comment late Thursday, but the always-unlikely primary is looking less likely than ever. 
That news might just break the hearts of some Republicans, who have been openly rooting for a messy primary that would necessarily result in one of their major foes leaving Congress. In December, The Wall Street Journal's conservative editorial board tried to bait Ocasio-Cortez into running against Schumer if she didn't like the way the Senate was being run. Former President Donald Trump did the same in October. "Next up, AOC running against Chuck Schumer for his US Senate Seat!" he said in a public statement that he could not tweet, because he had been banned from Twitter. 
The thought wasn't entirely crazy – Ocasio-Cortez didn't rule out running for Senate in 2022 in an August interview with CNN. Discussion really ramped up a year ago, when Ocasio-Cortez mulled doing something else other than running for reelection with Punchbowl News in January 2021. And Politico fanned the flames with a big story last February. 
But for the past year, Schumer has been using his unparalleled retail political skills to maintain good feelings among high powered members of New York's political left. Thursday found the Senate majority leader appearing – virtually – at a Times Square rally calling for laws expanding pathways to citizenship to be included in the Build Back Better package. Ocasio-Cortez released a statement, agreeing.  
Two Democrats have already filed to run against Schumer this year, Moses Mugulusi and Khaled Salem. Neither are expected to provide a serious challenge. At least seven Republicans have filed to run as well, though Schumer isn't expected to have a serious reelection threat in November. He defeated Republican Wendy Long with 71% of the vote at his last election in 2016.
Powered By
NEXT STORY: Suozzi demands AG investigation into Hochul's travel habits