Campaigns & Elections
Sepúlveda starts 2022 strong
The Bronx Democrat has a new committee chairmanship and a fundraising advantage for his primary campaign.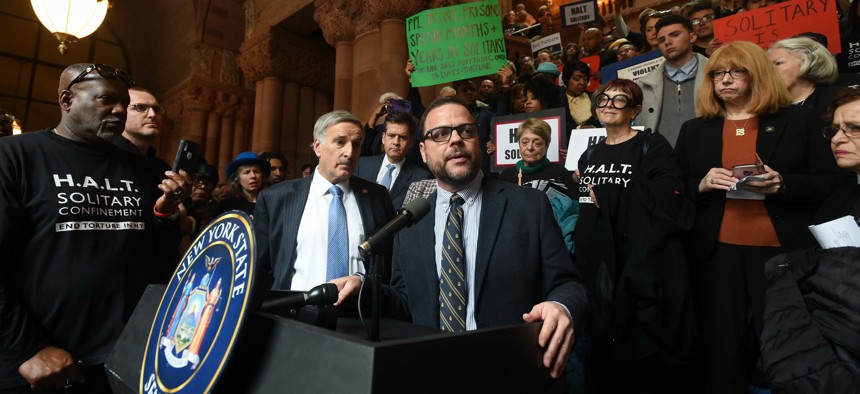 State Sen. Luis Sepúlveda was appointed as chair of the Committee on Cities 1, which oversees New York City, on Jan. 12. He also appears to be in good position for the upcoming primary campaign thanks to a $100,000 loan he made to his own campaign against a political newcomer, according to campaign filings released this week.
Sepúlveda was stripped of his chairmanship of the Crime Victims, Crime and Correction Committee last year after being arrested on domestic violence charges, which were later dropped. In the wake of those charges, he lost a 2021 Democratic primary for Bronx borough president by a big margin.
His only declared opposition in the 2022 Democratic primary for state Senate is from Methodist preacher Ian Harris, who is not looking to make a campaign issue out of Sepúlveda's past legal problems. "People in the community know about it," Harris said Thursday. "I'm more focused on the issues at hand." That includes addressing food insecurity and the effects of the expired state eviction moratorium. Harris said he has raised about $15,000 for the campaign against the incumbent, who reported about $120,000 in his January campaign filing.
The $100,000 personal loan comes one year after revelations of a past $200,000 campaign loan from a controversial Long Island dentist. A spokesperson for his campaign said Thursday that money has been fully paid off, with the latest loan coming from his personal savings. The state senator, a former member of the Assembly who won election to the Senate in 2018, is a practicing attorney who reported making somewhere between $5,000 and $20,000 in 2020, according to his 2021 filing with the state Legislative Ethics Commission.
A spokesperson for Sepúlveda did not respond by publication time to a request for comment about what his latest campaign filing said about his existing level of support in a sprawling district that will likely undergo changes in the redistricting process. Just six donors account for half of the money he reported in his latest campaign filing. Yet, his ability to largely self-finance a campaign against an opponent with much less money suggests that Sepúlveda is in a good position heading into the next election cycle.
Powered By
NEXT STORY: What was behind Eric Adams' first veto?