New York State
What Hochul left out of her State of the State address
The parts of the governor's agenda that she didn't include in her speech may speak volumes about her priorities for this year.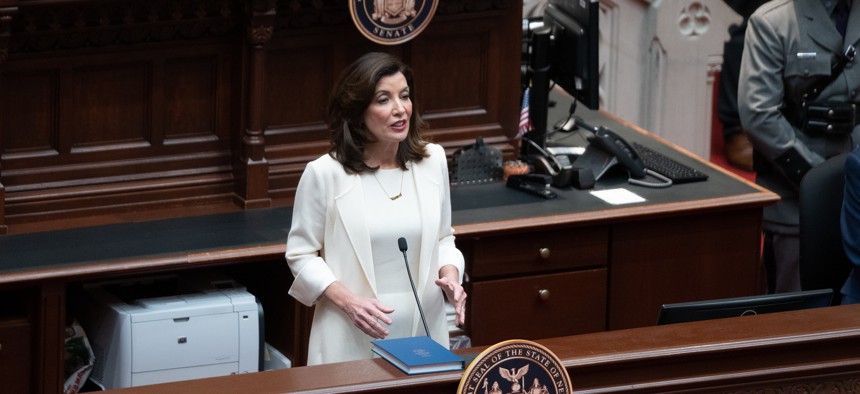 On Wednesday afternoon, the first woman to deliver a State of the State address in New York took the stage to lay out her agenda for 2022. Clad in suffragette white, Gov. Kathy Hochul laid out her priorities in a 30-minute speech in the Assembly chamber, accompanied by a more than 200-page book filled with the details.
Of course, some of those ideas didn't make it into Hochul's speech – doing so would have made the address painfully long. But some of the items she chose not to highlight, like some slightly more controversial proposals, are somewhat telling about where she may focus her attention. Similarly, the exclusion of high-profile proposals from both her speech and the book may spell a tricky path forward with lawmakers on some topics important to them, despite the governor's collaborative tone.
One of the more notable exclusions from her speech was the support Hochul outlined in the book for the Clean Slate Act, which would seal the felony records of many formerly incarcerated people after a certain amount of time after their release. The legislation nearly passed at the end of last year's session, but negotiations fell apart. Although widely supported by Democratic lawmakers, as with many criminal justice reform proposals, the bill still proved to be controversial.
Hochul's pledge to pass the Clean Slate Act represented one of the first times she expressed support for an existing piece of legislation that the Legislature has not approved. She has dodged questions about big-ticket bills by deferring to lawmakers and waiting until she has discussions on them. State Senate Majority Leader Andrea Stewart-Cousins told reporters after Hochul's address that she thought the speech included the most important proposals from the governor's large book. "Obviously, time is limited, and she highlighted the things that she wanted to bring to the attention of New Yorkers," Stewart-Cousins said.
The inclusion of the Clean Slate Act as a part of Hochul's agenda drew praise from criminal justice reformers. But as Stewart-Cousins comment suggested, the governor's decision not to highlight it in her actual speech may call into question how strongly she will push for that priority.
Other exclusions from her speech included getting rid of the 421-a tax break for developers, which incentivizes them to build affordable housing, and replace it with a new program that uses "public dollars more effectively." The controversial tax exemption is unpopular among many progressive Democrats, but strongly supported by the politically influential real estate industry.
Already, housing advocates have criticized Hochul's agenda on housing, particularly on revamping 421-a. "She tinkered at the edges of the 421-a program, while making it clear she will still send billions in tax abatements to corporate landlords," Cea Weaver, campaign coordinator for the Housing Justice for All coalition, said in a statement. "Lipstick on a pig is still a pig: 421-a must be scrapped entirely." On the other side of the housing fight, the real estate lobby praised Hochul's decision to replace 421-a with something else.
Hochul made no mention in her speech of a proposed eviction prevention legal assistance program, which would help upstate renters at or below 200% of the federal poverty line access lawyers in Housing Court. Her book specifically mentioned New York City's right to counsel in Housing Court, approved in 2017, though it's unclear whether her proposal would guarantee a lawyer for all who qualify. Either way, the program would represent a significant new service to help renters across the state, yet Hochul's housing portion of her speech did not mention it. And the governor did not propose any new action to address harassment and discrimination in state government, although she did pledge to replace the state Joint Commission on Public Ethics, which is charged with investigating those claims.
If Hochul's decisions about what to include in her speech truly represented a first pass at what she'll give the most attention to this year, then ideas not even included in her expansive book will likely face an even steeper battle. Hochul made no mention of the good cause eviction legislation that the state Senate will be holding a hearing on later this week, nor the prospect of raising taxes on the wealthy, which continues to be a priority for many progressive lawmakers after passing a hike last year. "In 2022, the need to expand on these gains, reject austerity, and build a New York that takes care of its people is more urgent than ever," a group of Democratic Socialist lawmakers said in a joint statement criticizing several of Hochul's proposals.
Her overall legislative agenda was also limited and did not include other priorities like parole reform and new money for the Excluded Workers Fund to provide aid to undocumented workers who lost income due to COVID-19.
These exclusions, however, did not draw extensive criticism from lawmakers. When asked about the lack of attention to the Excluded Workers Fund, Assembly Member Marcela Mitaynes – who went on hunger strike last year to get the fund passed – simply gave a sarcastic shrug and suggested that Hochul's silence on some matters spoke loudly about her priorities. And in the case of climate change, though Hochul did not say anything about a carbon tax – an idea she has avoided taking a position on – climate and environmental advocates still praised the climate proposals she included as "bold."
State Sen. Gustavo Rivera offered initial praise for Hochul's State of the State address ahead of reading her proposals more closely and receiving her executive budget proposal. "We will have conversations in the weeks to come as to how to make sure that that good policy can be implemented by the time the budget is done and before the end of the year," Rivera said when asked about various legislative priorities important to Democratic lawmakers that Hochul did not mention.
State Senate Deputy Majority Leader Michael Gianaris pointed to the many shared priorities with the Legislature that Hochul laid out. "(I) was heartened to hear support for many Senate priorities like SUNY/CUNY, the HONDA law and continued voting reforms," Gianaris wrote in a text. And Stewart-Cousins also emphasized the amount of shared ground that seems to exist now. But Gianaris followed up with a caveat that "these speeches always sound good," but need to be supported in the upcoming budget. And it's there where disagreement may put a damper on the feel-good, collaborative nature that has characterized Hochul's tenure so far.
One area that could get sticky is statewide universal pre-K, a proposal Stewart-Cousins talked about in her first speech of the new year. Such a program would cost a substantial amount of money and require significant state investment. Hochul did not mention any such investment in her State of the State agenda, instead stating that universal pre-K should happen at a federal level. How much additional money Hochul may agree to contribute to the Excluded Workers Fund will likely also represent a fight, along with the prospect of passing new taxes on New York's wealthiest residents, which the Legislature did last year.
In the end, Hochul and the legislative leaders seem to share many agenda items for the upcoming year and a confidence that they can still work together to find common ground on areas of disagreement. Hochul's proposals and her shift in tone compared to her predecessor drew praise from Democratic lawmakers. "I have heard 52 State of the State addresses in my career," Assembly Member Richard Gottfried wrote in a tweet. "The one delivered today by @GovKathyHochul is the best of them all!" And Assembly Member Yuh-Line Niou told City & State she appreciated that the governor gave the address in the Assembly chamber and said she agreed with a number of things Hochul wants to do.
But the true test of whether this lasts will arise during budget season, when the points of disagreement will test the strength of the collaborative spirit in state government.