This Week's Headline
Adams' first budget and Hochul's first convention
Rounding up the week's political news.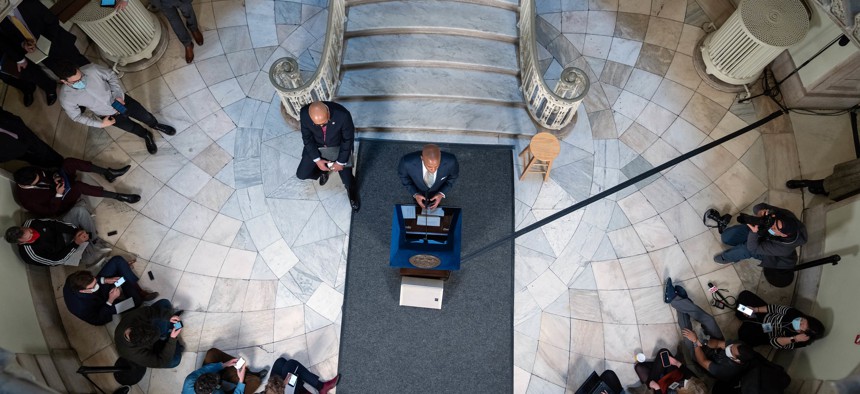 Monday was Valentine's Day, any love between the New York City press corps and Mayor Eric Adams had evaporated by Tuesday, when he lambasted reporters for what he considered inaccurate and needlessly negative coverage of his trip to Albany. Media outlets reported that Adams failed to sway legislative leaders on the prospect of changes to bail reform, something he himself effectively admitted at the time. But he accused journalists of biased coverage, calling out newsrooms (accurately) for their lack of diversity. It's gonna be a long four years if Adams doesn't get used to the famously tough City Hall reporters and far worse front pages to come. For the rest of this week's news, keep reading.
Eric Adams presents his first budget
New York City Mayor Eric Adams pitched the first budget of his administration, presenting a $98.5 billion spending plan for the next fiscal year. That's smaller than the projected final size of last year's budget, as well as former Mayor Bill de Blasio's final proposed plan, and Adams touted his dedication to fiscal restraint. A key aspect to reduce spending comes in the form of agency-by-agency reductions of 3%, which Adams' budget predicts will save the city $2 billion. Though praised by fiscal watchdogs, the plan drew criticism from housing advocates who felt Adams went back on campaign promises.
Democrats officially back Hochul
Democrats from around the state gathered in Manhattan for their annual nominating convention for statewide positions and the Senate. The event served as Gov. Kathy Hochul's coronation as the leader of the Democratic Party in New York as she officially received the party's nomination for governor. The theme of the day was unity around Hochul ahead of the June primaries, despite the fact that she still has two challengers who are also trying to get onto the Democratic line. Both Rep. Tom Suozzi and New York City Public Advocate Jumaane Williams are still running against her, but both will have to petition in order to get on the ballot – Williams failed to get enough support at the convention while Suozzi didn't even bother submitting his name for nomination. The day before the convention, Suozzi announced his running mate, former New York City Council Member Diana Reyna, who will also need to petition her way onto the ballot in order to challenge Lt. Gov. Brian Benjamin, who also got the party's official backing. But the convention was not without some minor controversy as protesters interrupted Hochul's speech and both Williams and Suozzi expressed displeasure with the state of affairs. 
Trump must testify
It was a good week for state Attorney General Letitia James. After basking in the spotlight at her party's state nominating convention, she won a key victory against Donald Trump and his family in her office's investigation into their businesses. Trump and his kids had sought to quash a subpoena from the attorney general's office, but a judge ruled that they must answer questions under oath as part of the civil inquiry. The decision came shortly after James gave a speech accepting the Democratic Party designation for attorney general in which she spoke about her dedication to taking on the former president.
Two new Assembly members headed to Albany
New York City hosted two special elections for vacant Assembly seats for voters to pick their next representatives in Albany. Those contests were in the 60th District in Brooklyn and the 72nd District in Manhattan, both seats left empty when the previous occupants became New York City Council members. The Working Families Party ran a candidate in the Brooklyn district, although Keron Alleyne fell well short of succeeding as Nikki Lucas, supported by the local Democratic Party and a slew of political power players, easily won the contest viewed as a proxy war between the Brooklyn Democrats and the husband-wife team of Charles and Inez Barron. Meanwhile, in Manhattan, Manny De Los Santos emerged victorious over a spirited independent campaign from Nayma Silver-Matos. 
Trooper 1 sues Cuomo
In the first civil case brought against former Gov. Andrew Cruomo in the wake of multiple sexual harassment allegations, an unnamed state trooper who served as part of his security detail is taking Cuomo and his top aide Melissa DeRosa to court. The woman, identified as "Trooper 1" in both the state attorney general report and court papers, has said that Cuomo touched her inappropriately and made sexually charged comments that created a hostile work environment. She's seeking damages from Cuomo for his actions, as well as DeRosa for allegedly attempting to cover them up. After filing court charges, attorneys for Trooper 1 added Cuomo spokesperson and top adviser Rich Azzopardi to the suit as well after he tweeted attacks at the legal team.